We examine how digital technologies have helped five small businesses transform internal processes and customer experience.
You may have heard the term many times, but what exactly does digital transformation mean? We've answered that question previously, as well as explained the rewards from digitisation projects, and their traps. We've also looked in-depth at how digital technologies can modernise and streamline logistics and deliveries.
But there's nothing like seeing how technology is applied in real businesses to give you a deeper understanding of what it can do – particularly with a term like 'digital transformation' which encompasses a wide range of technologies, each of which in turn can be applied in many ways.
And it's not just applicable to large organisations. In this feature, we examine five case studies on how small and mid-sized companies are benefiting from digitising certain (or many) aspects of their business.
In this in-depth report, we reveal:
Next: How integrated digital systems have enabled Bicycles Online to grow
How integrated digital systems enabled Bicycles Online to grow
Identifying the right opportunity – and the right digital systems – have been vital in the online business's success.
Bicycles Online has its roots in bike rental business Manly Bike Tours. In the process of upgrading the company's rental fleet, co-founders Jonathon Allara and James van Rooyen realised that 95 percent of the 300 or so bike brands sold in Australia actually come from just five factories.
A visit to Taiwan and Indonesia resulted in a deal to bring the Polygon brand to Australia, cutting out the usual middlemen. The first container load was ordered with the intention to sell them on eBay, with any unsold bikes going into the rental fleet.
But they sold 130 bikes in the first three weeks, so "we kept doing that", says Allara, gradually increasing the range and eventually establishing Bicycles Online's own ecommerce site.
The business started in an old electrical substation about the size of a two-car garage, not far from the bike rental shop. It subsequently moved to a 600 square metre warehouse space in North Manly, Sydney, and recently moved again to a 1500 square metre warehouse/office in Frenchs Forest.
Bicycles Direct did experiment with a showroom, but enjoyed 40 percent growth almost immediately after a decision to focus on online sales. "It lets us be really good at one channel," Allara told Business IT. "It's a different level of business now."
The company currently has 15 staff in Sydney (plus others offshore), and sells around 25,000 bikes per year.
The Bicycles Direct site is now based on Neto, which provides good integration with other services, including eBay, Amazon and other marketplaces such as Bike Exchange. The ability to maintain consistent stock figures across all platforms is particularly important when it comes to providing a good customer experience without considerable back-office effort.
Similarly, integration with Australia Post, Direct Freight and Fastway is "a huge benefit – it saved a lot of time," says Allara. Transferring information manually invites errors: "that was a problem," he says, but now it is done automatically.
The company offers its customers free delivery, but this integration also means the shipping department sees what each of the three carriers would charge and thus can "always choose the most cost-efficient option."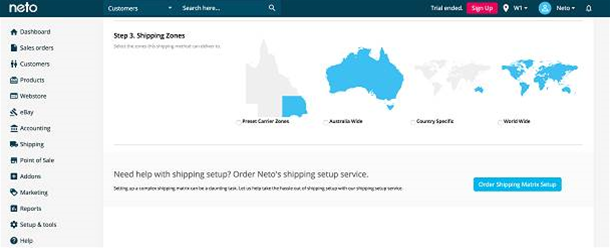 Bicycles Direct also takes advantage of the integration between Neto and email marketing service MailChimp in order to reach particular segments of its customer base.
Adopting cloud-based customer support platform Zendesk "has had a huge benefit for our customer service team," says Allara. That's because it brings all live chat, email and phone interactions together in one system with strong reporting capabilities that help identify areas for improvement.
The Bicycles Direct site includes a Zendesk-based help centre, making it easy for staff to refer customers to content that's relevant to their enquiries.
Staff training and knowledge transfer is handled with the aid of Nextpond, a cloud service that can be used as a repository for all roles and tasks within a business. For example, rather than teaching individual agents how to authorise a product return, Bicycles Direct's customer service manager can document the process – including screen recordings – so it is available for reference when required.
The individual tasks can be chained together to create training programs for new staff. This is "a really useful tool for growing a business," says Allara.
He also speaks highly of the Asana project management system. "It's made our team... a lot more organised" and it includes a Slack-style chat system.
Every project has its own repository – "a 'page' within the program" – bringing together resources from other services such as Gmail and Dropbox, along with dates and timelines, and a mechanism for recording accountability for specific tasks.
Asana helps Allara keep track of key projects, and it makes the business more efficient and effective, he said.
Next: How augmented reality helps Speqs sell more eyewear online
How augmented reality helps Speqs sell more eyewear online
The online retailer has created an AR app to allow customers to virtually try on glasses before buying.
Digital transformations are often undertaken to streamline or even automate internal processes – which is understandable given every business wants to improve productivity and reduce costs. However, digital technologies can also boost sales by creating a great customer experience.
That was aim of Speqs, which was facing the same problem as other online eyeware retailers:  a relatively small proportion of people currently purchase glasses online. There are three reasons for this, according to Speqs lead developer Erfan Imani.
Firstly, glasses are a very personal product, and people want to see how they look on their faces before ordering. It's a much harder decision than purchasing a t-shirt, he observes. So Speqs created an augmented reality (AR) app to provide a "virtual try-on".
Secondly, many people are unaware that they can get their prescription from the optometrist and buy the spectacles elsewhere. This can only be solved through education, he suggests.
Finally, the Hicaps system makes it possible to make an on-the-spot health insurance claim when paying for glasses in person. That's not yet available online, so customers have to pay upfront and then recover the benefit from their fund. "That's something we're working on," says Imani.
Speqs developed its AR app in conjunction with Image Metrics, a leader in face analysis and the real-time overlay of photorealistic elements within video streams. One of Image Metrics' highest-profile clients is L'Oreal, which used the technology in its Makeup Genius app for iOS and Android.
"We got in early" with the use of the technology to project 3D models of the approximately 800 styles of spectacle frames onto the customer's face, says Imani. Creating those models was a non-trivial task, but almost every frame in the catalogue – brand name and private label alike – is represented in the app.
Imani was responsible for the online purchasing part of the system, which allows people to enter their prescription and order the spectacles they have selected. A lot of data fields are involved, so the process can be customer unfriendly unless it is correctly designed. So the Speqs app allows the prescription details to be keyed in, photographed, or scanned and uploaded.
Another problem is that prescriptions sometimes omit the pupillary distance (the distance from the centre of one pupil to the other) and - for multifocal lenses – the segment height (roughly speaking, the distance from the pupil to the bottom of the chosen frame), so if those measurements are not available, the app calculates them from the image of the customer.
The app integrates with Speqs' Magento-based online store, automatically transferring the prescription and other order details.
Analytics are used to ensure orders are for allowable combinations of features (such as certain lens materials and coatings are not compatible), and to display accurate pricing.
The decision to use AR technology dictated the creation of an app, although in the future it may become possible to implement it within a website, Imani said.
"Maintaining a app alongside your ecommerce site is quite expensive," he warned, partly because of the need to offer Android and iOS versions.
Businesses often duplicate their sites' ecommerce functionality in the apps they offer, "but that would take too much time" so Imani settled on a hybrid approach where "part of the app [the ordering and checkout process] is powered by the website."
"That reduced our development time a lot," he observed.
While Speqs set out to be a pure play online retailer, it has a store in Mount Lawley (Perth) and may open one or two others for marketing reasons. There are plans to use AR in-store: "There's a lot of stuff we can do," said Imani.
Next: How SRT Logistics has vastly improved its internal processes and customer service
SRT Logistics on the road to more efficient deliveries
How telematics, a new business core system and other new applications are transforming the freight provider's internal processes and customer service.
Hobart-based SRT Logistics operates around 100 trucks and 175 trailers from three depots in Tasmania and another in Victoria. It serves the food industry, with clients ranging from organic farm microbusinesses to major companies such as retail giant Woolworths and beverage company Lion.
SRT adopted CMS Transport Systems' Freight2020 software in 2011, after realising that the system it previously used could no longer support its growth, explains SRT general manager of finance and IT Leigh Cripps.
A big advantage of Freight2020 – which is built on technology provided by Progress Software – is that it allows the entry of data before an event occurs, rather than after. For example, the system produces daily trip sheets for drivers instead of expecting the details of the trip to be recorded manually and then keyed in later.
There are two main projects currently underway: installing in-cab systems and connecting them to Freight 2020, and implementing a workforce rostering system and integrating it with Freight 2020.
The in-cab systems come from Telstra subsidiary MTData. They capture telematic information such as distance travelled, speeding alerts, and harsh braking or cornering, as well as video feeds from four cameras located around the vehicle.
Some data, for instance fuel consumption, is displayed on the in-cab screen (more precisely, a tablet) – "just a bit of feedback for drivers," says Cripps. Though that's not the end of the story: if one truck consistently uses more fuel than others regardless of the driver, that could indicate a maintenance issue that should be addressed.
That screen has a sign-on-glass capability, making it possible to capture proof of delivery without resorting to paper records or requiring drivers to use yet another device. Integration with Freight 2020 means the data goes where it is needed, and allows on-time delivery reports to be generated completely automatically. There's also the potential to relay reports and other information to a customer portal operated by SRT, or even directly to customers' own systems.
It takes about a day to install the hardware in each vehicle, and Cripps hopes to complete the project by September this year.
One of MTData's safety features.
As for workforce rostering, that task is currently performed with spreadsheets. SRT is implementing Riteq's employee rostering system, which will help compile rosters, distribute them to staff, allow them to clock on and off via a vein (finger/thumb) scanner, compare hours worked against hours rostered, and then feed the relevant information into Freight 2020's payroll module.
"The more you can get away from human intervention, the less the risk of errors," Cripps told Business IT.
Another benefit is that this approach gives depot managers much better visibility of hours worked.
There are also advantages for staff. Eliminating data entry errors removes a significant source of payslip errors, knowing shift patterns and working hours well in advance helps with work-life balance, and the electronic work diary will prompt them when it is time to take mandatory breaks.
Once these projects are complete, Freight2020 will be SRT's primary source of most digital data. Due to its importance, SRT has engaged Progress to manage the underlying databases, which are hosted by SRT's outsourcer. Progress uses a follow-the-sun model to provide round-the-clock support. SRT added a replication server to its setup after being hit by ransomware. It is now better placed to recover quickly from serious incidents.
"The three companies [Progress, CMS Transport Systems and the hosting company] work pretty closely together," says Cripps. For example, CMS Transport Systems provides monthly feedback about the state of the system – which can include warnings along the lines of "expect storage requirements to exceed current capacity in three months' time" – and the hosting company takes the appropriate action.
So what are the benefits for customers?
Data accuracy is a big one – the use of scanners when loading and unloading helps ensure accuracy, and allows SRT to know where everything is at all times. Customers can either enter orders online through SRT's portal, or send them as a file which is then imported into Freight2020.
Capturing proofs of delivery is also important. In addition to getting an on-screen signature on delivery, drivers can use the tablet's camera to capture an image of the receiving company's docket. This is a significant improvement because some of SRT's customers won't be paid for their goods unless they present their customers' dockets.
In future, the telematics capabilities being deployed by SRT will allow some customers to get a live estimated time of arrival for their deliveries. Given the sensitivity of delivery slots in some parts of this industry, that's a non-trivial matter.
"Technology is a big part of our industry and we're not shy of taking advantage of it," says Cripps.
Next: How Lucky Pet has automated its logistics and delivery processes
How Lucky Pet automated logistical and delivery processes
Adopting a new ecommerce platform and integrated services has paid dividends for the pet goods supplier.
Jeff Willis founded pet goods supplier Lucky Pet as an eBay-based business around six years ago. He started with a self-hosted Magento site using a free template, but subsequently engaged offshore developers to upgrade the site and connect it to eBay.
That was fine until the PayPal integration stopped working, so he switched to ecommerce platform Neto after also considering BigCommerce and Shopify.
Among Neto's advantages was the fact that "customer service is in my timezone," Willis told Business IT.
Lucky Pet had added a physical shop to its online activities and more recently started a wholesale operation, so Neto's point-of-sale capability plus its ability to manage inventory across multiple channels were important considerations. The business hired its first employee a few months after the shop opened, and now employs eight people. And "we just got our first forklift," Willis says.
Neto's Pick'n Pack order dispatch add-on has also proved very useful, according to Willis. When an order is passed to the packing team, Pick'n Pack provides the relevant bin numbers and they scan each item's barcode to confirm that it is the right one.
This will be especially important for maintaining accuracy when temporary staff are engaged to handle the pre-Christmas rush, he observed.
Pick'n Pack integrates with several major carriers (including the three Lucky Pet uses: Australia Post, Fastway, and StarTrack Express), and prints shipping labels and manifests.
The level of integration is "a huge time-saver," says Willis. All his staff have to do is pick the carrier, or leave Neto to make the decisions. The rest – printing the labels, booking the collection, sending tracking information to the customer, and where necessary updating a marketplace such as eBay – all happens automatically.
Lucky Pet previously used the Temando shipping platform (which integrates with Neto), but Willis found it was more advantageous to have direct relationships with  carriers. If you use an intermediary, you can either accept the price offered or go elsewhere; but a one-to-one relationship allows for negotiations.
These integrated warehouse management capabilities are a big deal for Lucky Pet. The business processes around 100 orders a day, and even three or four picking errors a week is a significant problem. Not only is the customer inconvenienced (with the consequent risk of negative reviews even if the matter is settled promptly), but staff time is expended fixing the problem, there are additional shipping costs, and the temporarily incorrect stock figures can mean other orders cannot be fulfilled on time.
Lucky Pet started using Pick'n Pack in its wholesale operations, and so far there has been zero  errors. The retail side is adopting it shortly: "I think it's going to be fantastic," says Willis. "As a small business, using this type of technology is going to be huge for us."
The time taken to get warehouse staff up to speed is reduced from months to a couple of days, he said.
This type of technology is worth considering for as few as 20-30 orders per day, Willis suggests. "Sometimes people get a bit complacent when picking" even if they are the owners of the business, he observed self-deprecatingly. For example, if there are 3000 stock lines, it's very easy to pick a three-pack of a particular product because that's what most people buy, even though the actual order was for a six-pack. Barcode scanning can eliminate that problem.
Among its marketing activities, Lucky Pet uses SmarterMail for email and Justuno for popups on the web site. Both of these integrate with Neto.
One example is that Lucky Pet is able to send announcements about in-store specials only to those customers within reach of the shop. Another is that when Royal Canin pet food was in short supply, it could offer customers who regularly bought those products a $10 voucher to try a different brand to encourage them to keep shopping with Lucky Pet.
The ability to link Neto to Google Shopping has been "huge", according to Willis. Not only is it easier to set up than other marketplaces, it attracts people who know what they want and thus provides a good return on Lucky Pet's investment.
Lucky Pet still sells through eBay, and more recently via Amazon. Neto is still polishing its Amazon integration, says Willis, who also points out there are still a few Amazon issues, such as the way it doesn't seem to understand that the same products may be sold in different packaging – and even under different brand names – in markets outside the US. "That's an Amazon thing," he observes.
Asked for his advice for anyone moving into ecommerce for the first time, Willis recommended a low-end Neto plan. If you're only selling a few items a day, it's fine to use Australia Post's portal for dispatch, and to export products to eBay if required.
And if you are a bricks-and-mortar operation expanding into ecommerce, Neto's ability to manage shared inventory is valuable, and you can probably integrate your existing POS system with Neto, he says.
You don't need the more advanced facilities such as Pick'n Pack (and multi-carrier integration) while online sales volumes are low, but it is reassuring to know these capabilities are there when you grow into them, Willis suggests.
Having someone else (such as Neto) look after the technicalities such as keeping your site running and managing SSL certificate can actually save money compared with doing all the work yourself, he says.
But it's largely a matter of understanding your goals, Willis advises. If you intend to stay small and are satisfied with a simple ecommerce site, then anything other than self-hosting (where you operate the server and manage the software powering your site) is probably OK.
Next: How Mayde Tea streamlined its deliveries with new ecommerce and shipping solutions
How Mayde Tea streamlined its deliveries
Migrating to a professionally designed ecommerce site and new delivery service has paid off for the online tea distribution business.
Starting off small with do-it-yourself website can be a good way to launch a business, but once it starts to grow, it can pay off to consider outsourcing to a professional to see if there are efficiencies and productivity improvements to be made.
That's just what Kate Dalton did with her online tea distribution business Mayde Tea.
In fact, originally "it wasn't meant to be a business," says Dalton, when five years ago she wanted to buy environmentally friendly, sustainable tea products. But it turned out that other people wanted the same thing, so Mayde Tea was born.
The business now has five staff, a warehouse and a shop – but most sales happen online. Mayde Tea products are also available from around 200 stockists.
Dalton started by creating her own ecommerce site on Shopify, but she encountered various limitations. So she engaged a web designer, who rebuilt the site on WooCommerce.
The result is an improved website but even better are benefits from WooCommerce's integration with delivery service provider Sendle, which are "really amazing," Dalton says.
For example, delivery addresses are automatically synchronised between the two products. That may sound basic, but the previous system didn't always get that right and had a tendency to use the billing address in place of the delivery address.
Other benefits include the way orders are automatically marked as complete once the courier pickup has been booked, and the ability to print address labels directly from the system.
To provide a 'no surprises' experience for customers – and to avoid the need for plug-ins – Mayde Tea has just two tiers of shipping charges: $9 for orders totalling less than $60, and free for all the rest.
When orders are received via WooCommerce, Mayde Tea staff pick and pack items directly from the screen. Environmentally friendly packing materials such as cornstarch pillows are used, and a sticker on the carton explains how to dispose of them via recycling or composting.
A handwritten note to the customer is included, along with a free sample of a tea that they haven't previously purchased, and the system-generated address label stuck to the carton.
The 'send parcel' button in the software allows the entry of a personal message to the customer, as well as booking with Sendle.
Mayde Tea sends so many parcels each week that the local Sendle-affiliated courier calls every day to collect, even if no specific instructions have worked through Sendle's system. (Sendle recently introduced a "pickup guarantee" – if a pickup isn't attempted happen on the scheduled day, a priority pickup will be made the next day. If that doesn't happen, the delivery is free.)
The company uses Xero for accounts, payroll and timesheets. "It's just been amazing... super-helpful," says Dalton, especially as WooCommerce and Xero integrate with each other.
Adding a wholesale portal for the benefit of those 200 stockists is proving to be more challenging. Mayde Tea is using the Wholesale Suite plug-in for WooCommerce to streamline the ordering process, and it is a "huge project", she says, "but I'll get there."