We look at the cloud services that can give you a competitive edge by transforming how you manage orders and deliveries.
Delivery and logistics can be labour-intensive functions, but much of that effort (and cost) can be eliminated through a digital transformation project.
As we've explained previously, there are big rewards – and traps – with such projects. And indeed, digital transformation has many meanings, depending on the goal of the project. Here we examine into one of those goals: modernising and streamlining logistics and delivery.
"Time is the only non-renewable resource," observes Sendle CEO James Chin Moody, and about half of a small business's time is spent on administration, with logistics as a significant contributor to that figure.
As we'll explain later in this feature, there are reasonably affordable logistics services that can allow small businesses to completely outsource warehousing, packing and delivery. But if that's overkill for your business, there are plenty of options to improve your delivery processes and services, and potentially reduce costs.
Delivery services
At the very least, you should consider using a service that can free up the time you spend taking parcels to the Post Office and waiting in the queue.
However, changing how you handle deliveries can go way beyond that and, in fact, "a small business can outperform big business with technology," Chin Moody said.
Perhaps the most significant way of saving time and costs is to integrate delivery and logistics with other business systems. As well as removing time-consuming and unproductive manual processing, it effectively eliminates the errors that can be introduced by rekeying or copying and pasting data from one application to another. Remember that such errors can easily reduce customer satisfaction – how would you feel if your parcel was delivered to a neighbour in error?
For small businesses, it's relatively easy to plug together all the pieces they need, whereas that can be much harder for large outfits that rely in part on legacy software.
That's due to how cloud-based delivery, ecommerce, accounting and other business systems integrate with each other to automate ordering, handling and delivery processes and other tasks such as bookkeeping.
Here's a range of deliver services and what they offer in terms of delivery options and integrations with other systems.
Sendle
In addition to arranging collection, Sendle saves time by not requiring senders to specify the dimensions of their parcels. Instead, they just need to decide, for example, "is it the size of a shoebox?" This saves about a minute per order, Chin Moody suggested.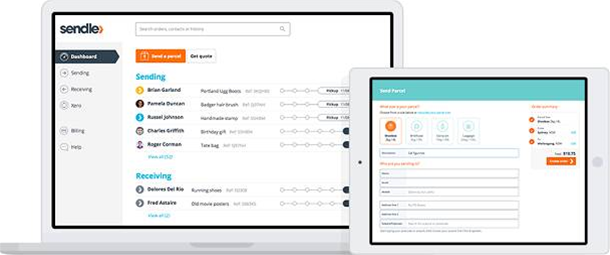 The Sendle dashboard.
Sendle provides a robust, simple and clear API that other vendors can use to integrate courier delivery into their platforms, he said. It also offers prebuilt integrations with a range of ecommerce and accounting platforms, including eBay, Neto, Shopify, WooCommerce and Xero.
One of the reasons why online shopping carts are abandoned is when potential customers are suddenly confronted at the checkout by a larger than expected shipping cost. Third-party developers are starting to address this issue by making it easy to provide real-time shipping cost estimates based on Sendle's rates, said Moody. Examples include Zaan's add-on for Shopify and Joovii's for WooCommerce and Magento.
Australia Post
Australia Post's MyPost Business lets you print postage-paid labels (pay by credit card or PayPal), and for an extra $1 you can arrange next-day pick up from "select major metro areas". That additional fee can be offset by the postage discounts granted to regular senders – just five parcels a week are rewarded with a 10 percent saving, rising to 15 percent for at least 20.
Australia Post is in the process of re-platforming its lodgement services, general manager of ecommerce and international Ben Franzi told Business IT. Part of the redesign is to allow the seamless, bidirectional flow of information between Australia Post's systems and eBay, Shopify and Magento.
The MyPost Business app.
The API will allow developers to connect additional systems. "It's quite simple from a technology perspective" because everyone uses APIs for integration these days, he observed.
Integration with other systems can take as little as a few hours or as long as a month or two, depending on the complexity of the environment.
"We're integrated with all the large shipping platforms" including ShipStation, Temando and Shippit – "it comes native," said Franzi.
Bidirectional integration is important, as it allows for capabilities such as checking the accuracy of addresses, determining the cost of postage, ordering pickups, track-and-trace activities, and sending delivery notifications to customers.
Australia Post's API provides visibility of the way shipping costs increase as items are added to a cart, but it is up to the merchant to expose this to the customer, he said, pointing out that nasty surprises in the form of high shipping charges that only appear at the checkout can lead to cart abandonment. Another way of avoiding this problem is for the merchant to analyse freight costs over time, and then build shipping into the prices charged for the goods.
Ninety-two percent of all parcels are delivered first time, said Franzi. Something that may help this is that Australia Post's delivery notifications present the customer with options via MyPost Deliveries if they're not going to be present on the expected day of delivery.
Pitney Bowes
Another big name that's getting involved in this part of the market is Pitney Bowes. The company plans to provide a complete sending service for small and mid-sized businesses, starting sometime this year.
"I want to make sure we have all of the right services" in place before launch, country manager and director for shipping and mailing Stephen Darracott told Business IT.
The service will be built around the Pitney Bowes Commerce Cloud platform. In some overseas markets, the company has already launched the SendPro C-Series, an Android-based 'sending station' that simplifies multi-carrier shipping and mailing from a connected device.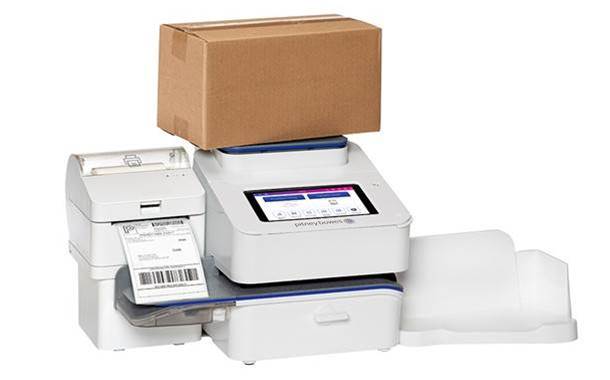 SendPro C-Series 'sending station'
Companies such as Sendle, Shippit and Zoom2u (to name just three) are "doing an excellent job," he said, but Pitney Bowes plans to offer "a complete shipping ecosystem" based on its open platform. Third-party developers will be able to easily integrate their software with Pitney Bowes' platform.
When released locally, the new product will be able to integrate with multiple ecommerce platforms and marketplaces, validate delivery addresses, weigh parcels, print labels, integrate with multiple carriers, and even handle return services.
For larger businesses eyeing international sales, Pitney Bowes already offers the Borderfree platform.
What about PO boxes?
One complaint we often hear from online shoppers is the inability to have their purchases sent to a PO box. One reason is that some merchants are concerned about the added risk of fraud when shipping to PO box, said Franzi.
Another is that carriers other than Australia Post cannot deliver to PO boxes without incurring additional costs. "We're looking to solve that," he said, adding "good merchants can ship to PO boxes."
Franzi's advice is to "put the decision in the hands of the consumer," presumably by providing the option of delivery by Australia Post, even if that means the customer pays a bit more for shipping.
Next: All-in-one logistics services
All-in-one logistics services
When it comes to transforming logistics, an increasing number of small businesses are completely outsourcing warehousing, packing and delivery to third-party services. Here are two of those services.
Australia Post
Australia Post's StarTrack operation caters for larger businesses, but there's also Fulfilio, a startup being incubated by Australia Post.
Fulfilio is suitable for small businesses shipping as few as 20 orders a day, said Franzi. "It really works nicely when you've started to outgrow your house," he suggested, observing that etail businesses often start as hobbies.
The Fulfilio cloud and mobile app
The service integrates with many ecommerce systems including BigCommerce , Magento , Shopify and WooCommerce, plus platforms such as eBay and Etsy, and is able to handle things like custom packaging, notes, and surprise gifts.
Pack & Send
Pack & Send is another provider of corporate-grade logistics services to small businesses.
The company is also developing a shipping platform called eSender that will integrate with popular ecommerce systems including eBay, Magento, Shopify and WooCommerce. Since Pack & Send works with multiple carriers, this will make it easy to provide customers with a wider choice of delivery options.
A Pack & Send service centre
According to Pack & Send, eSender facilities will include automatic despatch, status tracking and consignment document and shipping label generation.