Just accessing data is not enough – you need to be able to spot trends quickly. We reveal the top tips and tools for the job.
Data visualisation: it's the buzzword that means decision makers can instantly understand key insights without having to trawl through spreadsheets of numbers and data scientists can identify patterns that they wouldn't normally notice with just the figures.
It's also a minefield, because deciding upon the best tools to use to convert key insights into infographics means taking into consideration a whole raft of factors, including the cost of solutions, how you want the data to be presented, whether you want the tool to scrape the data and uncover the best insights or you will provide the data to be represented.
This guide will help you implement best practice when converting data to visualisations and help you choose the most suitable tools for the job.
Top data visualisation tools
There are plenty of data visualisation tools available, including many of the BI applications that we've listed elsewhere, but here are some of the better options.
DataHero
DataHero analyses your data and allows you to turn it into key business insights using a drag and drop interface. You can import data from your existing cloud services, combining information from different sources and storing it in one place.
The insights can be share with others in the organisation from a single dashboard, offering everything in one place.
Plot.ly
Plot.ly takes the data you want to visualise from your cloud platform, spreadsheet or via manual upload and turns it into visualisations contributed by the open source community.
The data can be analysed using any number of tools including Python, Matlab, Javascript or Jupyter and is then transformed into graphic that can then be shared onto a webpage, exported, turned into a presentation or a dashboard for everyone to access.
Tableau
We've looked at Tableau elsewhere as a business intelligence application, so it's not surprising it's one of the better visualisation tools as well. Tableau can connect with almost any database to extract the important data and turn it into visualisations to help show trends and vital information to make better business decisions. The interactive graphics make it easier for everyone to explore the key points, inspiring lightbulb moments.
The visualisations are beautiful and UI is simple to use, making it a platform open for everyone, not just data scientists.
Visual.ly
Visual.ly is a step up from the normal input data–spout out graphic interface. It's a whole community of designers that will turn data into something totally immersive and unlike anything else in existence.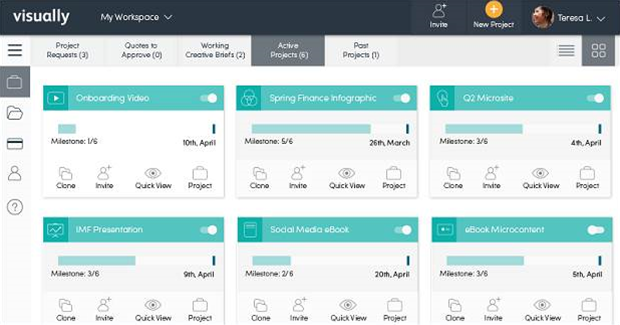 It's designed mostly to create infographics or social content for the public arena rather than visualisations to show management, but if you're looking to move your business to the next level, it's worth a peek.
Next: Top data visualisation tips
Top data visualisation tips
Choose the right graphic for the data
If you're attempting to highlight a trend decrease, increase, drops in service which fit into a pattern or the distribution of services around the nation, you need to select the correct way of displaying data. Trend graphs, such as those that show profit increase or revenue decrease, should be displayed on a line graph that shows the upwards/downwards trend. Comparison data needs to appear side-by-side in order to highlight any trends and scatter graphs should be your go-to visualisation for distribution data.
Keep it simple!
Try to keep the visualisations simple - don't cram too much information into them. If it gets to the point where it's too complicated, try splitting the data into multiple charts or visualisations.
Additionally, you could also use colour, size and position of data to show what's the most important. The most important aspect is that your visualisation needs to be understood from a glance - your audience shouldn't need a PhD to decipher it.
Don't let the creative get the better of you
It may seem important that graphics look good but it's crucial that it makes sense and can be understood easily. Let the data do the work in a simple manner instead of investing your efforts into the way it's presented. In data visualisation, you shouldn't have to explain what's happening. If you spend too long obsessed with how it looks you will end up wasting precious energy and time. This completely goes against the purpose of the data in the first place.
Ensure there's a hierarchy
All data should have a hierarchy, highlighting the most important data and ignoring the data that doesn't matter (or at least, making it less dominant). Be ruthless and only show what's necessary or what illustrates your point.