An online retail expert reveals which new trends and services can help smaller players.
Fulfilment is a problem for online retailers, but small and mid-sized businesses may be better placed than their big competitors to take advantage of the changing environment. That's one of observations of Neto founder and CEO Ryan Murtagh.
The locally created Neto omnichannel retail software had its genesis in a large online department store that built its own platform before deciding to focus on the ecommerce software and divest its etail business.
Now part-owned by Telstra and recently listed in SmartCompany's Smart 50 and AFR's 10 Most Innovative Companies, Neto has grown into an end-to-end software-as-a-service platform for wholesalers and retailers, with support for online stores, online marketplaces, point of sale, inventory and shipping.
This puts Murtagh in a good position to observe what's happening in the sector. He spoke to Business IT about the latest trends and offered some tips for online retailers.
More delivery options
Getting the basics, such as fulfilment, right is vital, and Murtagh has observed some new services and other trends that could help small retailers.
"There's a lot of room to move," he said, pointing to services such as Sendle and Australia Post's new Shipster subscription service that covers certain delivery fees from participating retailers for $6.95 a month (with an introductory offer of $9.95 for membership until 1 January 2018).
"Amazon coming here will help," he said, as the online retail giant has deep pockets and will make fulfilment work in Australia – even though "it's a hard problem" because of Australia's size and population distribution.
Murtagh doesn't expect Amazon to offer fulfilment services to other businesses from its local launch, but predicts it will happen sooner or later.
Neto's fulfilment component works with multiple carriers – all the majors and some minor players, he said, with another 80 coming onboard as part of Neto's international expansion – producing the necessary labels, manifests and so on. Neto users can pick a carrier at the point of dispatch, and the software can recommend carriers for individual deliveries.
Something that surprises Murtagh is the number of retailers that fail to switch on the international shipping option in Neto, simply because they don't expect overseas customers. Shipping to overseas addresses need not be prohibitively expensive, he observed. Some services aggregate shipments from multiple retailers in order to reduce costs.
One of Neto customers sells soft toys and it has discovered that it can be cheaper to send a parcel to the US than to Western Australia because international rates are based on weight not volume.
The rise of click and collect
Neto is seeing big growth in the popularity of click-and-collect services, and that's probably a reaction to delivery problems.
Click and collect accounts for around half of the online orders received by Supercheap Auto, one of Neto's clients, he said.
But shoppers also want flexible delivery services, such as after-hours delivery or the option of providing an 'authority to leave.'
Dealing with returns
It's not just about getting your products into the hands of customers, however – "it's also about the return options", he said.
For example, customers expect to be able to return items to retailers' physical stores. "There's a big call for that" by around half of Australian online shoppers, but very few large retailers provide that facility and that makes for "a terrible customer experience". And in case you were wondering, Neto does support in-store returns of online purchases.
Notably, some of the retailers using Shipster offer free return postage.
Increasing return customers
Retailers increasingly realise that attracting repeat customers is a key to profitability. The cost of acquisition is becoming so high that they are unlikely to make a profit on the first sale.
One way this is being achieved is by taking much more care when packing goods, and by enclosing gifts.
"We can help on that front," said Murtagh, as Neto's mobile (iOS) pick and pack app uses the camera to include a photo of the packed products with the shipping note. That means customers can see the items were in good condition when they left, makes carriers more responsible, and helps when insurance claims are made, he said.
Future-proofing your retail business
Murtagh has three suggestions for retailers who want to get through the next few years.
1. Focus on being channel agnostic
Don't get tied down in your existing channels – you need to be wherever your customers are going.
New marketplaces are emerging. Catch Marketplace "has taken off tremendously" and it and Mydeal will soon be joined by Amazon. Early adopters of these platforms will gain a first-mover advantage, he predicted.
New technologies will also have an impact. In particular, augmented reality is likely to change online shopping (Ikea is an early example), so traditional shopping cart software will no longer be adequate, Murtagh said.
To cope with these changes, "getting the back office in shape now is vitally important," he said.
2. Adopt usable analytics and reporting software
It's an old but true saying: you can't manage what you can't measure. Even something as basic as ordering the right products at the right time and in the right quantities is important. Optimising your stock frees cash for other business activities, and good, inexpensive – even free – analytics software is available.
3. Build loyalty through customer experience.
Rather than spending money on gimmicks or loyalty points, Murtagh recommends investing in the customer experience by paying for better packaging, better shipping and the inclusion of free gifts.
To that, we'd add making sure that your web site works the way customers want to use it. If you're selling clothing, you might think people are primarily concerned with style, size and colour. But what about people who only wear natural fibres? They don't want to be shown garment after garment that they will never buy.
Something similar goes for other types of product: what you consider a secondary characteristic may be of primary importance to some customers. Perhaps they're looking for a piece of furniture that's no taller than 65cm so it fits beneath a window. Finding out how people look for products takes time and effort, and that's before you make the necessary changes to your site.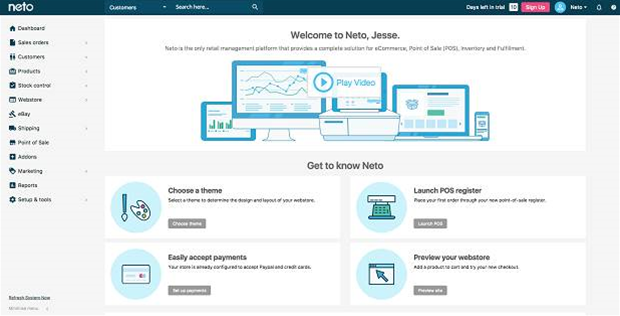 According to Murtagh, having a single platform that takes care of everything from inventory to delivery helps provide a better customer experience. Neto is suitable for businesses handling at least 20 orders a day, though some new businesses use it from the outset, he said.