Google's latest smartphone offers more intelligent software and other improvements, but is it enough to take on Samsung's flagships?
Google-branded smartphones first made their debut with the Nexus One handset back in 2010, made in collaboration with HTC and designed to offer a pure Android experience. Several years later, Google dreamed up the Pixel phones – handsets manufactured by HTC but 100% designed by Google.
The Pixel and larger sibling the Pixel XL introduced Android Nougat and, more importantly, the machine learning powered Google Assistant; the result was a brace of well-received (if not ground-breaking) smartphones featuring a genuinely smart virtual assistant.
Now Google is looking to build upon its Pixel prowess with the Pixel 2, which is available for pre-orders from today (20 October 2017). And it succeeds with that aim – mostly.
Design
The Pixel 2 sports a design that's very much an evolution over its predecessor, rather than a revolution. It's now slimmer and with less chunky chamfered edges, adding up to an altogether tidier appearance.
The aluminium-and-glass aesthetic is still present and correct, only this time the glass panel that gave the original Pixel its distinct look has been shrunk down so it takes up less than a quarter of the phone's rear panel, harking back to the design of the Nexus 6P.
The fingerprint scanner now sits amid the textured aluminium back-panel. While not as nice to the touch as the smooth metal or glass found in other flagship smartphones, it fits the Pixel 2's tweaked design nicely and helps make the lighter phone still feel sturdy, comfortable to hold, and less likely to escape your grasp.
Unlike a good few Android phones that made their debut this year, the Pixel 2 eschews the edge-to-edge screen design and has rather chunky bezels, which make the screen feel a little cramped despite sitting at 5-inches; while not ugly the bezels certainly keep the Pixel 2 from looking as sleek as other 2017 Android phones.
The upside to the bezels is they hold a set of stereo speakers that give the handset a much punchier sound than the original Pixel, though headphones are still the best option for audio.
Speaking of headphones, Google has aped Apple with the Pixel 2 and done away with the 3.5mm headphone jack. Instead, audio will be piped through the handset's USB Type-C port, meaning people without Bluetooth headphones will need to use the bundled adapter or invest in USB-C headphones.
With the removal of one feature comes the addition of another; the HTC U11-inspired Active Edge. A quick squeeze of the solid-feeling lower quarter sides of the handset activates the Google Assistant without the need to bark 'Ok Google' or long-press the virtual home button. What felt like a gimmick at first, is actually genuinely useful if you use Google's virtual assistant regularly.
Overall, the Pixel 2 has a design that's nowhere near as flashy as other Android handsets, such as Samsung's Galaxy S8. Rather, the Pixel 2 in some ways feels as though it has drawn influence from Scandinavian furniture, with a pragmatic and unassuming design that almost melts away with use as focus is drawn to the tactile feel of the handset and its smart features.
Display
Measuring 5in across and sporting a Full HD AMOLED panel, the Pixel 2's 441ppi display is the same as the first Pixel's on paper, but given the latter had a vibrant and bright display, that's no bad thing.
The Pixel 2 keeps up the good work of its predecessor too, with top contrast ratio of infinity:1, and excellent brightness when compared to other modern Android handsets, but this time the Pixel 2 presents more natural colours, with 96% sRGB coverage, over the original model. It lacks a little of the punch of its predecessor but avoids displaying colours that look unnatural or overblown in videos and photos.
A 5in Full HD display with a traditional 16:9 aspect ratio is fairly standard in modern mobiles, but to help jazz things up, Google has added a Samsung Galaxy-style 'always on' display, which will display the time, date and incoming notification without needing the user to wake the handset. It's a useful feature, but it can get a little distracting at times.
While the Pixel 2's display is up to the standard of most flagship Android phones, we can't help but feel Google could have pushed the envelope more with the screen. We would have preferred it to aim for a bezel-less design, but that energy was saved for the larger Pixel 2 XL.
Software
It's on the software side that the Pixel 2 really begins to shine. Rather than offering a 'pure Android' experience, the Pixel family uses a unique, custom launcher, which offers a more polished, premium experience than the stock version of Android Oreo.
The Pixel Launcher has been given a nip and tuck to be slightly slicker on the Pixel 2. For example, the Google Now widget is now sitting at the bottom of the home screen, rather than as a thick icon in the top left-hand corner.
Such tweaks have made using the Pixel 2 very smooth and slick, compared to the rather clunky experience Android used to offer. Even with the Pixel Launcher, Android is arguably not quite as immediately intuitive as Apple's iOS, but the flexibility of the software more than compensates, and the edge Apple has with its App Store ecosystem is getting slimmer every day.
Where the Pixel 2 really stands out from the crowd, however, is with the Google Assistant. The Assistant made its debut with the previous Pixel, but with the Pixel 2, Google's virtual assistant really stretches its legs.
Not only has the Google Assistant become smarter and more capable over the past year, it's tightly integrated into the Pixel 2's native apps, meaning you can ask it to do all manner of things, such as identify music you are listening to without the need for the Shazam app, something that wasn't possible with the older Pixel beyond going into the Google Now voice search app. It will also display song information automatically when the display is in its Always On mode.
The Pixel 2 also sees the debut of Google Lens, which uses machine learning to identify what's in a picture and serve up information about it - for example a shot of a shop sign will present opening hours, or a picture of a book cover will bring up snippets about the author. In practise, Google Lens can be a little hit and miss, but it's still early days and the potential of the machine learning Google has built into the Pixel 2's software and its Assistant is pretty impressive.
Features
Google's machine learning prowess is really the main feature of the Pixel 2, designed to showcase how smart the search giant's software has become. As such, the Pixel 2 is hardly flush with additional standout features.
IP67 water and dust resistance is thankfully now included, and the handset has a built-in electronic SIM that allows users on the Google Project Fi network, meaning the Pixel 2 can be used without a SIM card. However, Project Fi is only available in the US, so it has limited appeal in Australia for the time being.
Alongside the addition of stereo speakers, Active Edge, and the removal of the 3.5mm jack, the rest of the Pixel 2's feature set is the same as its predecessor. Fast charging is present and correct, and while there's no microSD slot to expand storage, Google's offer of unlimited cloud storage for photos and videos should ensure that the built-in memory is more than enough for most people.
Next: performance, battery life, camera and verdict
Performance
Under the Pixel 2's chassis sits Qualcomm's Snapdragon 835 system-on-chip, a powerful chipset found on most of 2017's other flagship phones. The chip has eight processor cores running at 2.35GHz and is paired with 4GB of RAM, giving the Pixel 2 plenty of compute power in its slim frame.
Our benchmark tests yielded a Geekbench 4 score of 1,914 for the single core test and 6,303 for multicore performance; pretty much on par with other high-end phones available. For example, the Galaxy S8 hits 1,994 and 6,629 respectively.
But the real-world performance of the Pixel 2 is where it really shines. Thanks to using Android Oreo with little more than the Pixel launcher interface added on top of it, the Pixel 2 has no heavy skins, overlays, or flabby third-party software to slow it down.
Instead, the Pixel 2, much like its predecessor, is highly optimised and Android runs wonderfully, though you'd be hard pressed to tell the difference in performance between the Pixel 2 and its predecessor.
Flittering through apps and web pages is super smooth; even with numerous apps open at the same time Pixel 2 seems immune to any slowdown. Graphically-intensive software like games pose no problem for the phone's internals, and watching high-resolution videos while texting in split screen mode is handled with aplomb.
This performance, helped by the lack of flabby software, make the phone a great productivity workhorse, alongside being great for general use.
Storage starts at 64GB and goes up to 128GB. Coupled this generous allocation with the company's offer of free Google Photos storage for all Pixel 2 customers, and you should have absolutely no problems with local storage.
In everyday use, there's not much to see the Pixel 2's performance as much of a step over the original Pixel. But its beefy innards should give it a degree of future proofing when more graphically demanding apps crop up, such as virtual reality games for the Google Daydream headset.
Battery life
Battery life clocks in at just over 14 hours in our testing, though in real-world use will see the 2,700mAh get you through a good day's worth of average use, including emails, messaging, calls and social media browsing. Set the brightness on full and stream a lot of video and that battery life drops; heavy use throughout a working day will see the Pixel 2 need a charge before bedtime.
Fast charging is present and correct, so when we found ourselves with a battery nearing empty, a mere 15 or so minutes on the charger and we had more than enough power to see us through a good few hours of solid use.
A power saving mode can extract out more life from the battery, but adds an annoying red overlay and slows performance down a little, so that swiping through menus feels a little jerky.
It also doesn't seem to have a great deal of effect in reducing battery consumption while the phone is in heavy use. But use the Pixel 2 sparingly with battery saver enabled and you can make it last a lot longer.
For example, we put the handset into power saving mode at 11:45pm with 51% of battery life left and come 1pm the following day, the battery had only dropped to 45% and all the time it had been recieving data and pushing notifications.
Overall, the battery life in everyday use is on par with many mid to high-end Android smartphones available; it is neither impressive or disappointing.
Camera
The camera on the Pixel 2 has been improved, build-in upon the impressive photography capabilities of its predecessor.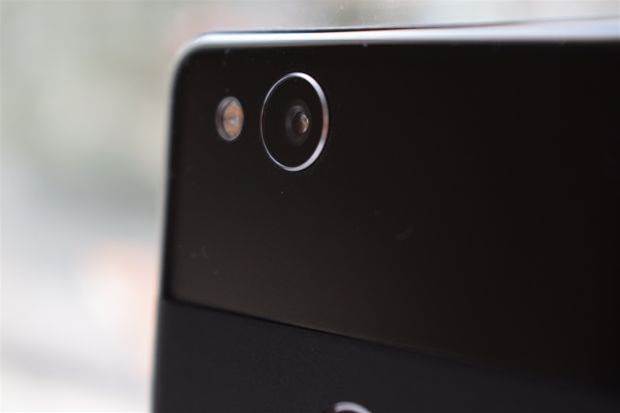 On paper, the 12.2MP f/1.8 aperture rear-camera is nothing special, but the results it delivers are. Even photos snapped at speed with little concern for focus points still present detail rich pictures, with more vibrant and accurate colours over the original Pixel's already excellent photography chops.
The difference between the old and new Pixel phones is not night and day, but there's no doubt the Pixel 2 offers a superior smartphone camera.
Rather than go for a dual lens camera array, Google makes use of dual-pixel phase detection, which means every pixel in the lens is made up of two smaller ones. With the use of machine learning, the Pixel 2 effectively overlaps multiple shot to deliver the best possible photo with plenty of depth and detail.
This technique also crops up in the new 'Portrait' mode which blurs the background of a portrait photo while keeping the subject in sharp focus. Working on both the rear and front-facing 8MP camera, the machine learning can serve up nice 'bokeh' effects in portrait photos, and is genuinely impressive to view while being intuitive to use.
In fact, machine learning filters into all areas of the Pixel 2's camera setup. Optical image stabilisation is now added into the mix alongside electronic image stabilisation, which can not only improve low-light photography but also be combined to make shooting video smoother, by having smart algorithms to combine the two stabilisation techniques and iron out any jerky hand movements and jitters when filming.
The technique works admirably too, delivering smooth videos even from shaky one-handed shooting. However, when blown up and viewed back, video captured at 4K/30fps lacked finer detail when compared to the original Pixel. This was disappointing, but suggests there's likely a problem with software compression rather than with the camera itself, given the still shots it takes are superbly detailed.
Hopefully Google will patch this pretty quickly, as if the problem is fixed then the Pixel 2 will have one of, if not the best smartphone cameras around.
Conclusion
In many ways, the Pixel 2 is a little disappointing: while it does away with the convenience of the headphone jack, it has a slightly dated design for a phone making its debut at the tail end of 2017. While the hardware is powerful and in keeping with the standards of other Android smartphones, and the handset is well built and lovely to use, it still feels a little out-dated.
The flipside to this is the Pixel 2 is a joy to use. With unfettered Android Oreo and the intuitive and slick Pixel Launcher, the Pixel 2 is less of an Android mobile and more of a Google phone, presenting the search giant's mobile OS in the best light possible.
Moreover, with the Google Assistant and its machine learning-powered features, the Pixel 2 genuinely feels like a smartphone that's actually smart and will continue to get smarter over time.
For business use, the display feels a little small, due to being flanked by its chunky bezels and by 2017 standards it is perhaps not the productivity powerhouse of phones like the Galaxy Note 8. But its smart features, superb camera and slick user experience go some way to compensate.
The main fly in the ointment is that Google has joined Apple and Samsung in increasing pricing of the higher-end models: while the Pixel 2 will cost $1,079 with 64GB of storage, it will cost $1,229 with 128GB.
That's seriously pricey, and what's worse, they're still Telstra exclusives, like the original Pixel, for those wanting to buy on contract. The lowest price plan is $79 per month for 2GB, and you can't shop around for better deals as you can for the latest Apple and Samsung flagships, which are available from all major providers.
Die-hard Android fans will already be champing at the bit to get the Pixel 2. However, for people who are happy to wait patiently for the new, smarter Google Assistant features to roll out onto other Android handsets, we feel the Pixel 2's doesn't quite offer enough for its high price compared to other phones.
Nevertheless, the Pixel 2 is still an excellent smartphone, and while it can't quite hit the high notes in terms of design, which make rival handsets more appealing, it shows that Google is serious about its own hardware and promises a bright future for the Pixel 3.
This article originally appeared at IT Pro.
Verdict
The Pixel 2 is a great Android smartphone, with a vibrant display and a solid construction with innovative squeezable edges. However, in the face of stiff competition from the likes of Samsung, the Pixel 2 looks outdated, with only its excellent camera and lovely Android experience making it noteworthy.
Specs
From $1079 AUD
5in AMOLED display with 1,920 x 1,080-pixel resolution; 2.35GHz octa-core Qualcomm Snapdragon 835 processor; 4GB of RAM; 64GB or 128GB built-in storage, no SD Card slot; 12.2MP rear camera; 8MP front camera; USB-C 3.1 Gen 1 port (no headphone jack); 143g; Android 8.0.
Other Reviews in the Group Test:
Best smartphones of 2018