Set up your own Dropbox-like syncing app for your home or business using a NAS appliance.
'Personal clouds' are a misnomer in our view. It's a term that's often used to describe the ability to remotely access data on a network attached storage (NAS) appliance. However, it's not really in the cloud or anything like a cloud service – you have to pay for and then setup the device, for example, and you can't add extra storage as easily as you can with Dropbox, for example.
It's actually a cloud alternative, but whatever you want to call it, there's no denying it's a handy feature – and there are advantages in having data stored on premises but still being able to access it remotely.
The marginal cost can be lower: NAS drives cost around $50 per terabyte, whereas 1TB of Dropbox storage costs $139 per year for individuals or $210 per user per year for Dropbox Business. Yes, you also have to take into account the upfront cost of the device itself, but over the longer term, you could come out ahead.
Also, on-premises storage is accessible at gigabit speeds via Ethernet, but few small and mid-sized businesses can afford very fast internet links even where they are available (perhaps apart from those with access to GigCity Adelaide).
Conversely, the relatively slow upload speeds on most internet plans (again, GigCity is a notable exception) means that remote access to a personal cloud will likely be slow regardless of the other device's connection.
Anyway, if a personal cloud makes sense in your situation, here's how to set one up.
We're using a Synology DS216+II NAS appliance as an example here, but other vendors provide similar capabilities. (Alternatively, you can use an application such as Resilio with your own storage device or computer.)
The Synology DS216+II costs under $600, which includes two 1TB drives.
Synology's Cloud Station feature lets you set up a private, Dropbox-like service to keep files and folders synchronised between the NAS and users' devices.
Step-by-step: Setting up access to the NAS
1. During initial setup, either sign into your Synology account or create a new one, and create a QuickConnect ID for the NAS (as shown above). This makes it possible to access the NAS via the internet without having to mess around setting up port mapping on your router. Broadly speaking, this works by letting Synology's QuickConnect servers sit between the NAS and the computer or other device that's accessing it remotely. Since the device and the NAS each initiated the 'conversation' with the server, the router at either end knows where to direct the 'replies.' Otherwise, you'd need to tell the router to direct incoming traffic on a certain port to the NAS.
2. Be sure to make a note of the QuickConnect ID you chose. And save the bookmark that Synology provides – it's arguably easier to transfer it to other computers than it is to type it afresh each time, and using it means you don't need to ensure that the NAS keeps the same IP address.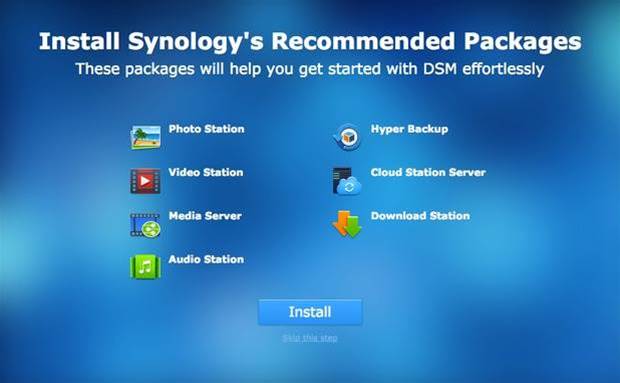 3. Install the packages recommended by Synology. (If you determine you don't need them all, click 'Skip this step' and install them selectively later. For our example, you'd need Cloud Station Server as a minimum.)
4. Then complete Synology's setup process, and create the appropriate user accounts. You'll now have access to the DiskStation desktop.
5. From the DiskStation desktop, click on Control Panel to see all the options.
6. To give users access to Cloud Station, click on Group in the Control Panel.
7. Now double-click Users and then select the Applications tab. Check the Allow box for Cloud Station Server, and then click OK. If you don't want everyone to use Cloud Station, either set up a separate group with that permission, or grant access to individual users. As a general rule, it's easier in the long run if manage permissions via groups. If you're using Active Directory or LDAP, you can control access to NAS resources from there.
Users should now be able to install the Cloud Station app on their device or computer, and connect to the NAS.
Next: Setting up user access.
Step-by-step: Setting up user access
1. As shown above, we've used the DS Cloud app for iOS as an example for accessing the NAS, but the app is also available for Android, and the Cloud Station Drive client is available for Windows, Mac and Linux. After installing the DS Cloud app, open it and type in the device name (if it's not already there), the QuickConnect ID created in step 1 above, and the user's account name and password as set up on the NAS at step 4. Click the Link button.
2. The 'home' folder in DS Cloud corresponds to a folder called CloudStation within the user's folder on the NAS. To keep that folder synchronised, tap the tickbox to the left of the folder icon and tap Next. Set up the remaining options as appropriate, such as sync subfolders and two-way sync.
3. Now files added or changed on the NAS will be synchronised to the device, and other files on the device can be shared from the relevant apps to DS Cloud and hence automatically synced to the NAS.
4. Now you should be able to access the files remotely. DS Cloud can display various file types, including Word and PDF.
Take note of security
Note that this is just a basic guide to the capabilities of Cloud Station. We strongly recommend studying the device's documentation, especially security-related issues.
Several other Synology apps are available for other purposes, including DS File for manually transferring files between the NAS and a device, DS Photo for managing photos between the device and the NAS, and DS Audio and DS Video for streaming content to the device plus related functions.
Other NAS vendors provide similar capabilities, such the WD My Cloud app for accessing WD My Cloud or My Passport Wireless products, and a variety of apps from Qnap.