Forget the squeezy gimmick, HTC has returned to form with its new smartphone.
When HTC teased the U11, it went big on the fact that the phone would be a squeezy revolution. The truth is considerably more prosaic: the HTC U11 is a great phone, but that's nothing to do with the fact you can squeeze it.
So to be fair, before we get onto the important details about the handset, let's look at this squeezy new feature in more depth. To be clear, this feels just like a normal phone; you're not getting some kind of stress reliever/ketchup-bottle hybrid.
Edge Sense, as it was finally christened, works like this. You can squeeze both the edges of the bottom half of the phone where you'd usually be holding it and something will happen. You can change what this does, but by default it's configured to help you with camera operations. One squeeze launches the camera app, even when the phone is locked; the second then captures a photograph.
That sounds useful, especially if we were reviewing this phone with gloves, but it's actually not that handy. First, squeezing the phone makes it very hard to keep the camera lens still. Second, the camera feels markedly less responsive when taking a "squeeze shot" than when capturing with the onscreen shutter button. And timing is everything in cat-based photography, as any self-respecting ailurophile will tell you.
You can change the squeeze's function, too, although some of the options are more useful than others. Launching an app is a bit pointless, but the screenshot facility is nice for people who get fed up of the hand contortions required to take a screengrab in Android, and using it as a shortcut for the voice-recording app is handy for journalists. Activating the torch with a squeeze is useful in the dark conditions you'd likely need extra light in. It's also possible to launch apps with a long squeeze if you want to set up two different shortcuts.
Even if you do customise the squeeze, though, it's not really that useful and you quickly forget it's there. Fortunately, that's easy to do, as this feels just like any other phone; HTC clearly hasn't gone out of its way to redesign around the feature. Just as well, as we can't see anyone else copying it anytime soon.
Of course, if you really do like Edge Sense, and want to protect your new purchase, you'll have to be sure that any case you get isn't so rugged that it blocks the squeeziness. To that end, it's best to consider one of the official HTC ones. They have a flip case or a clear plastic back plate to protect that vulnerable looking back. Though given you'll likely find the whole feature underwhelming, it's entirely possible any case will do.
Design
With that out of the way, let's get onto something that's more interesting – the design. As mentioned, HTC hasn't had to make any concessions for its pointless squeeziness and, to the naked eye, it looks like a normal smartphone. A very stylish smartphone.
The most eye-catching thing about it is the backplate, which dazzles with a mirror-finish rear panel topped with glass. It seems to change tone depending on the angle you hold it at, and it really does shout out for attention. This isn't a handset for someone looking to blend in.
Unfortunately, this shininess comes at a cost. We have never come across a phone this prone to fingerprints. Maybe it's because the light colouring makes the fingerprints more obvious, but the upshot is that if you find polishing your phone a chore, this might not be the handset for you.
Otherwise, it's a 5.5in phone, so it's certainly on the chunkier size (it makes the Galaxy S7 feel positively tiny by comparison), but there's nothing out of the ordinary here. The fingerprint scanner is at the front of the phone below the screen, and both the power button and volume rocker are on the right-hand side. As with most modern smartphones that have the feature, the memory card slot is built into the same tray as the SIM card holder.
Further good news: HTC has finally joined Sony, Samsung and Apple on the water-resistant train. The U11 is IP67-rated, which means it will survive a short dunk in water and a phone call in the rain.
The bad news is HTC has gone the way of Apple and got rid of the 3.5mm headphone jack. The HTC U11 comes with a USB Type-C adapter with a headphone amp built in, so in theory not only will your old headphones work, but they should sound better than ever. HTC also throws in a set of USB Type-C noise-canceling earbuds in the box, and they do a far better job than most pack-ins.
These are both good concessions. But not as good keeping the 3.5mm headphone jack in the first place.
Screen
Let's move onto the screen, which unlike the Samsung Galaxy S8 and the LG G6, has a traditional 16:9 aspect ratio.
On the surface of things, it should be a beauty. It's 5.5in in size, has a resolution of 1,440 x 2,560 pixels and uses HTC's own Super LCD screen technology. Unfortunately, it's not as good as it sounds on paper. The main issue is colour accuracy: the reds, greens and yellows look oversaturated, which isn't ideal.
Elsewhere, things are better. The contrast level is superb at 1,599:1, and the screen reaches a brightness of 520cd/m2. That, combined with a polarising layer, means that glare isn't a problem in bright sunlight, although there's a hidden issue that becomes apparent when you look at it in landscape mode while wearing polarising sunglasses.
This is because of the way the polarising layer is implemented: on other phones (the Google Pixel, for instance) it's orientated diagonally, meaning you can see the screen in both landscape and portrait mode.
Next: Performance, camera and verdict
Performance
Fortunately, things pick up considerably when it comes to overall performance. With the Qualcomm octa-core Snapdragon 835 processor and 4GB RAM this was always going to be a snappy handset and, while the version in our hands was the version with 64GB of storage, another edition with 128GB of storage and 6GB RAM is available, too.
Not that the standard version is sluggish or anything. Here's how it did in our Geekbench 4 benchmarks, which measure overall CPU performance:
As you can see, the HTC U11 is almost the best; just a gnat's wing behind the Samsung Galaxy S8 for both single- and multi-core performance. It comfortably beats the Google Pixel, and the LG G6, which sells for the same price.
Things aren't quite so impressive in the graphically intense GFXBench tests, but it's still a solid performer, especially when things aren't slowed down by the need to output to the device's QHD display: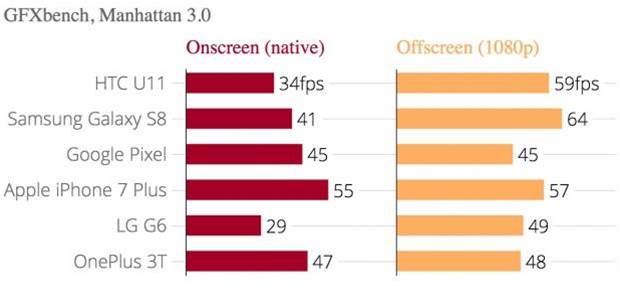 Sound is always something that's important to HTC fans and the U11 can proudly sit along its forefathers on that score. BoomSound is back again and it goes loud and clear with very little distortion that I could hear. You still wouldn't want to hear someone else's music through the speakers on a crowded train but if you don't have earphones or a Bluetooth speaker to hand, they work pretty well in a pinch. Better than most, for sure.
In terms of battery life the HTC U11 delivered mixed performance. In our benchmark test, which involves playing a video on loop at a brightness of 170cd/m2 in flight mode, the HTC U11 lasted 13 hours 18 minutes, which is good but not great.
In day-to-day use, though, it felt better than that. We rarely arrived home after work to less than 40% capacity remaining after a standard day's usage, something our Samsung Galaxy S7 can't claim, despite its superior performance in our tests.
Why the discrepancy? It's likely a combination of things: our aging smartphone is part of it, yes, but the architecture of the HTC U11 is also likely to have helped. This is our first Snapdragon 835 phone review, and the efficiency of the chip is something the company has been shouting about. The evidence is certainly looking strong for now. 
Camera
And so we reach the camera and, surprisingly, what could be HTC's ace in the hole – surprisingly,  because HTC cameras have proven a touch disappointing in the past. But the U11 puts that right and then some. Whether it's the best or not is open to debate, but it's certainly right up there.
In the "best" camp are the imaging specialists at DxOMark, who rate it a score of 90, pushing it ahead of both the Google Pixel, our favourite, and the Samsung Galaxy S8, our second favourite. On paper it certainly looks the part: the rear camera is a 12-megapixel snapper with a bright f/1.7 aperture, 1.4um pixels, dual-pixel autofocus and optical image stabilisation, which is a match for the very best in the business.
Here are some samples so you can judge for yourself.
HTC U11 (left) vs Google Pixel XL: outdoor shots compared
It's very, very good, that much is clear, but whether it's better than the Pixel is open to debate. Yes, it seems to dig out a touch more detail than the Pixel in hard-to-capture areas like foliage and brickwork, but the Pixel wins on the subtle tones of clouds and shadow.
HTC U11 (left) vs Google Pixel XL: lower-light shots compared
In low light, however, it's excellent, presenting heaps of detail and without too much noise. Performance is a touch laggy, though, so if capturing the moment is all important to you, then you may be better off looking at the Pixel or the Samsung.
Conclusions
The other good news about the U11 is its price. At $999 and with 1GB plans starting at $59 (from Optus), it's the cheapest of the latest flagship phones.
In short, the HTC U11 is a wonderful phone that we'd recommend to anyone. Move past the squeeziness, which is a pointless gimmick, and you're left with a fast phone that has arguably the best camera in the game and impressive speed and battery life. The display is a slight blot on the copybook, but that isn't enough to impact its high overall score.
This article originally appeared at alphr.com.
Verdict
The HTC U11 is a wonderful phone and the cheapest of the new flagship phones. Move past the Edge Sense gimmick and less-than-perfect display, and you're left with a fast phone that has arguably the best camera in the game and impressive speed and battery life.
Specs
$999 AUD outright
5.5in 2560 x 1440-pixel Super LCD display; Qualcomm octa-core Snapdragon 835; 4GB RAM; 64GB storage with microSD; 12MP (UltraPixel) ƒ/1.7 rear camera; 16MP ƒ/2.0 front camera; 169g; Android 7.1.1.
Other Reviews in the Group Test:
Best smartphones of 2018