We select the best Windows security suites based on comprehensive testing of 18 tools.
We use our PCs and laptops for pretty much everything, whether it's they're often full of sensitive information, and that makes them a prime target for hackers. Everyday, millions of people fall victim to hacking, and it's often due to virus from websites, email attachments – or even questionable USB sticks.
Even though Windows 8 and 10 come with Windows Defender built in, this basic antivirus provision isn't guaranteed to protect you from the latest dangers. There's a huge risk from "zero-day" attacks that exploit previously unknown vulnerabilities. That means that the old model of simply scanning your PC for known malware won't keep you safe anymore.
Luckily there are plenty of dedicated security solutions out there that can do a much better job than Windows Defender. Several of them are even free, and we have reviewed some of these very capable free antivirus tools previously.
With these free tools available, is it worth paying for a security solution? We've examined this in more depth later in this feature. One thing is for sure, however: paid security solutions offer more features than their free counterparts, with additions such as ransomware protection, a virtual private network (VPN) or a password manager.
With dozens of options to choose from, however, it can be hard to know which package to entrust with your data, especially since some can be quite intrusive and slow down your PC. On the next page, we've selected seven of the better antivirus tools based on the features they offer, their impact on your system – and, crucially, how effective each one is at detecting both known and zero-day malware, according to independent tests by AV-Test.org.
Note that these suites are designed for homes and very small offices – we've looked at endpoint protection for larger businesses elsewhere.
But first, here are the key results of all 18 Windows antivirus tools tested by AV-Test.org in June 2017.
AV-Test.org Windows 10 protection test results
Source: AV-Test.org
Next: The top seven security suites in depth
Avast Internet Security
Price: $69.99 (one PC, one year)
Avast Free Antivirus is a well-known and very capable free solution, but if you get sick of its pop-up invitations to upgrade to a commercial version, you may be tempted to invest in Avast Internet Security.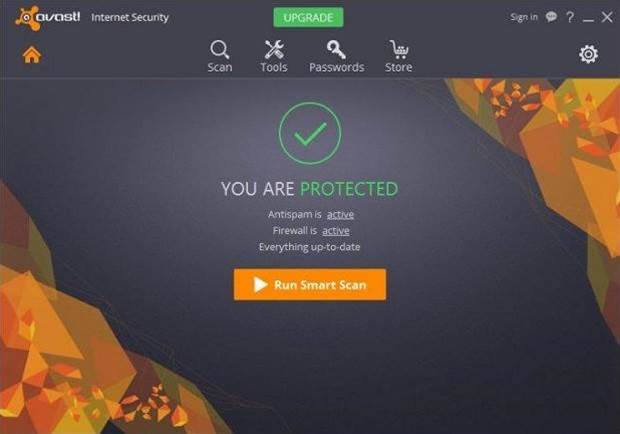 Buying this suite will unlock many of the interesting features – such as the firewall and the system optimisation module – which, when you click on them in the free edition, will trigger a prompt to upgrade. Avast Internet Security also includes anti-phishing and anti-spam tools, and a hardened browser for secure transactions.
Most importantly, though, Avast is a very capable antivirus package. AV-Test found that it was able to identify and block 100% of both known malware and zero-day threats. 
AVG Internet Security – Unlimited
Price: $92.99 (unlimited devices)
AVG is best known for its free antivirus product, but its paid-for Internet Security suite has a lot going for it. As well as regular protection from viruses and other attacks, you get AVG's Data Safe, which lets you encrypt sensitive files; Web Protection, for scanning links and downloads; and Email Protection, which lets you set up local mail scanning and spam protection. There's also a highly configurable firewall, which promises to automatically block malicious programs based on their signatures or behaviour. 
All of this integrates with the AVG Zen dashboard, which lets you manage multiple subscriptions and installations. So, for example, you could install AVG's free antivirus package on a family PC, and check from your own computer that it's running and receiving updates.
When it comes to performance, AVG makes it to the top of the table: AV-Test found it protected 100% of both known malware threats and zero-day exploits. It's a good-value option, the Unlimited package covers unlimited PCs and smartphones. If you have a large number of devices to protect, it's a tempting deal.
Bitdefender Internet Security
Price: $94.99 (three PCs, one year; currently on special for $61.74)
When it comes to malware protection, Bitdefender Internet Security is as capable as they come. In AV-Test.org's tests, it achieved perfect (100%) scores with established malware and zero-day threats. 
The latest 2018 version of the suite includes a number of additions, such as "Advanced Threat Defense", which is designed to identify and block suspicious processes, and "Safe Files", which protects selected files from unauthorised changes for ransomware protection.
But what makes Bitdefender stand out from the crowd is its Autopilot mode, which delivers completely automatic protection. Threats are identified and neutralised without your having to get involved in any way. It's ideal for those who don't like to be bugged with alerts or requesters.
That doesn't mean you can't get hands-on with Bitdefender if you wish. For online banking and shopping you can use the hardened Safepay browser, and you can also configure its Ransomware Protection module. This keeps an eye on your documents to ensure nothing's sneakily trying to encrypt them: a decent clutch of folders is monitored by default, but you're free to customise this.
All the same, it's Autopilot that will probably make Bitdefender Internet Security 2016 a persuasive security option: if you've ever been annoyed by an antivirus software pop-up, this could be your perfect security suite.
BullGuard Internet Security
Price: $89.95 (three PCs, one year)
BullGuard Internet Security is another very effective security suite, managing to block every known and zero-day threat in AV-Test's malware tests.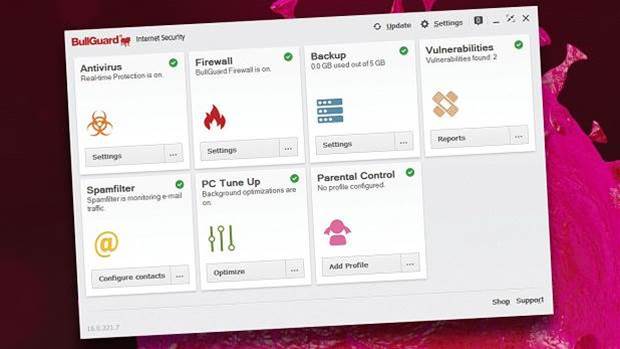 BullGuard also features a bespoke firewall, and a scanner that analyses your system to find any unpatched vulnerabilities. There's also 5GB of online storage which can be used for backup or as a "Cloud Drive" in Windows Explorer. It's a great idea, although if you want to expand your storage beyond 5GB you'll find the price ramps up quite steeply.
Still, if you're looking for a step up from a free antivirus package, then BullGuard Internet Security is worth considering.
Kaspersky Internet Security
Price: $89.95 (three PCs, one year) 
Kaspersky Internet Security isn't just a virus scanner. It's a complete security solution, with features including a secure web browser to ensure no-one's spying on your banking and shopping activities. There's a VPN, too, which allows you to route your traffic through a trusted proxy server, again making it harder for anyone to track your activity online. Employers and parents will also appreciate options to limit access, so they don't stray onto unsuitable websites.
All of this would be academic if Kaspersky didn't do a good job of blocking malware – but, happily, it excels. AV-Test.org gave it a perfect 100% score, indicating that it detected and neutralised every threat they threw at it – including never-before-seen zero-day attacks. It also has a light impact on your system: installing it slowed down web-browsing by a very reasonable 5%, and applications took just 7% longer to open.
If you're looking for simplicity, Kaspersky Internet Security, with all its features, might not be the perfect choice. If that's what you're into, have a look at Bitdefender (below) instead. For all-round protection, though, it's hard to beat Kaspersky.
Norton Security
Price: $84.99 (one PC, one year; currently on special for $69.99)
Symantec's Norton brand has been going for 25 years, so it must be doing something right. And indeed, AV-Test found that Norton Security provided perfect (100%) protection, proving equally effective against notorious "in-the-wild" malware and hitherto unknown zero-day threats.
What's more, while Norton was once known as a resource hog, the current release is one of the most lightweight security packages around: AV-Test found that applications started up just 76% more slowly with the software installed.
The interface is very clean too: advanced options, such as configuring exactly what gets scanned and when, are tucked away in the Settings window. Switching to the Identity tab brings up Norton's free password manager and gives you access to Norton Safe Web, which integrates with your browser to block malicious web pages and adds trust rating icons to web search results.
There's also a set of Performance tools, most of which aren't tremendously useful, although at least they may save you the trouble of downloading and installing extra utilities.
But that's by the by: Norton's excellent protection credentials, coupled with its light impact on your PC's performance, are reason enough to make this your security solution of choice.
Trend Micro Internet Security 
Price: $49.95 (two PCs, one year)
The first thing you'll notice about Trend Micro Internet Security is its compact and elegant front-end. We like it a lot: there's no need for an interface to be huge and garish, and this display of good taste inspires confidence in Trend Micro's capabilities.
And, according to AV-Test, that's not misplaced: in tests, Trend Micro showed its worth with perfect 100% protection scores against malware of all types. If you're particularly concerned about the threat, you can enable "Hypersensitive" mode, which applies more paranoid scanning defaults to make absolutely certain that nothing nasty is lurking on your PC – although this more aggressive approach may impact performance and battery life.
Trend Micro's other features include a system scanner that can find and warn you about vulnerable applications and Windows components on your system, as well as auditing unneeded files that might be eating up space on your hard disk. You can also configure it to warn you about dodgy links being shared on social networks, and to disable scripts when you visit websites that are suspected of hosting malicious content.
The price is competitive too: you'll pay less for a two-PC licence than some other vendors charge for one PC. Add an attractive interface, good features and excellent protection, and Trend Micro deserves a place on your shortlist.
Next: Is it worth paying for a security suite?
Is it worth paying for a premium security suite?
Most security software vendors offer a range of products at different prices. The basic antivirus program will do the all-important job of scanning for malware, but probably not much else. The "Internet Security" suite will add extra features, such as tools to protect your privacy online. In many cases, there's also a top tier that adds features such as online backup or companion apps.
It's also worth noting that most publishers like to brand their products with a year, and they can be quite aggressive about the timing: in some cases, the 2017 packages have been out for months. But this doesn't normally affect your licence: a 2016 subscription will often entitle you to step up to the latest version of the software whenever it becomes available.
Do I need a standalone firewall? 
It used to be the case that every security suite worth its salt would include a firewall, to keep out intruders, and to identify and block dodgy software that tries to "phone home". Nowadays, Windows comes with a very capable firewall of its own, and it's quite common for the developers of security suites to leave this in place, rather than providing their own. 
Advanced users, who feel at home customising network rules, may prefer a bespoke firewall – but unless you fall into that category we'd suggest that the Windows firewall is likely to provide the protection you need.
Do I need protection while I'm browsing the web? 
One of the easiest ways to get infected by malware is to inadvertently visit a dodgy website. Some sites are deliberately designed to spread malware disguised as desirable downloads – so-called trojan attacks. Your security suite might well include a browser plugin that automatically blacklists such sites, so you can't end up downloading something nasty by accident.
What's harder to defend against is when a legitimate site is hacked, and starts serving up "drive-by downloads" to visitors. A good security suite will actively scan every web page you visit and every file that comes down the line, to ensure that attacks are spotted and intercepted before they can do any harm – although this has an inevitable impact on performance.
Why do some suites come with a standalone "safe browser"? 
Web security is especially important on banking and shopping sites: if someone managed to hijack your transactions here, they could steal your financial details and cause very serious trouble. Some suites include an entire separate browser for use on such sites, that's specifically engineered to shut out potential hackers.
Normally, a safe browser won't support extensions at all, and will insist on encrypted connections. It may run in a sandbox or elevated environment to prevent other running processes from spying on what it's doing. You can normally configure your security software to automatically switch from your regular browser to the safe one when you visit specific sites, for an effortless security boost when it's needed.
How does email protection work? 
As well as monitoring web page content, most security suites will also inspect incoming and outgoing email messages for dodgy attachments, or "phishing" links.
However, your security software can only examine messages that are stored on your PC, through a client like Outlook or Windows Mail. If you use Gmail or Hotmail, your security software has no way of looking inside attachments to see that they're safe. Don't worry too much about this, though: the very fact that attachments are stored in the cloud, rather than on your PC, makes it hard for malware to spread this way. Just don't click on any unfamiliar links.
And what about protection for my phone and tablet? 
Security experts have been warning for years that smartphones and tablets are just as vulnerable to malware attacks as computers, and many security suites are partnered by apps for Android and iOS – both free and paid-for.
Android is by far the bigger market, as its much more open architecture makes it easier for malware to spread. Offerings for iOS tend to be more limited, because the much stricter security model makes it very hard for both malware and security software to operate. If you like the cross-platform approach, it's worth considering a suite that comes with a suitable companion app.
This feature is based on an article that originally appeared at alphr.com.