Power up your smartphone, tablet and working day with these apps for iOS, Android and Windows 10.
Apps can turn your smartphone or tablet into a portable photography suite, a personal assistant, a video-conferencing and collaboration tool, and much more. That's all well and good, but with so many iOS and Android apps available, from Apple's App Store or Google Play respectively, it can sometimes be difficult to decide which deserves a place on your home screen.
So as a starting point – or to save you the trouble of trawling through potentially millions of apps – we've picked 36 of the best productivity-enhancing apps available. Just remember that if any of the following apps don't suit your taste, there are generally a number of alternatives available.
We haven't forgotten users of Windows 10 tablets and hybrids either. While that OS runs a wide range of standard Windows applications, it's worth considering Universal Windows Platform (UWP) apps that have been specifically designed to take advantage of Windows 10's interface – so, for example, they work well in both desktop and tablet modes.
UWP apps are available from the Windows app store, and while that's a little barren compared to Apple's App Store and Google Play, it offers several gems, which we've included here.
Read on for the best iOS, Android and Windows 10 apps for:
Communications & collaboration apps
Todoist: To-Do List (free)
There are more than enough list-managing apps out there to qualify for some sort of meta list-management list, but Todoist rises to the top of the pile with its gorgeously streamlined design.
A great way to keep on top of deadlines, the core of the app is built around to-do project lists, which you can manage and tick off when completed. Group collaborating, integration with apps including Google Drive, and automatic syncing across devices all help to make Todoist a useful, clunk-free tool for keeping track of work.
Available for iOS, Android and Windows 10.
Slack (free)
A useful and potentially transformative business app to have in your arsenal, Slack is a snazzy-looking conversation platform aimed at the workplace.
The app supports both private and group conversations. It integrates with a number of tools including Dropbox and Google Docs, and lets you add images, videos and GIFs to your chats. It automatically syncs across all of your Slack accounts, making off-the-cuff collaboration possible even when you're on the bus.
Available for iOS, Android and Windows 10.
Trello (Free)
Organisational app Trello offers tons of features, such as collaboration with other users and integration with online tools, as well as several viewing modes and tags to make organising multiple pieces of work manageable.
It's cross-platform, too, so your colleagues will be able to access it anywhere, regardless of the device they're using.
Available for iOS, Android and Windows 10.
Microsoft Outlook (free)
Microsoft Outlook is quite possibly the best mobile email app available. Working with Microsoft Exchange, Office 365, Outlook.com, Gmail, Yahoo Mail and Apple iCloud, Outlook is a power user's dream.
It automatically organises itself to surface the more important emails to the top, filtering the rest into an "Other" inbox for you to peruse at your leisure. You can swipe to delete, archive or schedule emails to appear when you have time to deal with them properly, and it contains your entire Outlook calendar, so there's no need to switch app just to check an appointment.
Available for Android and iOS.
Skype (free)
FaceTime may be the pillar of video chat on Apple devices, but Skype remains an indispensable tool for talking to friends, family and colleagues on Android and Windows devices.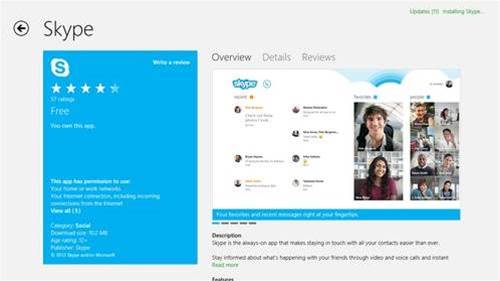 This cross-platform app offers free messaging and video calls, and cheap calls to mobiles and landlines. It also includes video group calling, meaning you can chat to up to 25 friends or family members at once, each with their own onscreen video box (presumably quite small) – in high-def, if your phone or tablet supports it.
Available for iOS, Android and Windows 10.
Google Docs (free)
Cloud-based document editing is increasingly the norm in offices, and Google Docs is one of the most-used apps out there. It's therefore pretty handy to have this app installed on your phone.
There's all the functionality here that you'd expect from Google Docs on a laptop. You can edit a document on the go, collaborate with other writers and can rest easy about losing progress, as changes are all automatically saved.
Available for iOS and Android (with third-party GDocs app available for Windows 10).
Dropbox (free)
Cloud-based services are everywhere these days, but one of the originals, Dropbox, is still one the first apps installed on many mobile devices.
You  get 2GB of free storage that allows you to share photos, documents and videos between a wide range of devices, and can send links for larger files – all of which is useful and a great way to back up, work from anywhere and collaborate.
Available for iOS, Android and Windows 10.
Personal productivity apps
Evernote (free)
Evernote is the quintessential cloud-based note-taking app. Use it to create short (or long) notes and to-do lists on the move, and it will sync across all devices via the cloud.
The app displays all your notes clearly on startup, including images, and it even comes with a companion Apple Watch app that you can use for dictation.
Available for iOS, Android and Windows 10.
Pocket (free)
Found an article you like but want to read it later, when you may not have an internet connection? Pocket is the solution to your problem.
Allowing you to save articles and videos to read and watch later across any Pocket-enabled device, you'll never be short of something to read or share again. It's the perfect distraction for Tube journeys, flights and those long train trips in signal black holes.
Available for Android and iOS.
Buffer (free)
Buffer lets you line up social media posts for Twitter, Facebook, Google+, LinkedIn and Pinterest. It's a pretty essential tool if you're running a publication or business, but can also be useful if you want to schedule regular updates or announcements from your personal accounts.
The app lets you pin posts to a custom schedule, and then offers a host of different analytics tools to judge how many people clicked, liked or shared your words or pictures.
Available for iOS and Android.
Paper by FiftyThree (free)
A useful tool to have in your belt, Paper is great note-taking app with a bunch of handy features included.
The intuitive design of the app makes everything from creating checklists to annotating photos simple, and whatever you come up with on the app can be easily exported in PDF or Presentation formats. Working with your fingers is fine, but we found it easier to use the app with a stylus.
Available for iOS.
MindNode ($14.99)
An intuitive piece of software that helps to order mental clutter, MindNode is a brainstorming app that lets you draw a map of interconnected thoughts. Using a variety of colours and line widths, you can create a network of nodes, or use the app to place your ideas into different categories.
The app makes it easy to share mind maps, with the ability to export them in a variety of file types. Throw in Apple Watch integration and an exceptionally clear interface, and you have one of the most complete brainstorming apps out there.
Available for iOS.
Ulysses ($38.99)
Ulysses is a powerful writing app that made the transition from Mac to iPad. Described by its makers as "desktop-class writing for iPad", the app is aimed at anyone who writes regularly, such as novelists, journalists, students and bloggers.
The app has a very minimalist design, which is one of the things that has made it popular. There's a three-paned sidebar that allows users to see all of their files at a glance. It also lets users organise files using groups and filters. At $38.99, it may be a bit pricey, but it's worth it.
Available for iOS.
Drawboard PDF ($12.29)
A great app for when you need to mark up PDFs, Drawboard PDF has a slick interface and a variety of useful tools.
Perfect if you work in engineering or design, the app works well with a stylus and lets you add handwritten annotations to PDF documents. It also saves on having to carry around heaps of paper.
Available for Windows 10.
Uber (free)
The ubiquitous taxi app is now available on all major mobile platforms and even Windows 10 PCs thanks to Microsoft's Universal Windows Platform.
That means you can now request drivers to pick you up from the location pinpointed on your Windows desktop, and if you're feeling particularly hands-free you can use Cortana to do the work for you. Another nice touch is being able to see a countdown to your ride's estimated arrival time if you pin the app to your Start menu. 
Available for iOS, Android and Windows 10.
Photography and media apps
Adobe Photoshop Fix (free)
Photoshop has long been the mainstay of designers, photographers and internet meme makers. This free iOS app is in no way a replacement for the in-depth editing tools that come with the full Photoshop release, but it's one hell of a starting point for beginners.
Angled towards patching up photos, the app has tools that give you the ability to warp faces, "heal" pictures by removing imperfections (or unwanted people in the shot), as well as tweak a range of colour, focus and tone options. You can export layers to Photoshop CC, making it both a great ancillary tool and quickfire editor. The fact that all of these features are free is mind-blowing.
Available for iOS and Android.
VSCO Cam (free)
VSCO Cam upgrades the standard phone camera app to give photography enthusiasts full control over the shutter speed, ISO and white balance – as well as letting you choose focus and exposure values from separate areas of your frame.
Once you've captured the perfect image, you can apply a range of filters with adjustable strength. Manual post-processing tools let you apply exposure correction, deskew images, adjust colour temperature and more. What makes VSCO stand out is that these edits are non-destructive, so you have full freedom to experiment and perfect your image. When you're done, you can share your creations on an online gallery.
Note the iPad app doesn't offer the full range of manual camera controls, but images can be synced between multiple devices, so you can shoot on your iPhone then edit on the big screen.
Available for iOS and Android.
Layout (free)
By Instagram, Layout is a useful collage-making app that lets you combine your photos into creative composites.
There are similar apps out there but none are as polished as this, and the connection to Instagram offers easy integration between the two.
Available for iOS and Android.
VLC Media Player (Free)
VLC Media Player has long been a staple download for PCs and it's fast becoming the same for mobile devices.
The open source player can manage most audio and video files, including FLAC, MKV, MOV, TS and ogg, and there's also a media library complete with snazzy orange and black interface.
Available for iOS, Android and Windows 10.
Wikipedia (free)
The Wikipedia app provides a convenient way to browse the people's encyclopedia, particularly on tablet devices.
The app's homescreen highlights featured images and articles of the day, allowing you to dip into completely random topics.
Available for iOS, Android and Windows 10.
Feedly (free, with in-app purchases)
Want to know what's going on in the news or over at your favourite site? Feedly has you covered, pulling in the RSS feeds of the sites you opt to subscribe to.
Feedly makes it incredibly easy to find new websites, save and share content or read articles online.
Available for Android and iOS.
Pocket Casts ($3.99 for Android, $5.99 for iOS)
While we're big fans of Doggcatcher for organising and listening to podcosts, it's only available on Android. Pocket Casts is just as powerful, but a lot more user friendly and available on iOS too.  
Pocket Casts allows you to download podcasts at a set time and your progress is synced to the cloud, so you can carry on where you left off on another device or in a web browser.
Available for Android and iOS.
Self-improvement apps
LinkedIn (free)
A key tool for managing your professional network, LinkedIn is still the best way to keep up to date with industry news and look out for new job opportunities.
Not a great deal has changed with LinkedIn over the years. At the core of the app is your CV, and stemming from it are professional connections. Many people tend to use the app as a digital business card, but it's also one of the best ways to search for work and scope out potential clients if you're a freelancer.
Available for iOS, Android and Windows 10.
Duolingo (free)
One of the best free language learning tools out there, Duolingo is a must-have if you're looking to take your first steps in a new tongue. Perfect for swatting up on the essentials before a holiday, or testing the waters before embarking on a larger course, the app comes with fun, easy-to-use lessons for Spanish, French, Portuguese, Italian, German, Dutch, Danish and Gaelic.
Whether you're learning the very basics or a few set phrases, the app has a variety of courses for each language. You'll lose hearts for answering incorrectly, which turns the whole process into a rather addictive game, and adds an important element of fun into the learning process.
Available for iOS, Android and Windows 10.
Khan Academy (free)
If you haven't heard of Khan Academy, it's a global not-for-profit organisation that aims to educate the world for free. The app gives you access to its library of more than 3,200 teaching videos, covering all the branches of maths, the sciences (including its foray into computing), history and even finance and economics.
It also has a section for talks, similar to the TED app. The quality of the teaching varies by topic and teacher, but it's a free resource that's designed specifically to engage and explain rather than simply talk at students.
Available for iOS, Android and Windows 10.
Forest ($2.99 for iOS, free for Android)
The idea at the heart of Forest is that you plant a seed and watch it grow into a tree. You do this to avoid distractions. The catch? If you can't stand to be without Facebook or Twitter and decide to fiddle around with your handset, your lovely tree will wither and die.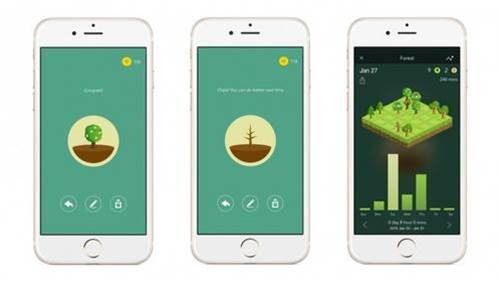 It's a clever, intuitive, and aesthetically pleasing way to make distancing yourself from distractions feel worthwhile. Keep focused on your tasks and you'll eventually end up with a satisfying forest of productivity as well as a bunch of nicely formatted statistics to pore over and share.
Available for iOS and Android.
Streaks ($5.99 for iOS, free for Android)
From a distance, Streaks sounds like either a useful way to track your daily habits, or a terrifying glimpse to a dystopian future where we all need apps to remind us to brush our teeth. Luckily it's the former, offering a handy and flexible system where you set reminders for up to six tasks each day.
The aim is to complete your goals for "streaks" of several days. It's a simple concept, but is great way to encourage good habits with only a few gentle nudges.
Available for iOS and Android.
Utility apps
GBoard
We review a lot of phones, and after giving each stock keyboard a fair once-over for the purposes of grading the handset, we inevitably download GBoard. Why? Because it leaves other stock keyboards in the dust. On Android phones, and it's also guaranteed to play nicely because it's made by Google. 
Although it's technically a keyboard app, Gboard lets you search from within another app, effectively letting you look stuff up and share it in just a few taps. And it also comes with emojis, GIFs and glide typing.
Available for Android and iOS.
IFTTT (free)
Also known as IF by IFTTT, this powerful app allows you to create "recipes" that connect various devices and services together, helping you squeeze that little bit more out of them.
Work remotely? IFTTT can email someone when you upload a file to Dropbox or Google Drive, Heck, it doesn't have to be an email, it could ping them on WhatsApp or notify them on Slack instead. You could create a recipe to add YouTube videos you mark as "watch later" into a Pocket account. Or perhaps you'd rather have IFTTT schedule tweets and Facebook posts for you when you make a note in OneNote.
Available for Android, iOS and Windows 10.
WifiMapper (free)
If you don't have a generous mobile data plan, you're going to want to use Wi-Fi as much as possible, but finding good, free Wi-Fi isn't always that easy. WifiMapper is the solution.
Crowdsourced maps where the community shares where to get free WiFi, you should never have to rely on your data again.
Available for Android and iOS.
Avast Antivirus & Security (free, with in-app purchases)
Avast Antivirus & Security is a powerful antivirus app that you can trust; its PC counterpart is one of the best free antiviruses available.
For those who want comprehensive cover, plenty of additional features are available as in-app purchases, including geofencing and remote data recovery. For those who just want basic protection, however, you'll find this does everything you need for free.
Available for Android and Windows 10.
Unclouded (free, with in-app purchases)
Juggling two, three or even four online storage accounts can become an absolute headache. Thankfully, Unclouded is here to alleviate your concerns.
Pulling all your connected accounts into one uncluttered interface, Unclouded lets you access your files from one location, no matter where they're stored. Unclouded currently supports Dropbox, Google Drive, OneDrive, Box and Mega, so it's really only iCloud users who are left out.
For one or two accounts it's free to use, but if you want to manage the content of any others, you'll need to pay. Thankfully Unclouded lets you pick and choose services you'd like, so you're never paying for something you don't use.
Available for Android.
Greenify (free)
Getting the most from your phone's battery is always key. Lollipop may have its own set of battery-saving tools, and many phones now offer power-saving modes, but these should be seen as a last resort.
Greenify sits in the background helping to regulate how much battery various apps are using. It freezes the apps you tell it to when you're not using them, and instantly defrosts them when you need to gain access.
Available for Android.
Tasker ($3.49)
If you really want to tinker with Android, Tasker is a brilliant way of automating much of the functions you'd normally do manually. It takes a little getting your head around, but the scope here is enormous - especially if you have root access on your phone. 
You can train your phone to open Spotify when you put your headphones in, for example, or automatically respond to texts with your street address. If you can feed it the instructions, Tasker can automate the rest.
Available for Android.
Clean Master (free)
Nobody likes having a slow device, and Android somehow manages to grab digital detritus like a magnet in a junkyard. Clean Master is the mop and bucket you need to scrub your phone or tablet clean.
Clean Master's Junk File Cleaning feature scans your Android device and chucks out any unwanted cache and residual files. 
Available for Android.
AirDroid (free)
A real time-saver when working on your computer or laptop, AirDroid allows you to control your phone remotely – allowing you to respond to text messages with a full sized keyboard, mirror applications and painlessly share files between your phone and computer.
Some of the functionality requires a rooted device, but given the app is free (with a paid option for multiple devices, unlimited data transfers and more), it's certainly worth finding out if AirDroid can make you more productive.
Available for Android.
This feature was compiled from articles on iOS, Android and Windows 10 apps that originally appeared on alphr.com.