We show you how to manage your mobile files via Wi-Fi, Bluetooth or the cloud.
Managing all of your documents, music and photos between devices can be a right pain. Sure, you can plug in your Android handset via a cable and move files the old fashioned way, but it's far easier to do things wirelessly. While Apple has AirDrop to move files wirelessly between devices, what options do Android users have to juggle their files over the air?
If you're looking for a way to wirelessly move your media around, here's our breakdown of the best ways to do it.
Transfer files via Wi-Fi
The best way to transfer files between your PC and Android is to send them over a shared wireless network. There are many apps you can use for this, but our favourite is Filedrop. Here's our no-fuss guide to getting it set up.
Step one: First, you'll need to install the app on your mobile device, and download the companion software for your computer. After a brief install, fire up the program on both devices, and click the scan buttons.
Step two: The PC program will ask you which kind of device you're trying to connect. Select the type of device, and it will prompt you to input the device code.
Step three: This code can be found by tapping the options icon in the device app. Enter the code, and the computer will be paired with your mobile or tablet.
Step four: Dropping files between the two is simple – just drag and drop files into the program window on your PC.
Step five: If you're transferring from Android to Windows, tap the icon for your PC in the app, then select either the file browser option to navigate to your chosen documents, or the gallery option to quickly select multiple photos.
Step six: Accept the transfer on the destination device, and the task will begin immediately. A notification will appear in the in-tray section at the bottom, where you can quickly select and open your files.
Bluetooth
In the first days of mobile phones, Bluetooth was the perfect way to swap small amounts of data. Today, while not ideal for large or multiple uploads, it still remains a convenient way to transfer files. Since most current-generation laptops are Bluetooth enabled, it's also a snap to set up.
Step One: To begin with, you'll want to ensure your PC's Bluetooth is switched on. You can find the option in your system notification tray to the right of your taskbar.
Step two: Once it's turned on, go into devices and printers and click add a device. If your device's Bluetooth is switched on, your computer should pick it up without any problems. Select it, and click next.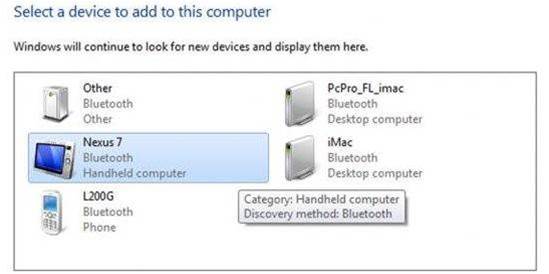 Step three: Your PC will then show you a code to ensure that you're connecting to the right device, which should also appear on your smartphone or tablet's screen. Verify that the codes match, and then continue.
Step four: Once you've clicked next, the two devices should be paired, and ready to swap files in the same way you would between two mobile devices.
USB On-The-Go
If your Android device supports USB On-The-Go (OTG), then there are a whole range of devices that can work as flash drives for your smartphone or tablet as well as traditional PC.
The advantage of these devices is that as well as using them for file transfers, you can also load them up with media for long journeys or commutes.
We particularly like the Kingston Micro Duo, as its tiny form factor belies a pretty impressive capacity (up to 64GB).
Wireless storage device
One gadget we've found increasing handy for managing our files is a mobile NAS drive or wireless storage device, such as SanDisk's Connect Wireless Stick, which can be accessed by connecting to the device's own WiFi hotspot.
The key features of these are the ability for multiple users to access them at once, and the fact that they can be used independent of an internet connection. Some of them can also act as a power bank to keep your phone or tablet going for longer.
Google Drive or Dropbox
Google Drive and Dropbox are still some of the best options for wirelessly moving data. Cross-platform, accessible from anywhere with an internet connection, it is an easy way to share multiple files with minimal fuss.
Since Google Drive comes pre-installed on Android, we'd recommend that as your first stop (especially considering the unlimited storage space).
However, if you're more familiar with Dropbox, feel free to use that: it's a very close second. The only drawback is the limited storage space on Dropbox's free tier, but if you're just syncing a small number of files, it shouldn't trouble you.