Sony's new mid-range smartphone looks stunning, but is its beauty more than skin deep?
Now it's in fifth generation, Sony's Xperia Z family of smartphones has carved out a good reputation over the past few years, but now the company has released a brand new range: the Xperia XA, Xperia X and Xperia X Performance. Priced at $499, the Xperia XA is the entry-level model – but you wouldn't know it to look at it.
On looks, the Sony Xperia XA could be mistaken for the premium handset due to its exceptional design. It's the bezels, or rather the lack of them, that really catch the eye here. To the left and right of the screen, the display's black border is only 1mm thick, instead of the usual two to three millimetres.
In fact, our opinion, the XA is a more attractive phone than the $799 Xperia X. Even the plastic back feels nice under the finger, and a pearlescent finish gives it an unusually exotic appearance. The white version we tested has a subtle, coloured sheen that glimmers pink when it catches the light. The phone is also available in 'lime gold', 'rose gold' and 'graphite black'.
And, given that it's plastic, another bonus is that you'll be decidedly less concerned about it shattering into a million sharp pieces if you happen to drop it. All-in-all, the Sony Xperia XA is a finely honed smartphone, which is impressive given the reasonable price tag.
Take a look at the specifications, however, and you'll see that the Sony Xperia XA is firmly in the budget to mid-range camp, with MediaTek Helio P MT6755 processor, 2GB of RAM and 16GB storage.
Display quality
The first clue to the Xperia XA's budget lineage is the screen. It's an IPS panel measuring 5 inches across the diagonal, but it has a resolution of only 720p, the same as the ageing Motorola Moto G3. It isn't noticeably low-res, though; only those with keen vision will be able to see the pixels, and even then only when they look really closely.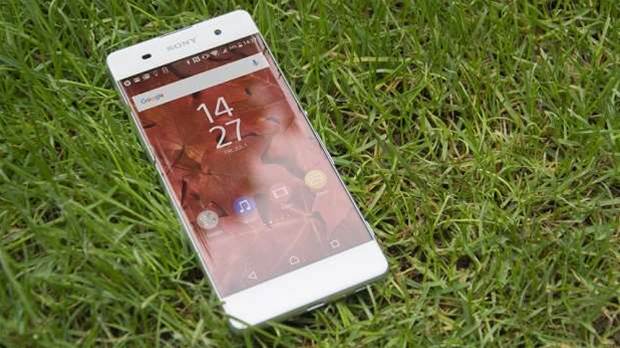 Display quality is solid but unspectacular. Its contrast is a decent but the maximum brightness is down from the best IPS displays in the business. And with only average coverage of the sRGB colour gamut, the XA's display can look a little dull compared with even the best budget smartphones.
Performance
The biggest giveaway that this is a cheap handset, however, is its MediaTek Helio P MT6755 processor, which is accompanied by 2GB of RAM and 16GB of storage (although that's expandable via microSD card). MediaTek processors are typically only found in the cheapest smartphones, which is a worry, but this one looks promising from the specifications.
It's an octa-core chip that runs at speeds up to 2GHz, comprising eight ARM Cortex-A53 CPUs and a Mali-T860 MP2 processor for graphics. Oddly, the phone refused to run our usual CPU benchmark tests, complaining of server connectivity issues, but other phones with the same processor have done pretty well in these tests, compared to other mid-range phones.
Its graphics performance is even better. The Mali-T860 graphics processor, along with the display's relatively low resolution, enabled the Xperia XA to clearly outperform other mid-range phones in our games test.
Benchmarks tell only part of this particular story, though. They provide an indication of the raw potential of a piece of hardware, but they don't always predict how smooth and slick an experience a phone (or any other product for that matter) feels.
Alas, the Sony Xperia XA appears to be in need of a little tweaking on this front because general responsiveness is not great. From entering the unlock code to typing text, swiping between home screens and scrolling even basic, mobile-friendly websites, everything seems to be accompanied by a tiny, teeny delay or a touch of choppiness.
This isn't something you'd notice after using the phone in the shop for a few minutes, but these minor glitches sooner or later will begin to grate on the nerves.
We're not too keen, either, on how hot the phone gets when you subject it to constant, consistent load. Play any kind of graphically intensive game, and the Xperia XA becomes uncomfortable to hold after a few minutes, and sweaty palms ensue.
The other concerning thing about the MediaTek processor is its 28nm manufacturing process. This suggests lower efficiency and, therefore, battery life. Despite this, and a rather small 2,300mAh battery, Sony claims its usual "two-day" battery life figure, so maybe the processor is more efficient than the specifications suggest.
Alas, that turns out not to be the case. In our video rundown benchmark, with the Sony Xperia XA lasted only 7 hours 12 minutes, which is nearly five hours less than the Xperia X (review coming soon). This isn't entirely reflective of the phone's day-to-day performance, but the phone will struggle to last until bedtime if you take it off charge early in the day and – you know – actually use it a bit during the day.
Camera
The camera's specifications, however, are quite impressive, with hybrid autofocus, an f/2 aperture, a 1/3in sensor, and a resolution of 13 megapixels. It isn't up there with the Xperia X's 23-megapixel beast, but it takes reasonably good pictures, with Sony's Superior Auto system working well to figure out what the scene requires, adjusting exposure appropriately.
The strength of Sony's software comes to the fore. It means that you'll rarely get duff colours whether you're indoors our outside, and you'll rarely see over-blown, over-exposed highlights in scenes where there's lots of high contrast.
The Xperia XA also has object-tracking autofocus, which works patchily with people, but better with static objects. Think of it as an aid to reframing and it's actually pretty handy, allowing you to tap on the part of a scene you want to keep in focus, move the phone, and take the photo without having to tap the screen again.
In practice, the XA's camera is competent rather than brilliant. This means that, while quality isn't as good as rivals such as the Nexus 5X, detail capture is great in daylight and reasonable in low light, and colours are realistically captured.
The front-facing camera on the Xperia XA isn't quite as impressive, but it has an 8-megapixel sensor, which is enough to capture more detail than most people could possibly want.
Conclusion
The Sony Xperia XA is a peculiar mix of the good, the great and the disappointing. It looks wonderful and build quality is good. It has a microSD slot, a decent camera and NFC. The price is reasonable, too. This is counterbalanced, however, by disappointing battery life and a sluggish feel in everyday use. We can only hope that Sony is working on optimising the phone's performance and that the problem will be alleviated with a future software update.
How does it compare with similarly priced phones? By default, the Xperia XA doesn't fare too badly, but then great-value phones such as the Motorola Moto G4 and OnePlus 3 are not yet readily available in Australia (unless you're prepared to buy on grey market websites).
Overall, the Sony Xperia XA isn't bad value at $499 or on contact from Vodafone from $43 per month (1GB data). But if possible, we'd recommend stretching your budget to the $579 Nexus 5X, which is an outstanding phone for the price.
This article originally appeared at alphr.com.
Verdict
With ultra-thin bezels, good build quality and decent camera, the Sony Xperia XA sure doesn't look like a mid-range phone. It's let down by disappointing battery life and a sluggish feel in everyday use, but at $499 or on contract from $43 per month, the XA is reasonable value.
Specs
$499 AUD outright
5in, 720 x 1280-pixel IPS display; MediaTek Helio P MT6755 processor; 2GB of RAM; 16GB storage; MicroSD slot; NFC, Android 6 Marshmallow; 2,300mAh battery; 67 x 144 x 7.9mm, 137g.