Apple vs Microsoft, conventional vs hybrid laptop – which sub-1kg device is the ultimate ultraportable?
If you've got around $2,000 burning a hole in your pocket and you want an ultra-light, go-anywhere portable, then it's fair to say that the latest Apple MacBook and Microsoft's Surface Pro 4 are about as good as it gets.
But if you're struggling to decide between the two, here's the helping hand you need. In this in-depth comparison, we look at every aspect of each device, from size and weight all the way through to accessories and expandability.
Size and weight
While the Surface Pro is a 2-in-1 laptop and the MacBook is standard notebook, the two devices really aren't all that dissimilar. They both weigh around 1kg, share a similarly-sized 12-inch display and are as handsomely constructed as anyone could ask for. These are the pinnacle of design in their respective fields.
In size and weight terms, there really isn't a huge amount to separate the two. The Surface Pro 4 is lighter at 766g (for the Core m3 version) and 786g (for the Core i5 or i7 versions), but that's only if you leave the all-important Type Cover at home. With the Type Cover clasped to the front, the Surface Pro 4 weighs 1.06kg. The Apple MacBook weighs 920g.
It's a similar story with the two devices' dimensions. The Surface Pro 4 is around a centimetre wider and a handful of millimetres deeper than the MacBook, but snap the Type Cover to the front and the thickness swells from 8.5mm to 13.4mm. The MacBook measures 13.1mm thick. There's precious little to choose between them.
Winner: draw
Design and usability
The huge difference is that while the MacBook is a traditional laptop, the Surface Pro 4 is a stylus-equipped tablet which, with the help of Microsoft's optional clip-on keyboards, can also double as a laptop. Microsoft claims that it's the "tablet that can replace your laptop", and for some people that may indeed be the case.
There's not a shred of doubt that the Surface Pro 4 is the more versatile of the two. It's a capable, stylus-equipped tablet that doubles as a usable laptop, and if you're a budding artist or just love the idea of scribbling handwritten notes directly on screen, then it's in a class of its own. Clip on the optional Type Cover, and you get a decent, if not a great touchpad and keyboard to play with.
Unless you intend to take full advantage of the Surface Pro 4's versatility, however, the Apple MacBook is by far the stronger laptop. Forget the stylus, and most people won't even notice the lack of a touchscreen: the Force Touch trackpad is simply the best in its class, and the array of responsive, multi-fingered gestures make the MacBook a delight to use.
The MacBook's keyboard is likely to preferable for many users, although the wide, short-travel keys are not to everyone's tastes – so you should definitely try the keyboard before making a decision on either device.
By far the MacBook's greatest appeal, however, is that it's more comfortable to use as a notebook – and far more so on a lap. Where the MacBook has a solid, stable base which makes it easy to use in most situations, the Surface Pro 4 relies on an adjustable kickstand and its Type Cover lacks the rigidity to work really well on a lap.
Winner: draw
Display quality
Without getting into the nitty gritty of both displays, both Apple and Microsoft should be congratulated – these are pretty much as good as it gets. Both are high-resolution displays that offer more than enough sharpness for the most exacting eyeballs. In our testing, both screens reproduced almost all of the colours in the sRGB gamut, and accurately too. Whichever you choose, you'll be very, very happy indeed.
Break down the specifications and performance of each display, however, and Microsoft's Surface Pro 4 narrowly takes the lead. In addition to a higher maximum brightness, it has a much higher contrast ratio which provides a slightly punchier, more solid-looking image. It also packs in a few more pixels to trump the MacBook's 226ppi with a 267ppi pixel density, though this isn't especially noticeable in everyday use.
One other difference is that the two companies have used very different display ratios: the MacBook uses a 16:10 display whereas the Surface Pro 4 uses a 3:2 display. Why? Well, because the Surface Pro 4 is a tablet it needs to provide enough screen space in both vertical and horizontal orientations, thus a fatter, more squared-off display is preferable.
The Surface Pro 4 also has a touchscreen display, of course, while the MacBook does not.
Winner: Surface Pro 4
Performance
This is where your choice becomes a little trickier. The Apple MacBook comes with a choice of Intel Core m3, m5 or m7 processors, but the Surface Pro 4 goes one better. It opts for a Core m3 for the cheapest version, but ups the ante with Core i5 and Core i7 processors in the models higher up the range.
Obviously, this decision translates to significantly improved performance in the Core i5 and Core i7 models. What's more, whereas the MacBook comes with 8GB of RAM, the Surface Pro 4 lets you choose between 4GB, 8GB and 16GB. If you need a device that's capable of OS virtualisation, or just need enough RAM to chew through multiple memory-hungry applications, then that gives the Surface Pro 4 a definite edge.
In everyday usage, however, you're unlikely to notice a huge gulf between the two. Thanks to the Apple MacBook's faster PCI-e SSD and the Core m processors' ability to deliver bursts of power that approach their Core i3, i5 and i7 counterparts, the difference only really becomes noticeable under sustained heavy multi-tasking. If you're going to hammer a device with sustained workloads then the Surface Pro 4 takes the lead.
Winner: Surface Pro 4
Battery life
When we tested the Core i5-equipped Surface Pro 4, it lasted 7 hours 41 minutes in our video rundown test. You can probably expect slightly better battery life if you don't do anything too taxing or have the screen too bright.
In the same test, the Core m3-equipped MacBook lasted 10 hours 1 minute and the Core m5 version 10 hours 12 minutes.
Factor in the ability to charge the MacBook from an external battery via its USB Type-C connection, and it's a much better bet where all-day battery life is a must.
Winner: Apple MacBook
Connectivity and accessories
This is where the two devices prove to be very, very different. The Apple MacBook makes do with one single USB Type-C port (which supports 5Gbps USB 3.1 transfers but notably not Thunderbolt 3) and a headphone socket – that's your lot. If you want to both charge the MacBook and take advantage of the USB 3.1 connection for USB devices, display outputs and so forth, then you'll need to buy a USB Type-C dock.
The Surface Pro 4, on the other hand, is a little more generously equipped. Microsoft is still using a proprietary mains charger, but you do get a full-size USB 3 port, microSD slot, mini-DisplayPort and a headphone socket.
The Apple's webcam is very basic: its 480p resolution is fine for video chats, but it's nothing special. The Surface Pro, however, has a 5 megapixel front-facing camera and a decent, if not particularly brilliant, 8 megapixel rear-facing camera. And, of course, you get the Surface Pen thrown in for free.
When it comes to wireless connectivity, the MacBook and the Surface Pro are neck and neck: 802.11ac Wi-Fi and Bluetooth 4.0 come as standard.
The Surface Pro 4 does have a much wider range of accessories. They're not cheap, but the Surface Dock ($299.95) adds additional connectivity for when you're back at a desk, there are Ethernet ($64.95) and HDMI ($64.95) adapters, and third-party cases such as UAG's Surface Pro 4 case ($99) turn it into a semi-ruggedised tablet that can handle drops without smashing to smithereens.
If security is top of your shopping list, the Type Cover with Fingerprint ID costs $50 more than the standard Type Cover.
Winner: Surface Pro 4
Value for money
The Surface Pro 4 is significantly cheaper than the MacBook at the entry level, with the Core m3 version starting at a very reasonable $1,349. Even with the inclusion of the $199.95 Type Cover, it's around $450 less than the cheapest ($1,999) MacBook.
However, the entry-level MacBook includes 8GB of RAM and a 256GB SSD, while the budget Surface Pro offers 4GB and 128GB respectively. Bumping up the Surface Pro 4 to 8GB of RAM and 256GB SSD brings to price to $1,999. That doesn't include the Type Cover, though it does include a Core i5 – a significantly quicker processor than the entry-level MacBook's Core m3.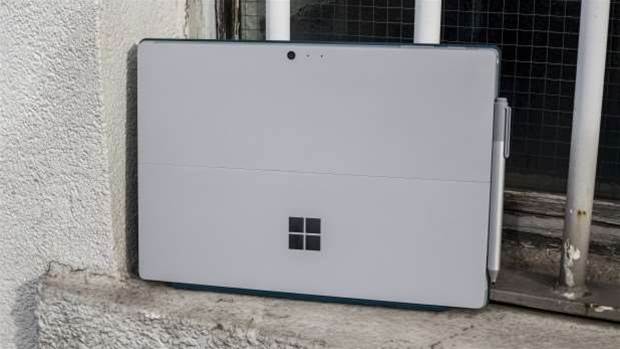 Apple only offers the two models, with the $2,449 MacBook offering Core m5 processor, 8GB of RAM and 512GB SSD. By comparison, Microsoft has a selection of seven models, ranging up to a Surface Pro with Core i7, 16GB of RAM and 1TB SSD for an eye-watering $4,199.
Overall, the Surface Pro has the price edge at the entry level, but with comparable specs, the two offer similar value.
Winner: draw
Verdict
So, which is best? In truth, without knowing exactly what you want from your machine, it's impossible to say.
If you need an ultra-light conventional notebook that will last all day without a charge, the MacBook would be ideal as either your sole computer (if you only need it for email, word processing and other basic applications) or a second computer (if you use heavy-duty applications like Photoshop or video-editing).
The Surface Pro 4, however, is a far more versatile device. It's as at home on the sofa as it is on a desk, and while it's still not ideal on a lap, it is usable while out and about. Crucially, however, the extra power from the Core i5 and Core i7 models means that it can handle heavy-duty and multi-tasking applications comfortably.
And if you specifically need a tablet and stylus, then the Surface Pro 4 obviously wins hands-down.