A top-quality 10.1in screen and a sturdy, strong hinge top the list of desirable features on Lenovo's latest low-cost hybrid
Lenovo launched its usual smorgasbord of devices at MWC 2016, with no fewer than nine new devices on the stands in Barcelona, but it wasn't a smartphone or even a tablet that caught my eye. Rather, it was Lenovo's dinky, 10.1in 2-in-1 hybrid - the Lenovo Miix 310.
The Miix 310 is to the Toshiba Satellite Click Mini, which we reviewed last summer. Similar, because it's a low-cost device, with prices starting at US$229 (Aussie pricing TBC), and also because it runs Windows. Otherwise, though, the Miix 310 is in an entirely different class.
Design-wise, it's no great shakes, at least not at first sight. With the tablet part attached to the keyboard and the lid shut, it looks rather boring. It's entirely clad in bland matte-silver plastic with the Lenovo logo stenciled in the corner, and a rather awkward-looking hinge jutting out at the rear. It's slim (the tablet measures 9.1mm, the keyboard 8.9mm) and reasonably light, just not particularly attractive.
Lenovo Miix 310 review: The good bits
The Miix 310 looks a lot nicer once you open it up, however. The interior is plain black plastic, but the keyboard, palm rest and broad touchpad are all trimmed with gleaming chrome piping, which sets the whole thing off nicely.
It's not all about the looks, though. I found both the keyboard and trackpad comfortable to use in the brief time I had to try them out, and that's despite the fact that the device I was handed to use was a rather creaky pre-production unit.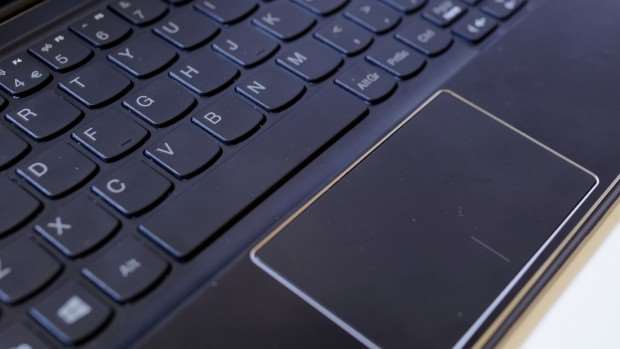 The hinge mechanism is a revelation. As it's a 2-in-1 hybrid, the screen can be detached and used as a standalone tablet. On its own, this is not big news, but I was seriously impressed with the strength of the magnets holding the screen in place. This is one hybrid where you don't need to worry about the tablet part working free of its moorings by accident.
The 10.1in screen looks great, with impressive viewing angles, bags of contrast and (to my tired eyes) balanced colour reproduction. Lenovo says the screen reaches a maximum brightness of 300 nits, which is pretty good for any laptop, let alone one this cheap. The screen's resolution will be 1,366 x 768, with a slightly more expensive Full HD model also available.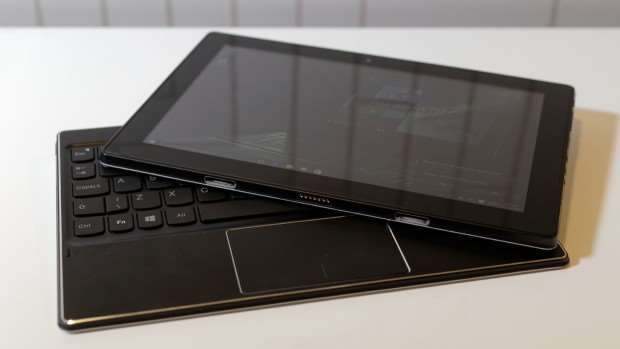 Lenovo Miix 310 review: Core specifications
Inside, the Lenovo Miix 310 offers up a pretty standard-looking specification. The processor is an Intel Atom X5 8300, which should deliver enough grunt to power through most web-browsing and office-type applications. There's also 2GB of RAM, integrated graphics and "up to" 128GB of eMMC storage. The battery should last for ten hours according to Lenovo's figures.
As for connectivity, that's decent. Scattered around the edges of the Miix 310 you'll find an expandable USB 2 socket that you need to pull down to open (this saves precious space on the device's slim edges), a Micro-HDMI output, a 3.5mm audio jack, a microSD slot for expanding the internal storage and a micro-USB socket for charging the device. Wireless connections run to 802.11n Wi-Fi and Bluetooth 4.
The camera specifications aren't anything to write home about - just a 5-megapixel unit on the rear and a 2-megapixel one on the front - but that's not surprising on a device such as this.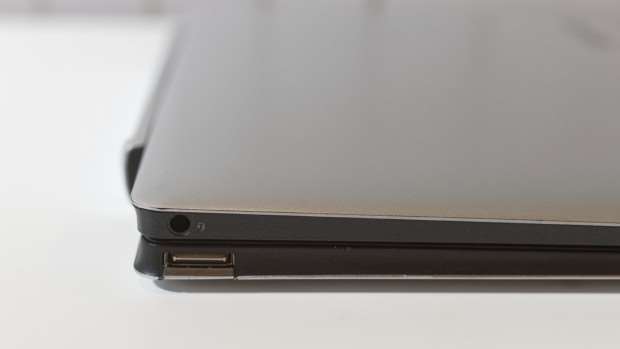 Lenovo Miix 310 review: Early verdict
I didn't expect to be wowed by the Lenovo Miix 310, but for a budget hybrid it gets an awful lot right. It's slim and light and doesn't look as much like a toy as the 8.9in Toshiba Click Mini.
It looks a treat when you open it up, especially that bright IPS display, and - most important of all - the hinge mechanism is solid and strong. For a price of around £163 before tax the Miix 310 looks a bit of a bargain.