Undecided whether the iPhone 6s or Galaxy S6 is better for you? Here's the definitive verdict
The Samsung Galaxy S6 is a stunning device, and has held our best smartphone crown since its release earlier this year. But times are a-changing and Apple is fighting to take back territory with a top-notch smartphone that boasts a heap of new hardware features – the iPhone 6s.
If you're in the market for a new handset and you've got your eyes on a flagship phone, both the iPhone 6s and the Samsung Galaxy S6 should automatically earn a place at the very top of your shortlist. But when it comes to the final crunch, which one should you choose and what are the key differences? We lay them all out here.
iPhone 6s vs Samsung Galaxy S6: Design
With the iPhone 6s and the Galaxy S6 you've got two gorgeous handsets, both flaunting the very best in smartphone design.
Samsung took a big leap with the Galaxy S6, ditching the plastic chassis of the Galaxy S5 and opting for a milled aluminium frame with a shimmering glass back. In hand, the Galaxy S6 feels surprisingly compact considering it's a 5.1in device, although the metal does make it more slippery.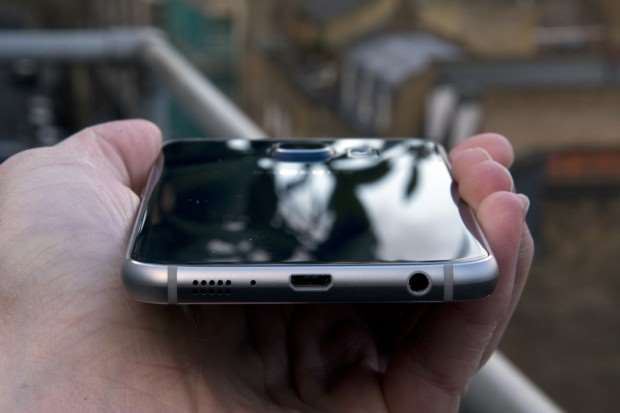 As the iPhone 6s is only an "S" upgrade, there isn't much in the way of a departure from the iPhone 6. However, it's still an achingly pretty handset, with the smoothly rounded sides and corners of its predecessor. Where it differs is hardiness. The aluminium frame is now built from a stronger alloy – 7000 series aluminium, to be precise – and the screen glass has also been strengthened.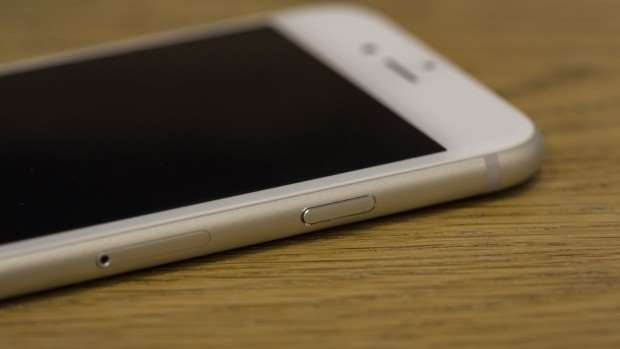 Both phones are lookers, so you won't go wrong with either in terms of appearance. The Galaxy S6 is marginally lighter and slimmer at 138g and 6.8mm, compared to the iPhone 6s' 143g and 7.1mm. If you really want a slender phone the Galaxy S6 may be the one to opt for, but there's very little difference between the two.
Winner: Draw
iPhone 6s vs Samsung Galaxy S6: Display
The S6's 5.1in Quad HD Super AMOLED display has a resolution of 1,440 x 2,560 and a pixel density of 576ppi. The iPhone 6s' 4.7in LED-backlit IPS LCD has a resolution of 750 x 1,334 and a pixel density of 326ppi. Looking at the figures, the Samsung Galaxy S6 has the edge over the iPhone 6s, but that's not to say that Apple's handset is in any way dull or flat.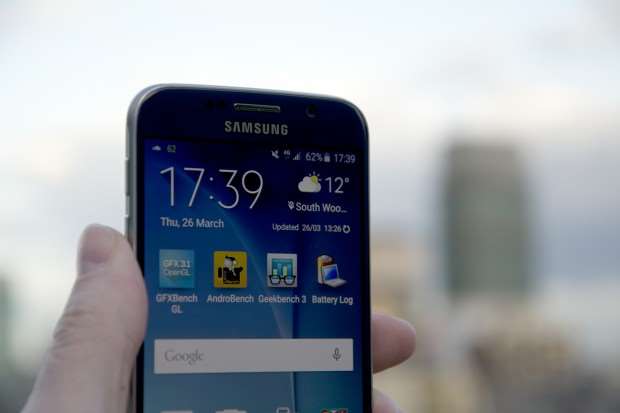 In his testing, Jonathan Bray measured a maximum brightness of 572cd/m² on the iPhone 6s, as well as an eye-popping contrast ratio of 1,599:2 and exemplarily colour accuracy, with the screen covering 95% of the sRGB colour space and its average Delta E. When it comes to brightness, the Galaxy S6 has a comparable figure, managing to reach a brightness of 560cd/m² in auto-brightness mode, or 347cd/m² in manual brightness mode.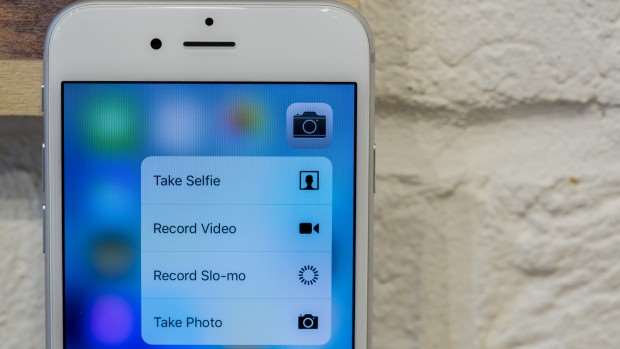 While the iPhone 6s has fantastic colour accuracy, the Galaxy S6 ultimately beats it with the phone's Super AMOLED display reproducing an incredible 98.5% of the sRGB colour gamut. For this reason, the Galaxy S6 edges over the iPhone 6s for display.
Winner: Samsung Galaxy S6
iPhone 6s vs Samsung Galaxy S6: Features
Apple has an ace up its sleeve here: 3D Touch. What does 3D Touch do? In its most basic form, 3D Touch is effectively adding a right-click capability to the iPhone 6s. Press the icon of a compatible app on the homescreen a little harder than usual, and up pops a context-sensitive menu, offering options and shortcuts related to the app in question.
Use it with the camera app, for example, and you'll get Selfie, Video, Slo-mo and Take Photo shortcuts, while Safari offers up links to your reading list and bookmarks, as well as standard and private tab creation.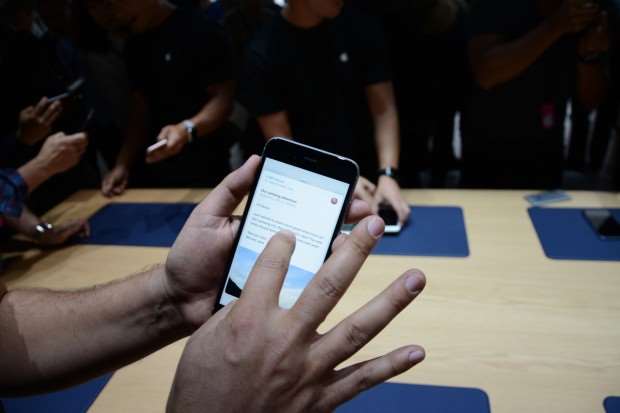 The Galaxy S6 may not have anything in the way of comparable headline-grabbing features, but it does have a heap of core features that knock the iPhone 6s out of the water. These include a dedicated heart rate monitor, an infrared transceiver that lets you use your phone as a TV remote, and in-built wireless charging.
The iPhone 6s supports Apple Pay, but the Galaxy S6 will support Samsung Pay when it eventually comes to the UK. The hybrid technology in the Galaxy S6 also means Samsung Pay will work with newer NFC payment terminals, as well as older credit card machines.
Put all this together and, while the iPhone 6s breaks new ground with 3D Touch, in terms of pure scope of features the Samsung Galaxy S6 deserves a point.
Winner: Samsung Galaxy S6
iPhone 6s vs Samsung Galaxy S6: Specs and battery
For the S6, Samsung has decided to use its own octa-core Exynos 7420 processor, comprising two quad-core CPUs (one at 1.5GHz, the other at 2.1GHz), and a Mali-T760 GPU. The iPhone 6s has a new dual-core A9 processor, which is touted as being up to twice as fast as the A8 in the iPhone 6.
In our benchmarks, the iPhone 6s blew other phones away, managing a GFXBench score of 59.1fps for T-Rex onscreen and 56.3fps for Manhattan onscreen. The Galaxy S6 managed comparably low figures of 37fps and 15fps, although these are still well above competitors like the LG G4, which got 25fps and 9.3fps. To be fair to the Galaxy S6, this is because it has more pixels to manage on its display. In real terms, both the iPhone 6s and Galaxy S6 are powerful devices, although if you playing the most cutting-edge games, you'll probably want to vouch for Apple's most recent handset.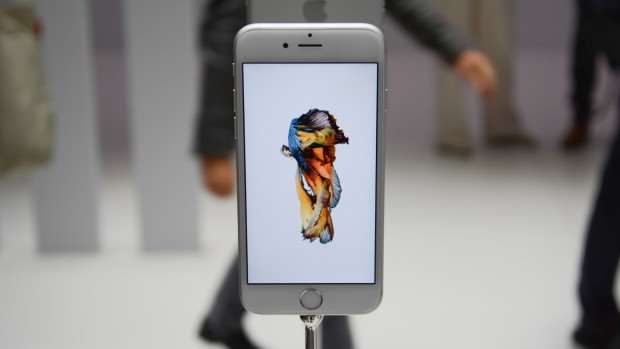 When it comes to storage the S6 features 32GB, 64GB or 128GB varieties, while the iPhone 6s has 16GB, 64GB or 128GB – not a great deal of difference there, although 32GB is a much better storage size for a base-tier model.
The battery on both phones is non-removable, with a 2,550 mAh capacity on the Galaxy S6 and a 1,715 mAh capacity on the iPhone 6s. That gives Samsung a point for battery size, but Apple still manages to have an impressively sturdy stamina – in our benchmarks, the iPhone 6s depleted at a low rate of 3.6% an hour when playing audio, compared to 5% per hour with the Galaxy S6.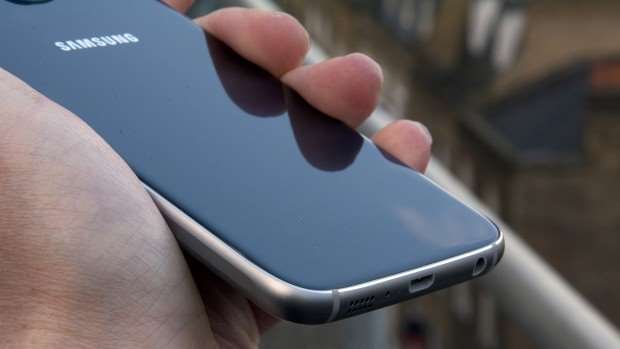 Altogether, both phones excel in terms of specs, and it's a close toss up between battery size and depletion rate, but the iPhone 6s ultimately racks up a point.
Winner: iPhone 6s
iPhone 6s vs Samsung Galaxy S6: Camera
The rear camera on the Galaxy S6 has the same 16-megapixel resolution as the S5 and retains that super-quick phase-detect autofocus, but adds a wider aperture and optical image stabilisation. In all but the darkest of environments, the S6 is capable of capturing stunning images and smooth, stable video. Noise is still visible when capturing murky objects in low light, but even then you'll get usable results in most circumstances.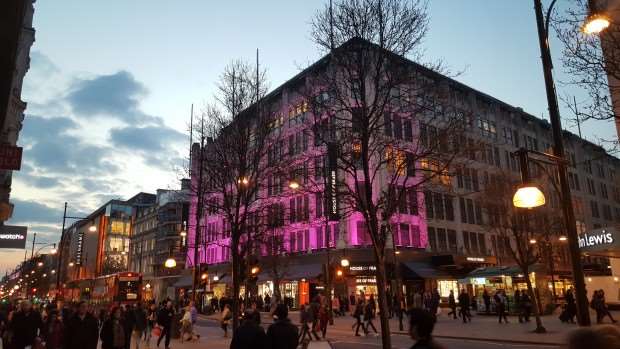 (Above: Taken with the Samsung Galaxy S6)
With the iPhone 6s, Apple are taking aim at Samsung's prestige in the camera division with a 12-megapixel rear camera and a S6-matching 5-megapixel front camera – a much needed upgrade that makes use of the phone's display as a makeshift flash. This selfie flash happens in two stages, flickering on once in bright white to provide full illumination, then again in a lower intensity yellowish colour in an attempt to balance out the skin tones, a bit like the dual-tone LED flash on the rear.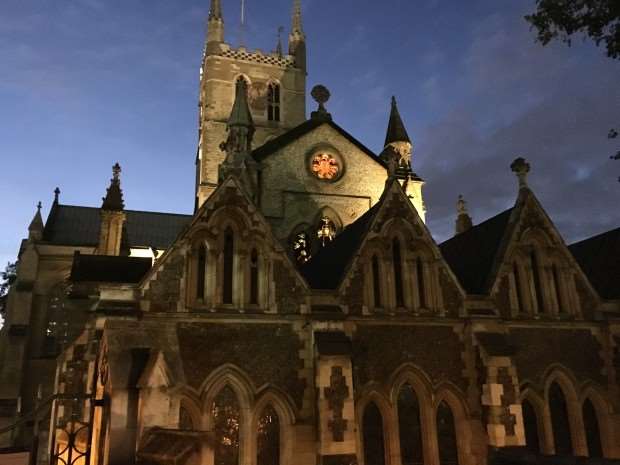 (Above: Taken with the iPhone 6s)
Throw in other features such as the Vine-like Live Photo option and you've got enough to inject new life into your photography, but the Galaxy S6 is still an excellent all-rounder that works well in tricky light conditions.
Winner: iPhone 6s
iPhone 6s vs Samsung Galaxy S6: Price
Seeing as these are two very expensive phones, most people will decide on a monthly payment scheme. The fresh-out-the-gate iPhone 6s is currently the most premium handset on the market, so if you're eyeing up a contract you'll be looking at a minimum of something around$80 or higher per month, compared to £30 to £40 a month for the Galaxy S6. If you plan to buy outright, the iPhone 6s will currently set you back a minimum of £539 (16GB), while the Galaxy S6 can be bought for £415 (32GB).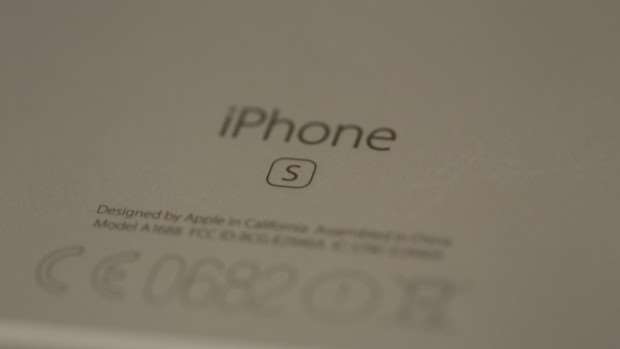 That's a significant difference in price, but you also have to consider that the Galaxy S6 has been out since April while the iPhone 6s has only just hit shops. That said, the Galaxy S6 remains a strong contender, so it deserves a point for offering a powerful phone at a cheaper price tag.
Winner: Samsung Galaxy S6
iPhone 6s vs Samsung Galaxy S6: Verdict
After sizing up the iPhone 6s and Samsung Galaxy S6, it seems that, while Apple's new contender has a lot going for it, Samsung ultimately retains the crown.
The Galaxy S6 is gorgeously designed, has a great camera, a fantastic display and, perhaps most importantly, comes at a substantially lower price than the iPhone 6s. Apple's new handset boasts a number of winning features such as 3D Touch, but the depth and range of the Galaxy S6's abilities keep it fixed in the limelight.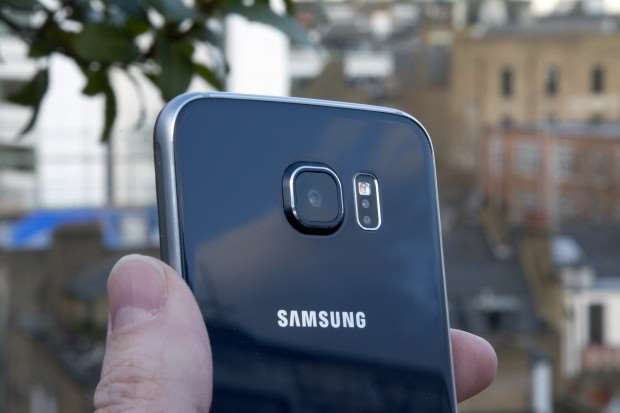 Ultimately, these are phones from two companies working at the top of their game. You're not going to go wrong with either of them, but the gap in price is more than enough to sway attention to Samsung's flagship. If you're looking for the best balance between cost, prestige and power, the Samsung Galaxy S6 is the phone you want in your pocket.
Overall winner: Samsung Galaxy S6