A long-awaited upgrade that adds new creative options to an already well-stocked toolbox
Nearly two years after the release of Lightroom 5, Adobe has rolled out a major new update to its photographic workhorse. We say "rolled out", because if you're subscribed to Adobe's Creative Cloud Photography plan, the new version is available to download right now (under the name Photoshop Lightroom CC).
Happily, photographers who prefer a perpetual licence are catered for too, with a standalone edition offered for $149. That's not too savage, but obviously more expensive than for people overseas.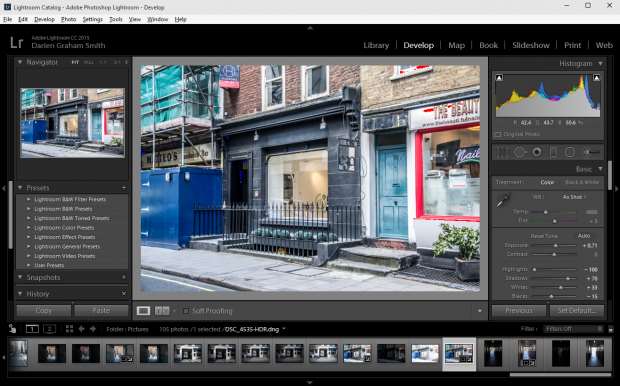 Lightroom 6 review: worth an upgrade?
Whether the upgrade is worthwhile depends on your ambitions. The underlying image-processing engine hasn't changed, so if you're happy with Lightroom 5, the new version won't make your photos look any better. It does however open up new creative options, not least with a new pair of photomerge tools that let you stack and blend images into HDR and panoramic scenes.
At first glance, these look pretty basic. Where Photoshop's HDR Pro module gives you extensive control over the tone of your merged image, here you get only a few tickboxes and a choice of four deghosting levels. Of course, this is Lightroom, so if the combined image doesn't have the desired HDR glow, you can always apply non-destructive processing to perfect it after the fact. It's just a shame that the merge module can only produce 8-bit DNGs: a 16-bit option, as found in Photoshop, would have left you more subtle tonal detail to work with.

It's a similar story with the panorama feature. On opening the preview window you'll see very few options: just three different projections and an auto-crop tool. You can't even zoom into the preview to check for boundary mismatches – although that's perhaps academic, as there are no tools for fixing them anyway.
Thankfully, our results proved impressively consistent, with even quite widely spaced shots stitching seamlessly together: only in one case did we need to export the image into Photoshop to tidy up a glitch. Again, the output is a DNG, so you can use Lightroom's processing tools to non-destructively punch up the resulting image.
Lightroom 6 review: performance
Also new in Lightroom 6 is GPU acceleration, and with our Intel HD Graphics 4400 GPU the Develop stage certainly felt more responsive than in the previous edition. Make no mistake, though: photo-editing is still a weighty business. On our Core i7-3770S test system, it still took three or four seconds for our 24-megapixel raw images to render at full zoom.
Creating an HDR preview from three bracketed images took 52 seconds, and a further minute to produce the final render. A nine-photo panorama took just under six minutes to appear, slowing the rest of the system to an unusable crawl.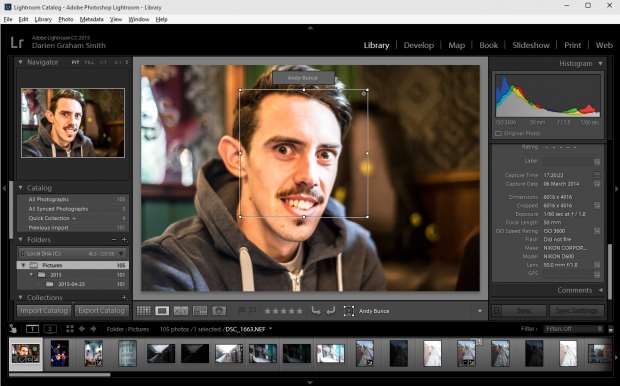 In fact, it might be Lightroom 6's more minor upgrades that have the biggest impact on your day-to-day workflow. An inconspicuous update to the Graduated and Radial Filter tools now lets you edit their adjustment masks with a brush. This means you can easily – for example – drag down a graduated filter to add depth and vibrancy to a drab sky, then manually mask out any protruding trees and buildings, to keep their natural exposure and tone.
Another easily overlooked addition is automatic facial recognition, and the accompanying "Find similar faces" function. More commonly associated with the likes of Picasa and Facebook, it's a feature that may seem superfluous to most serious snappers – but for those who cover weddings or celebrity events, it could be a tremendous time-saver.
Lightroom 6 review: verdict
In itself, Lightroom 6 doesn't add up to a revolutionary update, but it does improve on what was already an exceptional piece of software. While the new HDR and panorama capabilities are currently a bit basic, it's inspiring to have the options at your fingertips – and we suspect a fair few switchers will soon be wondering how they ever got by without editable filter masks and the new facial-recognition tools. Stack Lightroom 6 next to the price of a new lens, or even a new filter, and it's an easy upgrade to justify.