Adobe launched Creative Cloud in April 2012, allowing customers to lease applications on a monthly or annual basis, as well as providing various cloud services. So far, however, the applications on offer have been the same ones found in the regular Creative Suite 6.
Now Adobe has rolled out new "CC" releases of Photoshop, Illustrator, InDesign, Dreamweaver, Premiere Pro and After Effects, exclusively to Creative Cloud customers - and has said that these and future updates will never be offered as standalone installations. Will these new releases tempt designers and creatives to switch to the subscription model?
Photoshop CC
The headline update in Photoshop is an improved Smart Sharpen filter. That may sound mundane, but the new noise-reduction slider makes it a breeze to apply sharpening only where it's wanted, allowing you to give images extra crispness without succumbing to the dreaded speckles.
The software also tackles the age-old problem of blowing up small images. A new enlargement algorithm turns jagged pixels into clean lines with impressive intelligence, and again offers a noise-reduction slider for cleaning up artefacts. It won't turn a thumbnail into a billboard, but if a high-quality image isn't available, it can smooth things over.
Other updates have more niche appeal. If you work with shapes or masks, you'll appreciate Live Shapes: this lets you draw rectangles, ellipses and so on in an Illustrator-type way, with options to adjust fills and strokes. Conditional Actions can trigger only under certain circumstances, making it easier to set up flexible batch jobs without using Scripts. For those who work with raw photographs, Camera Raw 8 gains the new perspective and healing tools recently unveiled in Lightroom 5.
Not everything is a hit. The new Shake Reduction tool failed to salvage our shaky images – the results just looked as if they had been heavily sharpened and fed through a noise-reduction filter.
Illustrator CC
Two of the big new features in Illustrator CC focus on type: there's a search dialog that lets you filter fonts by name, and a tool called Touch Type, which allows you to selectively deform individual letters in a text object. It isn't quite as versatile as Create Outlines – you can stretch, rotate and recolour letters, but you don't have direct access to their handles. The advantage is that the text can still be edited, making it possible to come up with a general design, then try it out in different fonts.
For those designing for the web, Illustrator CC also offers a CSS Properties panel, which shows a CSS description of the selected object, including colours, strokes, gradients, typefaces and more, for easy pasting into a website editor. The Export CSS function will export both code and PNG copies of your objects that can be easily dropped onto an HTML page.
Elsewhere, you'll also find updated packaging and multiple-file placing abilities – useful if your designs use a lot of external bitmaps or fonts.
Dreamweaver CC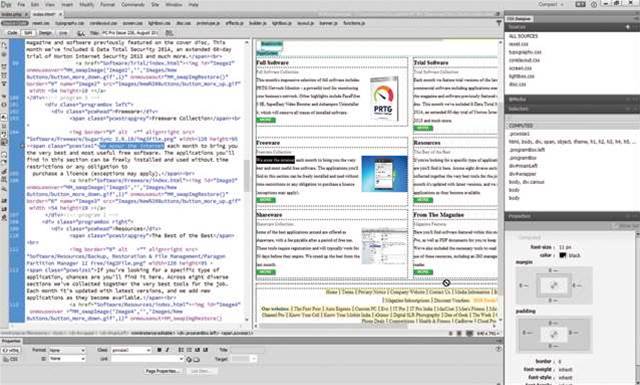 The main change in Dreamweaver is a CSS Designer panel, which replaces the old pop-up window. It's a huge improvement, allowing you to tweak CSS settings interactively and see the effect on open pages immediately.
The old Spry widgets have given way to jQuery replacements, providing an easy way to drop professional-looking controls and navigation elements directly onto the page. Many of them use jQuery Mobile for maximum compatibility with smartphones and tablets. The new Fluid Grid option promises to help with responsive design, too, although when you're using this feature the design view simply shows a sequential stack of elements, losing the visual immediacy that has always been one of Dreamweaver's strengths.
InDesign CC
InDesign's user interface has now gone dark, matching Photoshop and Illustrator. MacBook Pro owners will be pleased to learn that it now has native support for Retina screens, too.
As with Illustrator, other updates focus on type. The font-search box makes a welcome reappearance, and stepping up and down the list with the cursor keys now gives you an instant preview of your selected text in the chosen font. We can see this being tremendously useful for non-templated work.
Adobe also promises performance improvements, and we certainly haven't seen InDesign CC succumb to any slowdown. There's a 64-bit native version of the application, too, enabling big documents to make full use of your RAM – although InDesign was never a terrible memory hog in the first place.
Premiere Pro CC and After Effects CC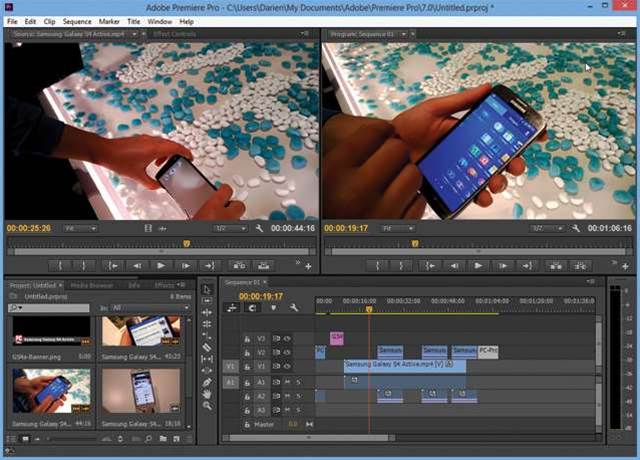 Premiere Pro CC benefits from subtle but thoughtful tweaks. You can now add and remove tracks with a right-click; double-click to expand and collapse tracks; and import clips directly onto the timeline.
More significant new features include duplicate frame detection, which alerts you automatically if part of a clip appears more than once, and the new audio clip mixing window. Serious shooters will appreciate new multi-cam auto-sync features that can line up clips based on either timecode or audio. After Effects, meanwhile, gains the ability to import Cinema 4D objects and scenes, a tool for creating soft matte edges and improved stabilisation and tracking.
Worth the switch?
The improvements on offer aren't huge, but they're spread broadly, so almost everyone who upgrades to the new CC applications will see some benefit to their workflow.
Adobe's insistence on subscription is problematic, though. The price of buying into Creative Cloud compares reasonably well with the CS6 Master Collection; the break-even point comes around five years down the line, by which time you'd probably otherwise have spent a bit on upgrades. But if you only need to use a handful of Adobe applications, and have no desire for supplementary cloud services, you're out of luck. You can lease a single application, or the full suite, but there's no cloud-based middle ground akin to the old Design Standard suite.
As a result, we can't unequivocally recommend Creative Cloud. The updated applications bring welcome improvements, and for heavyweight art workers in collaborative environments, the subscription package isn't too offensive. But we're far from convinced that the options on offer suit everybody's needs. For most current Creative Suite users, we suspect it will make sense to stick with what you have until Adobe comes up with a better offer.
What's in the cloud?
Creative Cloud provides access to every application in Adobe's roster – including Lightroom and the new Muse web-authoring system, which weren't included in the old CS6 Master Collection. You also receive all new application upgrades as they become available, along with 20GB of cloud storage and access to a host of online collaboration, showcasing and digital publishing services. The software will run concurrently on two computers, and although it tries to authenticate with Adobe's servers every 30 days, it can be used offline for up to 99 days.
For those who aren't persuaded, Adobe has said it will also continue to sell CS6 "indefinitely", and to support it with bug fixes and security patches, but will add no new features. The open-ended timetable perhaps reflects some uncertainty over how quickly Creative Cloud will catch on, or indeed whether it will at all.
Verdict
The updated applications in Adobe Creative Cloud bring welcome improvements, but we're far from convinced the options suit everybody. Read the review.
Specs
Full suite per month $49.99 AUD
Single application per month $19.99 AUD
Upgrade from CS6, per month for one year $19.99 AUD
From CS3/CS4/CS5, per month for one year $29.99 AUD