Thousands of fake emails confirming tax refunds of more than $6,000 from the Australian Taxation Office are circulating. Click to see what they look like.
It's tax time and scammers are again sending spam emails that purport to be from the Australian Taxation office but are really intended to install malware on victim's computers.
Three separate "waves" of the fake emails have been reported during July and August, including more than 10,000 messages sent on August 6.
In some cases the email includes the message "TAX REFUND NOTIFICATION" and claims that the receiver is entitled to a refund amount of more than $6,000.
We were alerted to the current wave by Bitdefender, which warns such campaigns are likely to become heavier and more targeted in the run-up to the 31 October deadline for lodging returns.
The current campaign is very similar to the one we reported last month http://www.bit.com.au/News/350337,this-is-what-the-scam-australian-taxation-office-email-looks-like.aspx . It's quite different in appearance to the one in February http://www.bit.com.au/News/331734,warning-australian-taxation-office-scam-emails-circulating.aspx , but the objective is the same - to induce recipients to open an attachment that is actually a piece of malware.
Various types of malware are being spread in this way, including ZeuS which has the goal of stealing Internet banking and other credentials.
Here's what the offending email looks like: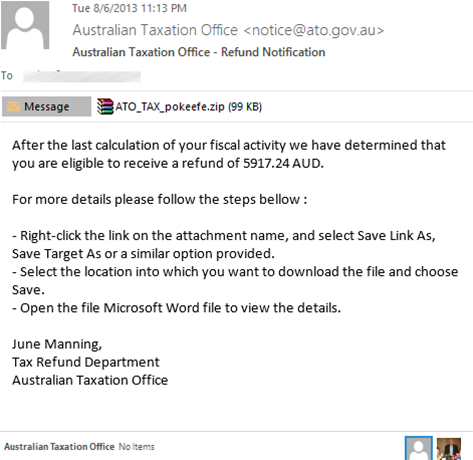 Bitdefender also warns of spam/malware campaigns using the names and logos of well-known financial institutions:
Important note: While you should keep your security software up to date in case a dodgy email slips under your or your employees' guard, don't rely on this stopping these scam emails. In July, Mailguard warned that 37 out of 47 vendors' antivirus software did not detect the malware delivered in a previous ATO scam, at the time that campaign was at its peak.
Remember, the ATO doesn't contact taxpayers in this manner, and we don't know any banks that use email this way. So if you have even the slightest suspicion that an email really is from your bank or the ATO, don't open it but instead contact them by other means (for exmaple, use the phone) to find out what they want.