Buffalo HDW-PU3 MiniStation AiR
Capacity: 500GB
Price: $223
Rating: 5/6
Wireless access is a relatively new feature on external hard disks, but two of this month's drives include it.
Buffalo's 500GB MiniStation Air wirelessly connects to Apple devices running iOS 4 or later, and Android hardware with version 2.3 or later, but it connects to PCs and Macs only via its USB 3 connection.
Buffalo's free app isn't as slick as Seagate's software, but it's just as easy to use. One tab displays what's on the MiniStation, another shows files on your smartphone or tablet, and a third is used to move files between the two.
The Buffalo's USB 3 performance is mixed. Its CrystalDiskMark sequential read speed of 118MB/sec is the best of any hard disk-based drive here, and its 117MB/sec sequential write rate is just as impressive. However, the Buffalo fell behind in our small-file tests.
It isn't the most attractive drive here, and its plastic shell isn't particularly strong, but the Buffalo's trump card is versatility. At 45c per gigabyte, you pay a premium for the wireless features, but they work well, and overall performance is quick.
LaCie Porsche Design Slim P'9223
Capacity: 120GB
Price: $180
Rating: 4/6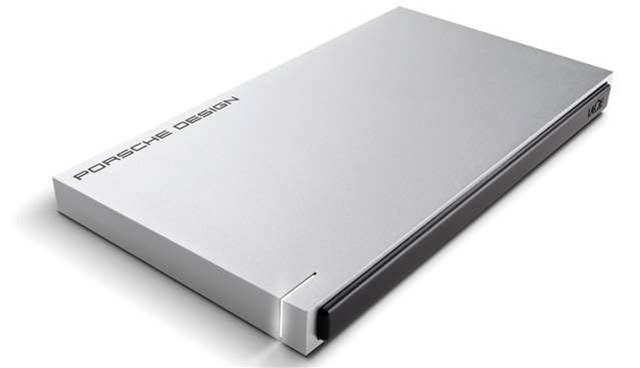 Silly name aside, there's much to like about LaCie's 120GB drive. Its 11mm depth makes it the slimmest here, and the 182g aluminium body both looks and feels classy. It's also the only drive here to use an SSD. The drive inside is a mid-range Micron RealSSD C400, but it's easily able to outpace all its hard-disk-based rivals in this roundup.
Its CrystalDiskMark sequential read and write scores of 293MB/sec and 201MB/sec are around twice as fast as the mechanical drives, and the LaCie's small-file scores are just as stellar: its 512KB read and write results of 251MB/sec and 202MB/sec are way out in front of the hard disks.
However, there are a couple of downsides to this SSD-based drive. The low formatted capacity of 111GB will fill up much quicker than the mechanical-disk-based drives – it's less than a quarter of the size of its lowest-capacity rival.
In addition, you're paying a significant premium for the solid-state performance. The LaCie costs 67c per gigabyte, which is noticeably higher than any other drive here.
The high price and small capacity means the LaCie is only worth considering if speed is more important than space – or if having the best-looking external drive around is vitally important.
Western Digital My Passport
Capacity: 2TB
Price: $157
Rating: 5/6
Western Digital's drive is the most capacious here – its 2TB capacity provides 1.8TB of formatted space – and it's also the best value, the price of $157 translating to a very reasonable 9c per gigabyte.
Western Digital hasn't wasted cash on flashy looks – there's a hint of give in the My Passport's plasticky enclosure – but performance is quick.
Its CrystalDiskMark sequential read and write scores of 114MB/sec and 113MB/sec aren't far behind the fastest drive in this roundup, and the My Passport excels for small-file transfers: its 512K read and write results of 40MB/sec and 56MB/sec are beaten only by the SSD-based LaCie drive.
Western Digital's drive isn't the winner here for its features – there aren't any extras whatsoever – but it does offer a huge amount of storage space for comparatively little cash, and combines that with perfectly respectable speed. It's all the external hard disk most people need.
Seagate Wireless Plus
Capacity: 1TB
Price: $229
Rating: 4/6
As the name suggests, Seagate's 1TB drive includes wireless connectivity – and it's even more versatile than Buffalo's MiniStation Air. As well as working with iOS and Android devices, the Seagate can also be used wirelessly with a PC.
Drive management is handled through a browser-based interface. Files can be browsed, opened, downloaded and uploaded, and the Wireless Plus also streams to any DLNA-enabled device.
To access the Seagate from mobile devices, you'll have to grab a free app for iOS or Android. Accessing and streaming content works well, although files can't be uploaded from mobile devices.
Seagate also includes a USB 3 adapter, but it's here that the Wireless Plus falters slightly. In CrystalDiskMark's sequential read and write tests, it finished bottom of the pile, and its 512KB read results were equally unimpressive.
The Seagate is a feature-packed choice for those who need the wireless streaming features, but its middling wired speed means that most people will be better served by Buffalo's MiniStation Air.
Verdict
From 120GB to 2TB, here are reviews of four external hard disks from Western Digital, Lacie, Seagate and Buffalo.