Is the tablet for "serious" business users finally here with the Microsoft Surface? We look at what's good and what's not so good about the Surface.
If you are shopping for a new tablet, there' now an alternative to Apple's iPad called Microsoft Surface. But what does it have that the iPad misses?
We've been using the Surface for a few days now, and what follows is our by-no-means-exhaustive initial impressions.
The menus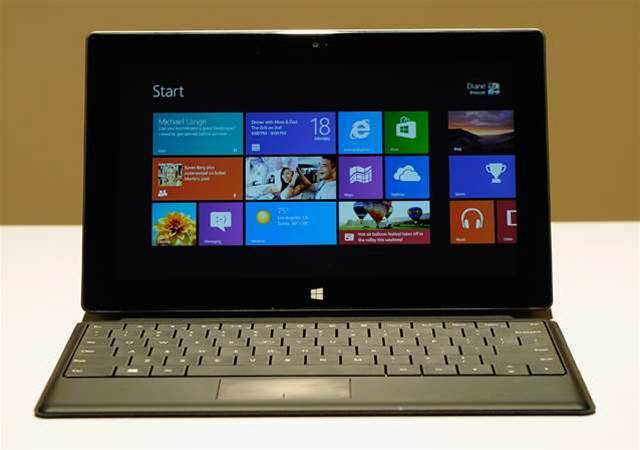 First off, there's the new Windows look. Plenty has already been said about this, such as the fact that the main Windows Start screen now has a new "tiled" layout, and the "desktop" you're used to is a separate screen.
David Pogue recently reviewed Window 8 and concluded that the two faces of Windows 8/RT can be confusing and the transition between the two is jarring.
There will be two types of Surface tablets, one running Windows 8 Pro, and another type running Windows RT (read more about the two versions here). We've been using the new Surface with Windows RT and that's what we'll be discussing here.
We really like using the new interface with the large tiles (Microsoft calls it the "Modern" interface) because they aren't just icons but also provide a snapshot into your data.
For example, the People tile isn't just a link to your address book. If you've set up your social media accounts, it lets you see updated from your contacts, photos they've hosted and other information.
But open other applications and you go back to something that looks a lot like the Windows 7 desktop without the Start button.
A good example of this split personality is Internet Explorer.
Tap the Internet tile on the tiled, Modern interface and you see a true Window 8 application that looks clean, fresh and has the Modern look. Tap the Internet Explorer icon from the desktop and you get a different-looking browser.
If Windows RT had done away with the old-style desktop it would be a less confusing device.
The keyboard
There are two types of covers with built-in keyboards for the Surface (read more about the two types of Surface keyboard covers here).
We purchased a Surface with Windows RT with a Type Cover. This provides protection for the screen and a keyboard that provides good tactile feedback (the keys actually press down when you type).
We're using it to type this article and, other than the Tab key being smaller than usual and the arrows arranged in a block and not an upsidedown "T", it's close enough to full size for us to type at a decent clip.
One thing that has surprised us was that we have barely used the touchpad that comes with the keyboard cover.
Windows 8/RT lets you use a mouse but we found ourselves touching the screen rather that moving the mouse pointer. We wonder whether the same will apply if we start using Windows 8 on a desktop computer that has a touchscreen.
The 10.6in screen runs at a resolution of 1366 x 768. Although this is much lower than the iPad's Retina Display, it is very bright and clear.
The hinged kick-stand, which pops out from the back of the Surface, makes it easy to use the Surface like a small notebook computer.
The essential apps: Mail, Office, Evernote
The first application we configure on any new computer is email. The Windows Mail application reflects the philosophy of the rest of the Windows 8/RT interface. It's clean, with few buttons or other visual distractions.
When we added our first account it took a long time from when we tapped the "Add Account" button to when anything happened on the screen. This was a little disconcerting and we thought that there was a problem. But after almost a minute of inactivity, the Add Account options were on the screen.
Our biggest hassle - and this is as much to do with our working habits as the software - is that there was no way to consolidate all of our unread email in a single view.
We use Gmail and have a number of rules that automatically file messages into specific folders. When we use Gmail through a browser or using an Android tablet, we can do a search for "label:unread" and all our unread messages, across every folder, are consolidated into a single view.
The second essential app for us is Microsoft Office 2013, which comes preinstalled with Surface. With the iPad and most of the Android tablets on the market, you need to purchase an extra office suite application.
The neat thing about Surface is that Office works neatly with SkyDrive, Microsoft's cloud storage solution. There are some apps that work with DropBox and other services but Microsoft's approach works seamlessly.
Another essential app we use is Evernote. A new Window 8 version has been developed and is available through the Window Marketplace.
Although it lacks some of the features found in other mobile platforms this is generally how Evernote's developers work. They get a basic version out quickly and then add features in subsequent releases.
Conclusion
It's clear that Microsoft has put a lot of thought into the design of the Surface. We had our device up and running within minutes of delivery. It comes with Microsoft Office and, when paired with the Type Cover, could suffice as a laptop replacement for some users.
However, the lack of offline file access with SkyDrive is a major oversight. You can get to the files you've stored online in SkyDrive when you're not connected to the Internet, but it can be a fiddly process (read more about this here).
Why Microsoft chose to leave out this feature is a complete mystery as it would have been a killer feature that isn't delivered, out of the box, by any other tablet platform on the market.