Australian pre-orders have been announced for Microsoft's new Surface tablet with Windows RT. Here is what you need to know about Surface, Windows RT and the hidden costs.
It is now clear just how far off the mark speculation about the price of Microsoft's new Surface table has been. The Microsoft Surface is now available for preorder and the cost is a lot higher than expected.
How much it will cost
A 32GB Surface, without the fancy touch cover that plays such a huge part in the marketing campaign, will set you back $559. Add a Black touch cover to the order and you'll be dropping $679 on the device. The higher end 64GB model is only available with a Black touch cover and goes for $789. As expected, Surface is only available for pre-order from the Microsoft store.
If you want a touch cover that isn't black you'll need to fork out $139.99 (the options are currently black, white, magenta, cyan and red). The Type cover, which has discrete keys and only comes in black, will cost $149.99.
Microsoft is also offering free shipping on pre orders made before the 24th October, with no indication of what costs will be after that date. The good news is that Australia is included in the handful of countries in which Surface will initially be available. At the time of writing Australian pre orders will be delivered by the 6th of November, a week or so after they land in the US.
The specs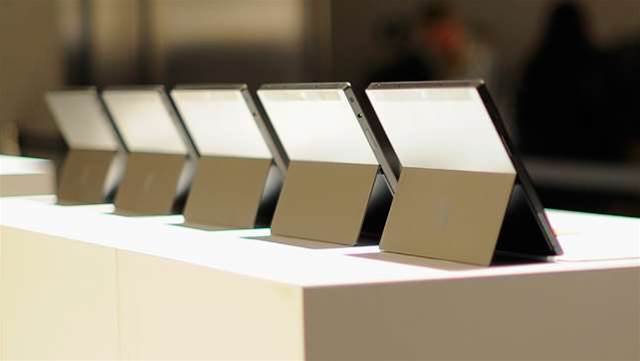 With the Microsoft store page now live, we also have a better idea of what Surface is and isn't from a technical perspective. It is important to remember that this version of Surface runs Windows RT, rather than the full Windows 8 package. It uses an NVIDIA T30 processor, the mid-range Tegra 3 processor which has four cores running at 1.4GHz (as well as Nvidia's low power companion core, which is designed to improve battery life). This should provide ample performance driving the 1366 x 768 10.6 screen.
Surface willl support WiFi 802.11a/b/g/n and Bluetooth 4.0 connections, with no cellular options (although it has a USB port, which could potentially open the way for the use of dongles). It also, unsurprisingly, lacks wired networking capabilities, which we don't expect on a tablet but we do like to see on Windows devices.
Besides the inbuilt flash storage, Surface includes a micro SDXC card reader, which should make for a degree of memory expandability. It also has a single USB 2 port, headphone jack and what appears to be a proprietary HD video out port. This means that you'll need to buy either a VGA or HDMI adapter if you want to connect Surface to most external displays – these are sold separately for $44.99 each, and we doubt we'll see third party options anytime soon.
The software
On the software front Surface will ship with a preview version of Office Home and Student 2013 RT, with a free update to the full version once it becomes available. This inclusion of Office is going to be a major selling point for the tablet, although it won't have all the grunt of the standard version of Office 2013.
It is also important to keep in mind that Windows RT does not support existing Windows software like Windows 8 does. This means that your only source of software will be the Windows Store, and you'll be restricted to running 'metro-style' applications. From our experience with the RTM version of Windows 8, the store is growing day by day, but still isn't anywhere near as well stocked as Apple or Google's stores (even the Blackberry store has more Apps). This is likely to change over time, but as anyone who experienced the lack of common Apps on the Windows Phone 7 store will tell you, it can be a frustrating experience.
Conclusion
There are still quite a lot of unanswered questions when it comes to both the Surface tablet and Windows RT itself. But we'll be doing our best to find out more in the leadup to next week's launch, so stay posted.
In many ways Surface is the main weapon against Apple's iPad, and Microsoft has done a heck of a lot to ensure that it is a beautifully designed and built piece of hardware.