Looking for a fast, high-capacity NAS appliance that can grow with your business? The DS3617xs should be on your shortlist.
Businesses that want lots of network storage but without the added expense of a rack cabinet could find Synology's DS3617xs an ideal solution. This big desktop cube offers 12 hot-swappable drive bays supporting high-capacity SATA drives and supports up to two 12-bay expansion units.
Underneath the DS3617xs' charcoal black chassis is a quad-core 2.2GHz Xeon D-1527 system on chip (SoC) and you get a generous 16GB of fast DDR4 memory upgradeable to 48GB.
It offers four Gigabit Ethernet and dual USB 3.0 ports, along with a PCI-Express expansion slot for 10-Gigabit (10GbE) upgrades. Synology offers its own fibre cards or you can use industry-standard single and dual-port adapters from Intel, Emulex and Mellanox.
Storage expansion looks good as it retains the two Infiniband ports for connecting Synology's DX1215 disk units. Their high bandwidth makes them more suitable for expanding RAID arrays into the expansion units than those that rely on slower USB 3 connections and with 10TB drives certified, capacity can be boosted to an impressive 360TB.
Performance
For our performance tests, we slipped a triplet of Seagate's 10TB IronWolf NAS drives into the appliance's tool-less carriers and used its quick start wizard to create a big 18.2TB RAID5 array. Synology dropped support for its hybrid RAID arrays in its business range but if you can take the hit on capacity, dual-redundant RAID6 arrays are available.
The DS3617xs delivered an impressive performance.
We mapped a share over a 10GbE link to a Lenovo System x3550 M5 rack server running Windows Server 2012 R2 and saw Iometer report excellent raw read and write rates of 9.2Gbits/sec and 7.3Gbits/sec. Real world speeds are equally good with our 25GB file copies returning sustained read and write speeds of 3.4Gbits/sec and 3.3Gbits/sec.
The DS3617xs makes a speedy backup target as our 22.4GB test folder with 10,500 small files was secured at 2.4Gbits/sec. The Xeon D-1527 also handles encryption well as copying our 25GB file to an encrypted share averaged 1.8Gbits/sec with CPU utilisation peaking at only 22 percent.
Data protection
Synology's DSM software has come on in leaps and bounds over recent years and its data protection features are superb. Being a 64-bit processor, the Xeon supports BTRFS volumes, which brings snapshots into play.
Synology's DSM software includes plenty of valuable data protection tools.
These are managed from the Snapshot Replication app where you create snapshots schedules for NAS shares and iSCSI LUNs and run them as often as every five minutes. These are simple to manage and we found restoration just as easy as we could browse a share snapshot for a specific file using the File Manager app, recover the entire share or clone it.
Snapshot replication between source and destination Synology appliances is another very useful feature. Replication can also be scheduled to run at regular intervals but note that the target appliance must also have a 64-bit CPU that supports BTRFS volumes.
The Hyper Backup app is another winner as it provides a central console for managing all your local, remote, Rysnc and cloud backups. You can choose from eighteen different backup types, schedule them to run as required and restore data locally using the Backup Explorer app or remotely on the target using the Hyper Backup Vault app.
Other features and security
Cloud support doesn't get any better as Synology's Cloud Sync app supports no less than twenty public providers. Linking it to our Dropbox account was a cinch as we could also use the File Explorer app to remotely browse files in our cloud repository and download them directly.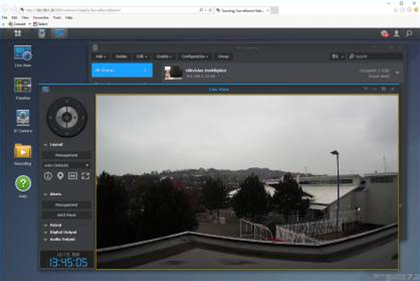 Synology's Surveillance Station is packed with features but
its Live View only currently works with IE 11.
The Cloud Station Server app puts workstation backup on the menu and Synology provides clients for Windows, Mac and Linux systems. We loaded the Cloud Station client on a Windows 10 desktop and used it to secure selected folders in real time with file modifications being replicated to the appliance in seconds.
Synology's Surveillance Station won't be beaten for IP camera monitoring and video recording features and includes two free licences. It offers a huge range of facilities but its reliance on the aging NPAPI app means its Live View currently only works with IE 11.
You can use the Docker app to run another instance of Synology's
DSM software in a separate container.
It can't match Qnap's slick Virtualization Station, but Synology's Docker app allows the DS3617xs to run a wide selection of business apps in isolated lightweight containers. This incorporates the Docker DSM feature which includes a license to virtualise one DSM instance in its own container which can be used to host specific apps and isolate them on dedicated network ports.
Conclusion
Synology's DS3617xs isn't the largest desktop NAS appliance available, but it's close – offering a possible capacity of up to 360TB from the 12 internal bays and two optional 12-bay expansion units.
It's also an ideal choice if performance, scalability and versatility are your priorities, thanks to its Xeon processor, expansion units, DSM apps and integral 10GbE SFP+ ports.
And considering what's on offer, the DS3617xs is good value – we've seen a diskless DS3617xs system selling for around $3,555 and, for $6,330, a unit with 12 Seagate 2TB IronWolf NAS drives.
This article originally appeared at IT Pro.
Verdict
Synology's huge 12-bay DS3617xs offers plenty of everything – internal capacity, features, performance and expansion potential. It's also quite reasonable value, making it ideal for fast-growing businesses.
Specs
From $3555 AUD (without disks)
12 x hot-swappable drive bays (3.5/2.5in SATA III/II/I HDD/SSD); 2.2GHz quad-core Intel Xeon D-1527 processors; 16GB RAM (expandable up to 48GB); RAID 0, 1, 10, 5, 6, hot-spare and JBOD options; 4 x Gigabit Ethernet (with link aggregation), 2 x USB 3.0 and 2 x expansion ports; 1 x PCI-e 3 slot.
Other Reviews in the Group Test:
12 best NAS devices for home and business