The Acer Swift 7 is an incredibly thin laptop that you'll want to buy at first sight – just make sure you can live with its compromises.
In the Swift 7, Acer has delivered a truly beautiful machine that is designed for those who prize a thin frame above all else. It's one of the thinnest ultrabooks on the market, and also happens to be a lovely-looking machine, wrapped in striking black and gold aluminium.
Before you go thinking that this is a steal, however, you should know that Acer has had to make a number of sacrifices to make the Swift 7 this thin, but more on those later.
Design
The first thing that is immediately obvious about the Acer Swift 7 is its superb build quality. Acer has clearly taken inspiration from the HP Spectre 13, with its aluminium covering, a matte black colour on the lid and underside, which opens up to reveal a striking gold on the keyboard and trackpad. It's a bold choice of colours that gives it an understated feel, while offering a lick of luxury at the same time.
It is also fairly light and astonishingly thin, measuring just 9.98mm and weighing 1.13kg. That makes it thinner than Dell's latest model of XPS 13 (15mm) and even slimmer than HP's ultra-thin Spectre 13 (10.4mm), although it is marginally heavier.
Despite the thin chassis, Acer has been able to maintain a solid build quality - thanks largely to its aluminium body - which gives it a sturdy feel even when picked up at the very edge of the device.
While we felt the overall design was gorgeous, the matte black on the lid and underside mean it's almost impossible to keep clean, attracting every single fingerprint and greasy mark.
Keyboard and trackpad
The keyboard itself, while having nicely spaced keys, felt a little too squishy and unsatisfying for our tastes, and some users may find the lack of decent feedback when typing an issue. The keyboard is also missing backlighting, a significant oversight that should be a staple for devices in this price range.
Another niggle is a lack of indicator lights for the Caps Lock or Num Lock keys. Instead, it opts for an on-screen overlay to tell you when Caps Lock is activated, but we found this would often fail to appear, and an additional set of lights beside the power indicator would have been welcome.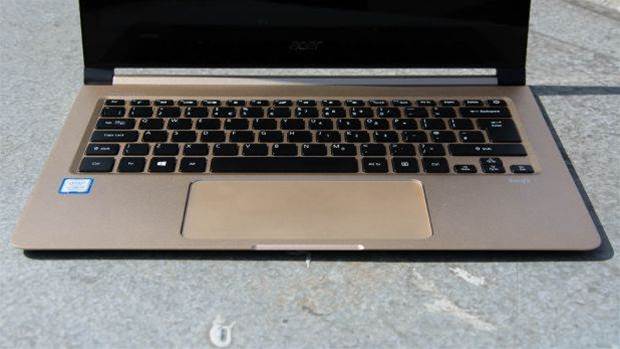 The trackpad, however, is superb, offering an oversized surface allowing for easy navigation using gestures. The edges of the pad are even framed with chamfered aluminium, avoiding that jagged edge you sometimes encounter on other models when moving your fingers from the pad.
Left and right clicks also require very little force, and it even features Microsoft's Precision Touchpad software, which improves accuracy and allows users to take advantage of built-in Windows 10 gestures as they're added. These little touches all come together to create a truly great trackpad experience.
Connectivity and features
It's not all rosy though; given its dimensions, you won't be surprised to hear that connectivity suffers as a result. The Swift 7 comes with a headphone jack and two USB-C ports used for charging and connecting displays and data transfer – that's it, aside from the built-in Bluetooth.
Another issue is that these ports do not support Thunderbolt 3, which is becoming increasingly popular on higher end machines. As such you're limited to 5Gbps data transfer speeds, instead of a much speedier 40Gbp, as well as missing out on the other enhanced features of Thunderbolt. On the other hand, it does feature 2x2 802.11ac MU-MIMO Wi-Fi, which means faster and more reliable connections to your wireless network.
Display
The Swift 7 is only available in a 13.3in 1920 x 1080-pixel configuration, although it does feature an IPS LCD display with a layer of Gorilla Glass 5 on top for some added scratch resistance. This is especially welcome on a device that is designed to be on the move a lot, and that added protection is reassuring.
Hardware and performance
The Acer Swift 7 appears to be only available in one configuration in Australia, and at first glance that seems pretty solid: 7th generation Core i7 processor, 8GB of RAM and 256GB SSD.
However, that processor is one of Intel's Y-series chips, which effectively means it's a rebranded Core m chip. These dual-core processors are built to operate at low power states while producing minimal heat, which is ideal for ultrabooks using fanless designs, helping to keep thickness down to a minimum.
The downside is that these chips sacrifice power as a result – and unless you know what the look for, the i7 badge is no longer necessarily an indicator of performance.
Featuring the same Core i7-7Y75 as its hybrid sibling the Spin 7, the Swift 7 performed accordingly in our benchmark tests – which is to say pretty well compared to laptops with Core m processors, like the 12in MacBook, but well behind full-powered Core mobile chips – even a previous-generation Core i5.
This means the Swift 7 will struggle with heavy image-editing, video-editing and multitasking tasks, but for day-to-day work tasks such as browsing, email and wordprocessing.
The upside with a Y-series chip is the ultra-low power rating of 4.5W will ensure it stays relatively cool during longer sessions. Given the fanless design, you should expect to feel some heat just above the keyboard when doing anything particularly demanding, but nothing excessive.
The processor also helps with battery life, of course, but with room for only a 2770mAh battery in that slim case, battery life is only reasonable rather than great. It managed 7 hours and 6 minutes in our video playback test, although that should be enough to last through an average working day.
Conclusion
Acer has delivered one of the thinnest ultrabooks you can buy. The keyboard may not be spectacular, but it is certainly useable, and when paired with that fantastic trackpad you have an ultra-portable that is a joy to use. It also helps that it has a gorgeous looking design.
But aside from that ultra-thin frame, there's not a lot to shout about. Performance is average at best, and for that power sacrifice you aren't getting much in the way of added battery life. With the omission of keyboard backlighting, a meagre offering in terms of ports, and a lack of different configurations, we can't help shake the feeling that Acer has cut a few corners.
Like the Spin 7, the Swift 7's list price of $1,999 puts it in the same ballpark as class-leading portables – and you can get better battery life and usability from the 12in MacBook, much better performance from the Dell XPS 13 and a more flexible device with the Surface Pro 4.
However, we've seen the Swift 7 selling for less than $1,700, which makes it better value. If you don't need a high-performance system, but you're after an ultra-thin ultrabook for general work purposes, the Swift 7 may be worth considering if you can get it for the right price.
This article originally appeared at IT Pro.
Verdict
Don't expect a great performer, but you're after an ultra-thin ultrabook for general work purposes, the Acer Swift 7 may be worth considering if you can get it for the right price.
Specs
$1999 AUD
1.30GHz Intel Core i7-7Y75 processor; 13.3in 1920 x 1080-pixel IPS display; 8GB RAM; 256GB SATA SSD; 2 x USB-C ports; 2770mAh battery; 324.6 x 229.6 x 10mm; 1.13kg; Windows 10 Home.