Want to capture stunning 360-degree photos or videos? The Gear 360 is ideal – if you have a compatible Samsung Galaxy phone.
Who wouldn't want a camera that captures 360-degree photos and video? Well, the Samsung Gear 360 is largely aimed at the adventure and sports market, but it could be equally at home in the business world.
Real estate agents, travel and tour operators, hotels, builders, decorators and landscapers are just some of the businesses that could benefit from showcasing their wares in 360-degree splendour.
And what the Gear 360 promises, it delivers – with a few caveats, as we will explain later in this review.
Design
The Samsung Gear 360 is a spherical camera, somewhere between the size of a golf ball and a tennis ball, and it looks a little like a small robot from an old sci-fi flick.
The camera section – which screws neatly on top of the tripod, and comes ready assembled – has two fisheye lenses on opposite sides. There are three buttons – "power/back", "bluetooth connect/menu" and a big old "record" button on top. It also has a tiny LED display on top which provides basic information like battery life and how long you've been recording for.
Opposite the side buttons is a panel that springs open to reveal the battery slot, a microUSB charging port and a microSD slot. For $499, you'd really hope they'd throw in a microSD card – especially given Samsung make them – but prepare for disappointment. It won't record anything without a card in place, either, because there's no internal storage. That's a tad stingy for such a pricey product.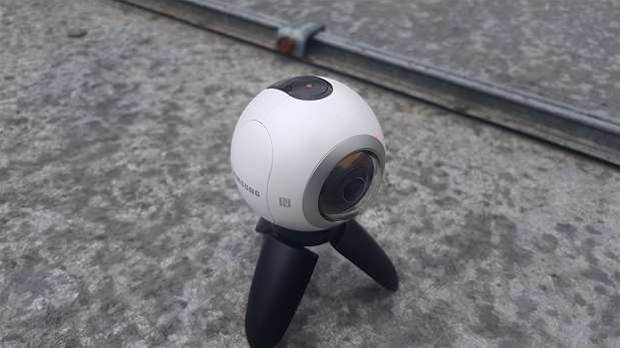 The tripod can be removed, allowing you to attach the camera section to anything else with the right fitting, or the bundled wrist strap. It's actually a very effective stand, offering sturdy support for the camera, and the three legs clip together to form a handle if you want to just hold it high above your head for an aerial shot.
All in all, it's a very attractive little camera, which for the most part looks as expensive as it costs, with a nice space age aesthetic going for it. That said, a detached eyeball on stilts can only look so beautiful, so your mileage may vary.
Features
So, what can the Samsung Gear 360 offer you that your regular camera can't? Well, 360-degree photos and videos, obviously. Sure, you can stitch images together with the latest smartphones by slowly panning around, but there are a number of problems with this: you need a steady hand and things may change while you're panning around. The Gear 360 fixes these issues, but unfortunately it can't turn an average photographer into a good one: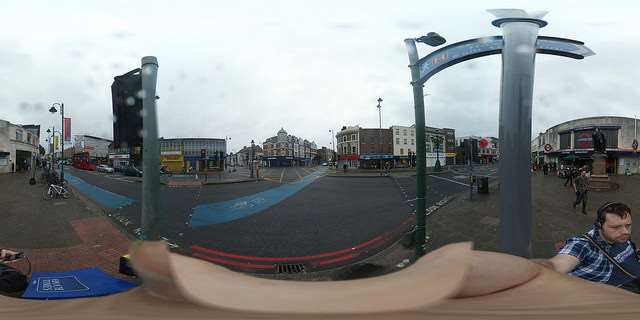 (Click on the image to see it in 360 degrees)
It's not all about static images, of course. The real charm of the Gear 360 is that it lets you shoot 360-degree video at an almost-but-not-quite-4K resolution of 3,840 x 1,920 pixels. This can then be dropped straight onto YouTube's 360 degree video channel, Facebook or even viewed on a Samsung Gear VR headset to put people straight into your very own homemade VR film.
As well as basic video recording, you can set the video to loop (so that it records over the start once you run out of space – handy if you're waiting for something specific to happen) or timelapse, which takes a frame at set intervals, and allows for cool videos like this:
You'll notice that's not in 360 degrees. That's because the camera lets you pick the front, back or both cameras to shoot from. The back camera would have just shot a wall, so on this occasion, we chose battery life and memory card space.
With the exception of timelapse mode, all of these allow you to preview the image from both lenses on a Samsung Galaxy smartphone, allowing you to – in theory – line up the perfect shot. We say "in theory" because, well, sometimes the best gear is wasted on the worst photographers.
Which leads us to the camera's major flaw. Unfortunately, like the Gear VR – only with far less justification – Samsung has chosen to limit support for the Gear 360 app to a comically small selection of phones. Unless your phone belongs to the Galaxy S6, S7 or Note 5 family, you're bang out of luck.
Technically you could just use the Gear 360 on its own – and Samsung does include a code for Gear 360 ActionDirector in the box for desktop editors – but it makes it a lot more cumbersome.
Image quality
If you haven't been able to tell from the images already included, from the price of the device and Samsung's pedigree in this area, picture quality is very nice. The cameras are both 15MP f/2.0 fisheye lenses with a resolution of 2,560 x 1,440 pixels, and they absorb a huge amount of detail with the right lighting: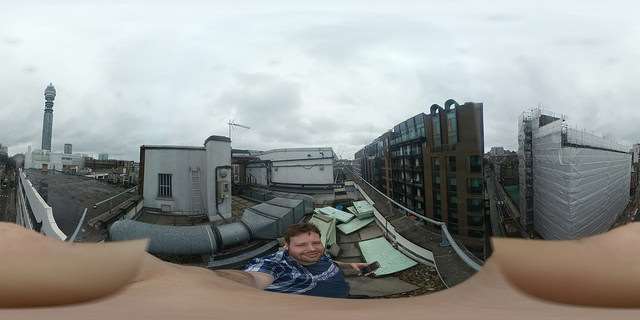 And it works quite well in poorly-lit environments, too: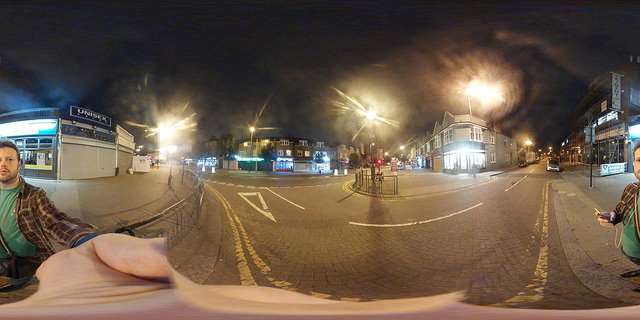 As well as the handful of basic options available (photograph, video, timelapse video and looped video), each one has a myriad of sub-options to play with. Taking just the photography settings, you can control the max ISO, add additional sharpening, fiddle with the exposure and white balance, and toggle HDR on and off.
You can also set a timer for two, five or ten seconds to give you time to set the Gear 360 on its tripod, and then assume the kind of nonchalant pose that I've failed to demonstrate.
These more advanced options are limited to the app, which is why non-Galaxy owners will find the Gear 360 a frustrating experience. The tiny LED screen on top of the camera does allow you to switch between the main settings, which is handy if you want to get a quick shot but doesn't allow for more advanced tweaking.
Video is more or less the same. You can turn on stabilisation to make the video less shaky. Samsung's own trailers show the Gear 360 being used GoPro style, strapped to a snowboarder, but my experiments were considerably more mundane. It's all pretty solid, though the microphone is a touch reedy.
And although images do stitch together nicely, there are still obvious gaps in the inch and a half between the two lenses, as this video demonstrates. Move the video down, and you'll spot the drinks menu is unevenly stitched together.
Conclusion
It's hard not to be impressed with the Gear 360, despite a few drawbacks. The first one is that, at $499, it's not exactly cheap. It's not outrageous if it's something you really want or need, but the lack of built-in or bundled storage means you'll have to fork out extra for a microSD card.
It's also pretty difficult to keep about your person. You try putting something slightly bigger than a snooker ball in your pocket 24 hours a day and see how practical it is.
But the biggest drawback is Samsung's walled garden approach. While the Gear VR's insistence on only working with Galaxy phones kind of makes sense (handsets have to physically fit in it, after all) this is just sheer bloody mindedness.
On the other hand, you'll love the Gear 360 if you have a compatible Samsung Galaxy phone and want to capture stunning vision of your business products, outdoor pursuits or even indoor pursuits...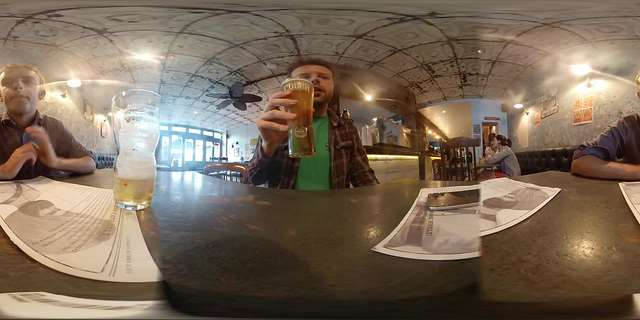 This article originally appeared at alphr.com.
Verdict
The Gear 360 is a great camera for outdoor types or businesses that could benefit from promoting their wares with 360-degree photos or videos. But you'll need to spend extra for a microSD card and have a recent Samsung Galaxy smartphone to use the companion app.
Specs
$499 AUD
Connectivity: USB 2.0, Wi-Fi (802.11ac or earlier, 2.5+5GHz), Bluetooth 4.1, NFC. Storage: MicroSD slot. Phones compatible with app: Galaxy S7, S7 edge, Note 4, S6, S6 edge, S6 edge+. Cameras: 2 x 15MP. Weight: 152g.