The Galaxy S8+ is surprisingly usable despite its over-sized screen – but are you better off with the regular S8?
Did we really need to review the Samsung Galaxy S8 Plus? It is, after all, much the same as the Samsung Galaxy S8, which we reviewed earlier. It has the same features as its (slightly) smaller sibling; the same internals, camera, storage options, and screen aspect ratio and resolution.
What makes it different, of course, is the sheer size of the thing, so we definitely wanted to get our hands on the phone to see how practical it was to use.
The Samsung Galaxy S8+ screen measures 6.2in across the diagonal. This would make a regular phone practically unusable – but the Samsung Galaxy S8+ is no regular phone.
That's mainly because the 18.5:9 aspect ratio allows Samsung to add extra screen real estate without expanding the physical width of the phone too much. This means the S8 is actually no less usable than other phablets with nominally smaller screens. Indeed, it feels quite comfortable to hold and use in one hand, which is quite the surprise.
Looking objectively at the numbers, though, this should come as no real surprise. The Samsung Galaxy S8+ is a mere 73.4mm wide, which works out at only 0.8mm broader than last year's S7 Edge. It's noticeably taller at 159.5mm (compared with 150.9mm for the S7 Edge), but thanks to incredibly narrow top and bottom screen bezels, it isn't as unwieldy as it could have been.
Despite this, the Samsung Galaxy S8+ is still not the most pocketable of smartphones. Despite the narrow bezel, this phone is taller than the Google Pixel XL by nearly half a centimetre and it's pretty hefty, too, at 173g. You'll need to have deep pockets or plan on keeping it in a bag.
The size difference between the Galaxy S8 (top) and S8+.
In terms of practicality and looks, these are pretty much the only differences between the Samsung Galaxy S8+ and the regular S8. They're both available in the same range of colours – gold, grey and black – and both look and feel glorious. There's Gorilla Glass 5 on both the front and rear, although the lack of bezels means it probably will smash if you drop it anyway. It's IP68 dust- and water-resistant, though, so when you get caught out in a rain shower or drop it down the toilet, it should continue to work.
Just like its little brother, the S8+ also has a microSD slot, and it has a fingerprint reader that's been repositioned at the rear as well. That's poor positioning, in my view, because it means you frequently smudge the camera lens with your finger trying to locate it. At least there are other ways to unlock the phone, although both the iris recognition and new facial recognition are less convenient to use because you have to lift up the phone to engage them.
However, there's no denying that this is one handsome smartphone, largely due to the lack of bezels and the gorgeous curved edges that run up the phone's flanks. No other smartphone looks this good; it's a pleasure to pick up, use, stroke and fondle – a jewel of a smartphone that's one step ahead of the rest of the market.
Performance and display
Performance-wise – yep, you guessed it – the Samsung Galaxy S8+ offers much the same as the regular S8, which means to say it's superfast. You get a 10nm Samsung Exynos 8895 (or Qualcomm Snapdragon 835 in some other countries) and this is paired with 4GB of RAM and 64GB of UFS 2 storage.
As you can see from the above benchmark graphs, the Samsung Galaxy S8+ matches the regular S8 test for test – hardly surprising given the identical internals.
The Galaxy S8's display, too, is just what you'd expect from Samsung, which has become a pass master in this area in recent years. It's an AMOLED panel, so it has perfect black and its performance in every test we put it through was superb.
Colours are perfectly poised – not oversaturated yet still vibrant – and it goes just as bright as you need it to. We usually measure brightness by switching off auto-brightness and then sliding the adjustment all the way up to the maximum; however, with Samsung phones, the maximum brightness can only be achieved by enabling auto-brightness and placing the phone in high ambient light.
In these conditions, with a full white screen, the Samsung Galaxy S8+ is able to push screen brightness up from a maximum of 347cd/m2 to 554cd/m2, which means it will be bright enough to read in most conditions.
That's still not the full story, however. Since the screen is HDR Premium certified, it should be able to reach higher peak brightness than this and so it proves. With only a small patch of white pixels displayed on the screen, the S8+ pushes peak brightness up to a searing 912cd/m2.
It's one hell of a display, then, but there are practical issues to contend with. That long-tall screen aspect ratio (or short-wide, depending on how you look at it) means that not all apps and content adapt perfectly. I came across a number of games during testing that left thick black borders at the top and bottom of the screen and, when you turn the phone on its side, it's a similar situation with movie and TV content.
While YouTube and Samsung's own video player let you stretch content to fit the wide screen, other apps don't yet offer the option to do this. Fire up a movie on Netflix, for instance, and you'll have to put up with black bars to the left and right, with no way to either zoom or stretch the video to fill the screen; perhaps we'll just have to be patient on this front, but at the moment it's a little disappointing.
The one area of performance where the Samsung Galaxy S8+ has the potential to be different from the regular S8 is battery life. With a larger 3,500mAh capacity, you'd expect stamina to be longer, although there is the compensating factor of that larger screen.
Anecdotally, this is a long-lasting phone. We used it for around a week and regularly get longer than a full day out of it. Our video-playback battery test backs up this experience. With the phone set to its default screen resolution (1,080 x 2,220), the screen calibrated to 170cd/m2 and flight mode engaged, the Samsung Galaxy S8+ lasted 20 hours 33 minutes before running dry. That's a very good result, and places it a long way ahead of the Google Pixel XL, LG G6 and even the regular Galaxy S8.
Next: cameras, software and conclusion
Cameras, software and conclusion
On paper, the rear camera isn't much to shout about. It has the same resolution as last year's Samsung flagships, remaining at 12 megapixels, and the secondary specifications are a match as well, with optical image stabilisation, dual-pixel autofocus and a bright aperture of f/1.7.
The only difference on paper is that the camera, via the S8+'s image signal processor (ISP), captures not one but three frames in rapid succession every time you shoot, combining them together in a bid to create sharper images.
It's like HDR for every shot you take and is Samsung's attempt to match the Google Pixel phone's HDR+ technique, which captures up to ten images and combines them in a similar way. What effect does this have on captured images?
Surprisingly – as with the S8 – it improves things significantly over the S7 and, in good light, the S8's images compare well with the Pixel's. The main difference is not in detail capture, but exposure, where the Pixel captures much more naturalistic images than the Samsung Galaxy S8+, which has a tendency to slightly overexpose and oversaturate images.
We also noticed in a couple of examples that the S8+ is applying significantly more noticeable sharpening than the Pixel. This is evident only on very close inspection, but it means that the S8+'s images, in some circumstances, can look sharper.
The Pixel XL on the left produces more balanced, natural-looking shots than the S8+, which has a tendency to blow out highlights.
There's a more yellowy, over-saturated look to the S8's shot (right), where again the Pixel produces more realistic images.
In low light, however, the win goes more clearly to the Pixel XL. Its pictures look a little grainier than the Samsung Galaxy S8+ images, but that means it's better at retaining details. Once again, there's slightly more naturalist colour capture as well. The Google Pixel is clearly still the king of smartphone photography.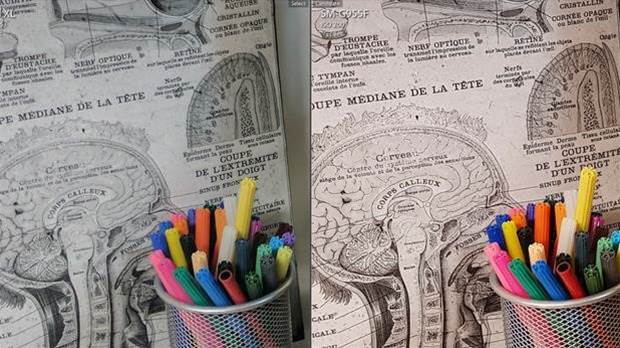 In this low-light image, the Google Pixel XL (left) gets white balance under fluorescent lighting spot on while the S8+ image is slightly too yellow. Close inspection also shows the Pixel's shot to be grainier, but slightly better in terms of detail preservation.
If you value your front-facing camera as much as your rear, though, you'll be very satisfied with the S8+ snapper. It has a much better selfie camera than the S7 Edge (8 megapixels vs 5 megapixels), although it's again a close-run thing with the Google Pixel XL. The S8+'s f/1.7 aperture lets in much more light than the Pixel's f/2.4, but the Pixel tends to exposure images more accurately and ends up capturing more natural-looking snaps as a result.
Software, Bixby and DeX
The Samsung Galaxy S8+ runs Android 7 Nougat, which is hardly surprising, and this is overlaid with the usual Samsung launcher software. You might find this intrusive, with its slightly different icons and laundry list of extra features, but I don't. It's different, but not unpleasantly so, and although there's quite a long list of preinstalled apps, the 64GB standard storage allocation and microSD slot mean this isn't the problem it might have been.
The big selling point of this particular iteration of Samsung's software is supposed to be Bixby – the firm's answer to Alexa and Siri – but the voice-driven part of it isn't ready yet and what we do have is not all that exciting.
There's an automatically curated feed of personalised news and info to the left of the homescreen that looks uncannily like the Google Now, and Bixby Vision – a plugin for the camera that analyses what you're pointing the lens at and attempts to provide useful information, be that shopping links for products or information on people and landmarks.
I can't see myself bothering with either of these in the long run, but since I'm reviewing the phone, I've been taking the opportunity to test the features out over the past few days. I can't say I've been impressed.
The newsfeed works well enough, but I can see no practical reason for reinventing what Google Now does. Bixby Vision is of little to no use at all. The shopping aspect I could never get to work; nothing I pointed it at brought up any kind of recognised product. The image recognition was patchy at best. A photo of the BT Tower matched a bunch of towers across the world, but a snap of my face brought up wildly inaccurate match list, topped by a story about Robbie Williams. I'm not sure if I should be offended by that or flattered.
The Place option seems the most useful, but how many times are you going to find yourself in a place wanting to know something about a building that looks famous? I'm guessing not often.
The S8+ in the Samsung DeX dock.
Samsung DeX, on the other hand, is considerably more impressive. This is Samsung's answer to Microsoft Continuum: slot the phone into the DeX dock (a rather costly £129 extra), connect a keyboard, mouse and monitor, and you'll be able to use your phone to run a complete windowed desktop environment.
It's surprisingly snappy and capable, too. I was able to work perfectly happily on just the phone for almost a whole day – until I needed to use Photoshop to do some RAW file editing. It's certainly a big improvement on Microsoft's rather sluggish effort.
Conclusion
In essence, the Samsung Galaxy S8+ is the same phone as the S8, with all the things that make that phone great, but with a bigger screen, a bigger battery, a more unwieldy profile and a higher price.
Is it any better, though? In our view, the answer to that question is no, and that's mainly due to the 6.2in Samsung Galaxy S8+' size. Although it isn't over-wide, it's too tall and although we'd be happy to carry around the regular Samsung Galaxy S8 day to day, the Samsung Galaxy S8+ is just one step too far.
We've been here before with big phones, of course. We remember reviewing the first 4.5in smartphone and thinking that ludicrously big at the time, so our opinion might change. Of course, you do get better battery life than the Galaxy S8 as well.
However, the Galaxy S8+ is considerably more expensive – $1,349 versus the S8's $1,199, while its cheapest 1GB plan is $76 per month (from Woolworths) compared to $72 for the standard S8 (Optus).
If you're of the 'bigger the screen, the better' school of thought, you'll probably love the Galaxy S8+. For everyone else, the S8 is the better balanced, better value phone.
This article originally appeared at alphr.com.
Verdict
The Samsung Galaxy S8+ is essentially the same as the regular S8, but with a bigger screen and longer battery life – which makes it an outstanding smartphone. It's probably just a bit too big for most users though.
Specs
$1349 AUD outright
2.3GHz octacore Samsung Exynos 8895 processor; 6.2in 1,440 x 2,560-pixel AMOLED screen; 64GB built-in storage; microSD slot (up to 256GB); 12MP, f/1.7 rear camera; 8MB front camera; USB Type-C port; 4G (Gigabit) connectivity; 3500mAh battery; wireless Qi and PNA charging; 159.5 x 73.4 x 8.1mm, 173g; Android 7.0 (Nougat).
Other Reviews in the Group Test:
Best smartphones of 2018