Specs and performance
One of the main selling-points of the Galaxy Note range in years past was that it was more powerful that Samsung's flagship Galaxy S range, offering more grunt for power-users who wanted to multitask. While that's still true, it's somewhat redundant in this day and age, as the Galaxy S8 already offers more power than most users will ever need.
Nevertheless, if you're the kind of person that needs to squeeze every last drop of horsepower from your phone, then the Galaxy Note 8 will suit you – it carries the same octa-core as the Galaxy S8 and has 6GB of RAM compared to the S8's 4GB. The Note 8 scored very capably in our benchmarks, with a result of 2,008 for single-core operations and 6,614 for multi-core tasks – pretty much the same result as the Galaxy S8 (6,629 for multi-core) and Galaxy S8+ (6,598), and better than the likes of the iPhone 7 (5,652).
It's more than powerful enough to run as many apps as you can reasonably throw at it without slowing down, including Adobe's mobile photo editing apps. The added power will also come in handy for anyone looking to use the Note 8 with DeX, as it'll be even better at desktop-style multitasking than the S8.
Battery
After what happened with the Note 7, Samsung made a huge point of mentioning the eight-point battery safety test that it put the Galaxy S8 through when it launched, and the Note 8 is no different. The company is keen to emphasise how rigorously it tested the Note 8's safety, and is trying to put its previous woes far behind it.
However, it appears that the company may have sacrificed some of the Galaxy S8's impressively long battery life in the name of safety. In our battery tests, the Note 8 managed a score of just 13 hours 38 minutes, which lags roughly three hours behind the S8's result, and almost seven hours behind the S8+.
Although the battery has to do some fairly heavy lifting, this is still a rather disappointing result from a flagship device in 2017. It's possible that Samsung is artificially throttling the battery's performance for the first few months of the Note 8's life, in case the Note 7's battery problems look like they're going to repeat themselves; if this is the case, a software update could fix this issue overnight.
As it stands, however, the current result is something of a let-down, but we'll be conducting more extensive testing in the coming weeks to confirm its authenticity.
Camera
Aside from the brand-new Infinity Display, the other big innovation that the Note 8 is bringing to the table is a new dual-lens camera. This is not just the first Note device to feature such a setup, but the first Samsung phone ever, with an f/1.7 wide-angle lens twinned with an f/2.4 telephoto lens with 10x digital and 2x optical zoom. Both use a 12-megapixel sensor, and both feature optical image stabilisation.
The results are truly stunning to behold. The Note 8's camera is one of the best smartphone cameras we've ever seen, with crystal-clear detail and excellent low-light performance to boot. This isn't hugely surprising, given that it uses the same basic technology as the S8's excellent camera, and in fact, the results are nearly identical.
The HDR has a tendency to be somewhat hit-and-miss, but when it does kick in the effects are superb, with minimal ghosting and haloing visible.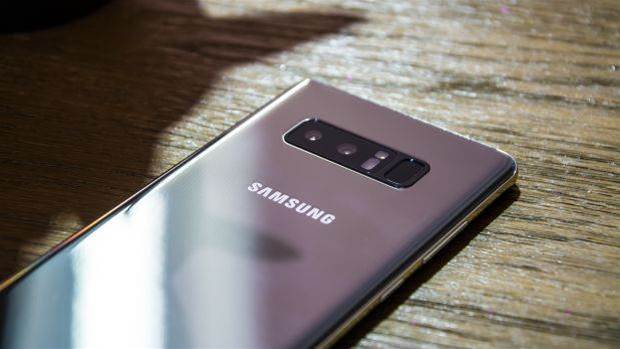 As with virtually all the latest major smartphones, you can shoot in 4K and 60fps, and there's also a number of additional shooting modes including slow-motion and timelapse. Samsung has also built in a number of Snapchat-style AR masks to the camera, should you wish to jazz up your selfies.
Conclusion
It's clear that the Galaxy Note 8 is primarily targeted at business users, with powerful multi-tasking capabilities, support for Samsung's robust device management plans and the S Pen's business-friendly note-taking features.
Bear in mind, though, that with these professional-grade capabilities comes a decidedly professional-grade price. Priced at a hefty $1,499, it's more expensive than the Galaxy S8 ($1,199), Galaxy S8 Plus ($1,349) and the 128GB iPhone Plus ($1,419).
With this outright price, it's likely most will opt to buy on a plan. At the time writing Vodafone had the cheapest monthly Galaxy Note 8 plan, with handset repayments starting at $41.63 per month over three years, plus its cheapest Red Plan (with 2GB of data), for a total of $71.63 per month. By comparison, Vodafone's same plan with the Galaxy S8 is $63.30 per month, while Telstra's cheapest Note 8 plan is $109 per month for 2GB of data and a two-year contract.
Overall, we feel that most people will be better off with one of Samsung's other flagship phones. In most ways that count, the Note 8 is indistinguishable from the Galaxy S8+; the design is near-identical, the performance is neck-and-neck, and the screen is just as impressive. The Galaxy S8 is also much the same, apart from the display – which is still a generous 5.8in.
There are a few differentiators, the Note 8's signature S Pen being the most obvious one, along with the dual-lens camera – a first for Samsung, and one that has paid off with a truly excellent snapper. However, there's also the Note 8's disappointing battery life.
The Note 8 is a truly excellent device, but you're better off with the Galaxy S8 unless a stylus is an absolute must-have.
The Galaxy Note 8 is available for pre-order from Samsung, all major telcos and retailers, and if you pre-order before 22 September, you can get a free wireless charger worth $119.
This review is based on an article that originally appeared at IT Pro.
Verdict
Battery life was disappointing and it's expensive, but the Samsung Galaxy Note 8 is otherwise an outstanding business device – with a big, beautiful screen, top-notch performance, a sleek design, powerful multi-tasking capabilities, support for Samsung's robust device management plans and the S Pen's business-friendly note-taking features.
Specs
$1499 AUD outright
6.3in Super AMOLED display with 2,960 x 1,440-pixel resolution; 2.3GHz octa-core Samsung Exynos 8895 (or Qualcomm Snapdragon 835, depending on world region); 6GB RAM; 64GB storage and MicroSD slot; 12MP f/1.7, 12MP f/2.4 dual lens rear camera; 8MP front camera; NFC; Android 7.1.1 (Nougat).