It's no iPhone, but Nokia's resurrected 3310 is a great-value handset for those with very basic needs.
Remember when mobile phones were reliable, rugged and lasted for a week without a charge? Feature phones never completely died, of course, but if you're feeling nostalgic, one of the original favourites, the Nokia 3310, is making a comeback.
We reported on the new Nokia 3310 earlier this year, but at the time it was 2G only, which is of limited use in Australia with 2G networks being phased out. However, HMD Global – the new maker of Nokia phones – has announced a new 3G model is being launched in Australia.
Not being a smartphone, there are major limitations, of course, but if you're willing to accept those and want a feature phone for whatever reason, the Nokia 3310 is an attractive proposition – particularly given its $89.95 price.
Design
Nokia has pulled off quite a neat trick in design terms. Like a developer remastering an old game for new generations, the designers have managed to modernise it subtly in a way that makes it feel exactly as you remember it. It's not: while the original Nokia 3310 weighed 133g, this one comes in at just 80g. The bulk of this has been lost from the phone's thickness, where it drops from 22mm to a mere 12.8mm. It's tiny. Next to any modern smartphone, it feels like a toy.
The feeling of familiarity is also there with the 2.4in screen but again, it's an illusion. Back in 2000, the 3310's screen had a resolution of 84 x 84 pixels and this time it's a full-colour 240 x 320-pixel display. While no match for even the most basic of 720p screens you get on a smartphone, it does the job well enough. It's bright and colourful, if a touch grainy.
It isn't a touchscreen, of course. Input is achieved via the 15 buttons underneath the screen: 0-9, *, #, select, make call and end call. You navigate the menus by pressing the frame of the select button in one of four directions. And yes, it feels as anachronistic as it sounds.
The only real sign that you're in 2017 and not the early 2000s is the micro-USB port on the top edge of the phone where the battery is charged. There's no Wi-Fi or GPS, but there is MicroSD card slot with support for up to 32GB if ever you need additional storage.
The back comes off, meaning you can swap out the battery should yours no longer last as long as it used to (although, compared to smartphone standards, it'll still go on for aeons). Sadly, this doesn't mean you can swap out the faceplate like in the old days, which is a shame. You're stuck with red, yellow, dark grey or blue, depending on which model you selected in the first place.
Performance
Nokia has been pretty tight-lipped over what's powering the 3310 but it's clearly not going to be the last word in smartphone processors. You simply don't need much power to keep things moving on such a basic handset.
Not being an iOS or Android phone, we weren't able to run our usual benchmarks on the 3310, but everything worked smoothly, and it's hard to see what more horsepower would achieve.
However, it's not a necessarily smooth experience if you've become used to touchscreens. In the 3310's prime, users got very good at using the keys for text input, but going back to it now feels clunky – so, it's just as well that there are not many apps with which you need to input text.
The Nokia 3310 lets you send text messages, but there's no support for other apps, such as WhatsApp or Facebook Messenger. The 3310 is a phone from the days when phone calls were the primary way of communicating, and four years before Facebook launched privately for Harvard students. There is a version of Opera Mini built-in for web browsing, however.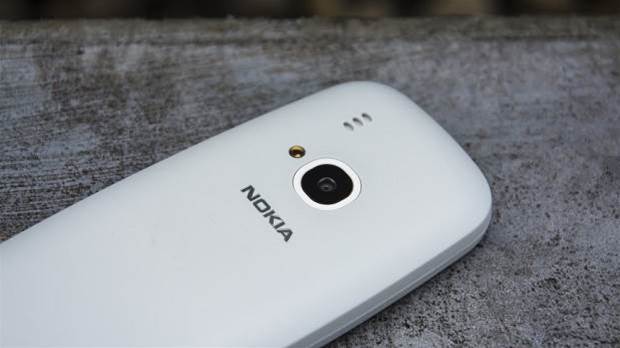 The battery life is, as expected, excellent – although adding 3G has an impact, because it's rated to last 'only' 27 days in standby compared to a month on 2G. Putting that into perspective, however, the iPhone 7's standby time is just 10 days. The Nokia 3310's talk time (in 3G) is rated at 6.5 hours.
Of course, one reason for the Nokia 3310's incredible stamina is that there's so little you can do with it. If you're worried about the constant distraction of notifications, then this is the phone for you. Unless, of course, you're a Snake addict.
Yes, Snake is back, but it's not quite as you remember it. Rather than moving purely at right angles by uncomfortably bending your fingers to move between the 2, 4, 6 and 8 number keys, the default control scheme sees the snake shifting slight angles with a tap of the 4 or 6 buttons. It's brightly coloured and certainly not the same Snake that you remember – but it is just as addictive. You can buy other games in the store, too.
Camera
The Nokia 3310 has a camera. If you're thinking "well, of course it does", remember the original phone never had one. But the snapper here isn't going to challenge even the most basic smartphone camera: it's a 2-megapixel affair, and it's slightly better than not having any camera at all, as you'll see from the test shot below.
Not that you'll be able to tell until you get them onto a computer. On the Nokia 3310's 240 x 320-pixel screen it's hard to tell whether the pictures are bad or if the small screen just makes them look it.
Conclusion
If you're about to buy the Nokia 3310 for purely nostalgic reasons, our advice is: don't. Remember, it doesn't offer the large touchscreen display, huge app library, excellent camera and other benefits we've become used to with modern smartphones.
If you're on a tight budget, we'd suggest the $249 Nokia 3 smartphone is a better option for most users.
However, there are very good reasons to own a feature phone in 2017 – not least of which include price and battery life – and the Nokia 3310 certainly delivers on both. The 3310 is cleverly done too, adding just enough mod cons – such as the 2-megapixel camera and full-colour 240 x 320-pixel display – without losing the integrity of the original design.
Whether you want an emergency phone for you or your kids – or just prefer a feature phone – the Nokia 3310 is a great-value option. It will be available in Australia from mid-October from JB Hi-Fi, Harvey Norman, Vodafone and Optus.
This review is based on an article that originally appeared at alphr.com.
Verdict
The new Nokia 3310 is cleverly done, adding just enough mod cons – such as a 2MP camera and full-colour display – without losing the integrity of the original design. As long as you remember it's feature phone – without most of the smartphone features we now take for granted – it's a great-value handset for under $90.
Specs
$89.95 AUD
2.4-inch screen with 240 x 320-pixel resolution; 3G and Bluetooth 2.1 support; 64MB internal memory; microSD with support for up to 32GB; 2MP rear camera; 84.9g.