In the vast world of MSI laptops, where does the Modern 15 sit?
MSI makes, what can appear to be, a bewildering array of laptop variants. What's more, those variants are all available in sub variants. The benefit of this is that everyone should be able to find a device that is perfectly tailored to their needs rather than have a specification forced upon them. With this in mind, MSI's Modern 15 is something of a mid-range sedan in laptop terms. It does everything reasonably well, at a reasonable price, fits into most work settings but doesn't excel in any particular area. So should you buy it?
Key Specs of the MSI Modern 15 Laptop
15.6-inch, matte, 1920 x 1080, non-touchscreen IPS LCD; 1.8-4.9GHz Intel Core i7-10510U processor; 16GB DDR4-2666 RAM; 512GB NVMe hard drive; Nvidia MX250 GPU; 52Wh battery; 357 x 234 x 16mm 1.6kg. SKU: A10RB. Full specs here.
Design and Ergonomics
The 'Onyx Black' chassis, with its brushed finish and understated white dragon logo, looks stylish enough to suit most corporate and consumer environments but is still unavoidably plasticy. Nonetheless, it provides Military-grade robustness, doesn't flex much and provides decent protection to the Full HD, IPS LCD, behind. The matte screen itself has a thin bezel, is crisp, clear and gets bright but, despite MSI's True Colour and Colour Boost 3 technologies, doesn't have the impressive, radiant colours that we've seen on rivals and relatives.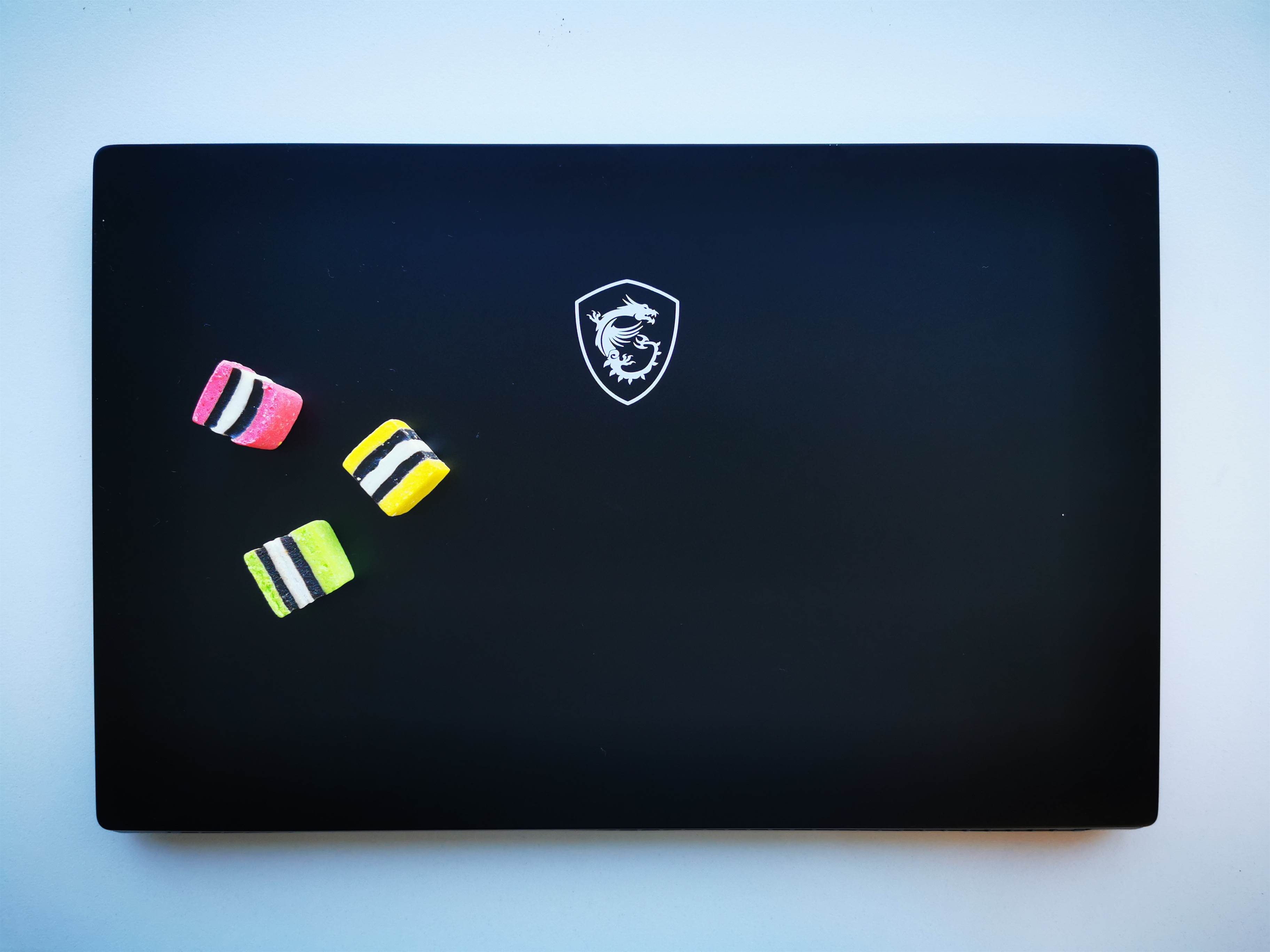 MSI's Modern 15 laptop is stylish, but feels plasticy.
The large, Scrabble-tile keys are well spaced across the entire chassis. They are rear-lit with white LEDs and offer low-travel comfortable typing over extended periods. We also liked the full-size number pad and full-size arrow keys. There are many useful shortcut keys (such as disable webcam and Creator Center launch) and we like how the F12 button can flip the screen when its folded down flat, to easily show clients and colleagues what you're working on. The trackpad is functional and usable but a little unrefined and clicky for our liking.
Above the screen, the HD webcam offers standard performance. Inside, the two 2W speakers are capable of mediocre audio fidelity. They get quite loud with reasonable treble response but there's no bass to speak of and they can sound tinny at low end.
Connectivity
Wired and wireless connection options are good but not great. On the left is an HDMI port, 3.5mm audio jack plus, USB-C and USB-A 3.2 Gen 1 ports. On the right are two, USB-A 3.2 Gen 2 ports plus a microSD card reader (we suspect many designers would have preferred a full-sized SD card reader, mind). BlueTooth 5 is included but Wi-Fi 6 is eschewed in favour of 802.11ac.
Performance
Under the hood is a 1.8GHz quad-core Intel Core i7-10510U CPU which can Turbo Boost up to 4.9GHz. It's flanked by 16GB of DDR4-2666 RAM and a 512GB NVMe hard drive (there's room for a second). These combined to score 4489 in PCMark 10 which is impressive for any size of modern laptop.
What's more, Nvidia's discreet MX250 graphics are used to provide a bit of extra 3D punch. It can't play the latest, cinematic games, as scores of 1276 (7fps average) and 1753 (8fps average) in 3DMark's Time Spy and Fire Strike Extreme respectively attest to. However, scores of 13,391 (80fps average) in Night Raid and 11,772 (55fps average) in Sky Diver show that it can easily handle older games and competitive shooters like CS:GO, Overwatch, LoL and Fortnite. A score of 843 in Cinebench R15 demonstrates that it's not a slouch when it comes to rendering, either.
While it can make a noticeable whooshing sound under load, the CoolerBoost 3 technology does a good job at keeping things stable.
Portability
At 1.56kg (with a slight, 33g power brick) and 16mm thickness, it's in ultraportable territory. But how did the battery fare? We used PCMark 10's Modern Office test to find out and saw it record an impressive score of eight hours.
The charger only weighs 33g meaning that the entire package weighs just 1.6kg.
Conclusion
Ultimately, the Modern 15 does everything most workers will need and can even entertain them with games. Its bulk and battery make it convenient to carry around town and only power users will really want for more performance. While price will depend on the SKU you choose, the recent launch of Intel's 11th Gen laptop CPUs means that there are good deals to be found for it - under $1500. As such it's a good value, mid-range laptop.
Verdict
A good value, mid-range laptop that does everything adequately without breaking the bank.
Specs
$1499 AUD
15.6-inch, matte, 1920 x 1080, non-touchscreen IPS LCD; 1.8-4.9GHz Intel Core i7-10510U processor; 16GB DDR4-2666 RAM; 512GB NVMe hard drive; Nvidia MX250 GPU; 52Wh battery; 357 x 234 x 16mm 1.6kg. SKU: A10RB.