Moto G5S review
Motorola's Moto G5 smartphone was a decent Android handset, but it suffered from an iffy camera, performance was no better than the older Moto G4 and battery life was actually slightly worse.
The phone maker has addressed some of these issues with the new Moto G5S, which has an upgraded design, a bigger battery and an improved camera. Look closely and you might notice that the screen size has been bumped up slightly too, from 5in to 5.2in. No doubt, it's a step up from the old G5.
The Moto G5S doesn't just look classier than its predecessor: it feels more like a premium phone with an all-metal unibody design in place of the G5's aluminium rear panel. It's sadly not dust or water resistant, but chamfered edges add to the upmarket impression, and the indented Motorola logo on the rear cleverly serves as a finger-hold that makes the phone easier to grip and use one-handed.
The fingerprint-reader remains at the front, below the screen, serving double duty as a Home button. We found it worked unerringly, reliably identifying me in the blink of an eye.
There's a decent set of options for connectivity and expansion too. The standard 32GB of internal storage is enough for a decent-sized collection of apps and music, but if you want more there's a spare slot in the nano-SIM tray that will take a microSD card of up to 256GB. Alternatively, you can insert a second SIM for convenient international calling, but since there's only the one slot it's an either/or situation.
At the bottom of the phone sits the familiar micro-USB socket for charging and data transfer, at the top there's a 3.5mm headphone jack for those who still prefer wired headphones, but Bluetooth fans haven't been forgotten: there's built-in aptX support for high-quality wireless streaming, which isn't something you can take for granted on a budget phone. It would have been nice to see the latest 802.11ac wireless spec too, but dual-band 802.11n should keep things speedy enough.
Display
As we've mentioned, the G5S has a very slightly bigger screen than the G5. It has the same Full HD resolution, however, so the pixel density is a touch lower. You don't need to worry about blocky text, though, as it still works out to a perfectly crisp 423ppi.
It looks good, too. Its backlight hit a super-bright peak of 500cd/m² in our tests, with a rock-solid contrast ratio of 1,708:1, so it's easy to read and browse even under all but the brightest sunlight. And with an 80.4% sRGB colour gamut coverage, the G5S's IPS screen does a decent job of colour reproduction as well.
Our only quibble is that, as is common with low-cost phones, the colours aren't perfectly accurate. We measured an average Delta E of 3.48, with a maximum of 8.47; in practice that means the most vibrant colours can look a little washed out. It's a shame, but not a deal-breaker.
Performance and battery life
We've long appreciated Motorola's restraint when it comes to customising Android, and the G5S runs something that looks pleasingly similar to a stock installation of Android 7.1 (Nougat). The manufacturer's light touch also smooths the path for updates, with an upgrade to Android 8 (Oreo) promised in the coming months.
Sadly, while the OS may be up to speed, the same can't be said for the internals. The Moto G5S uses the same 1.4GHz quad-core Snapdragon 430 processor as the Moto G5, a chip that's now getting on for two years old, and partners it with a merely adequate 3GB of RAM.
As a result, it's no faster than the Moto G5 or even the older G4 for that matter. That said, the G5S runs pretty smoothly and it's certainly a cut above entry-level phones like the Nokia 3.
It's a similar story with gaming. In the GFXBench Manhattan 3.0 benchmark the G5S merely kept pace with low-cost handsets that have been knocking around for months and years.
| | | | | |
| --- | --- | --- | --- | --- |
|   | Geekbench 4 multi-core score | Geekbench 4 single-core score | GFXBench Manhattan 3.0 (fps) | Video rundown battery life test (hrs:mins) |
| Moto G5S Plus | 4265 | 843 | 10 | 14hrs 51mins |
| Moto G5S | 2303 | 632 | 7 | 12hrs 12mins |
| Moto G5 | 2378 | 578 | 7 | 11hrs 51mins |
| Moto G4 | 2453 | 632 | 7 | 13hrs 39mins |
| Nokia 3 | 1559 | 563 | 5 | 10hrs 40mins |
And if you were hoping that battery life at least would receive a boost, prepare to be disappointed. The G5S's battery is bigger than the original Moto G5's, but we're only talking about an uplift from 2,800mAh to 3,000mAh. In our tests that translated to just an extra 21 minutes of use, for a total of 12 hours 12 minutes in our video rundown benchmark. It's a far cry from better performers, such as Motorola's own Moto Z2 Play, which kept going for 19 hours 33 minutes in the same test.
Camera
While raw performance might be lacking, there's good news for the snap-happy: the camera on the G5S is a big improvement on what went before. On paper, not much might seem to have changed: the pixel count is up from the G5's 13 megapixels to 16 megapixels, but the phase-detect autofocus and f/2.0 aperture are unchanged.
The results, however, speak for themselves. In favourable lighting conditions, the G5S does a magnificent job of producing well balanced, vibrant exposures. In the shot below (taken with HDR disabled) there's a good degree of solid definition in the brickwork in the foreground, yet the sky and highlights aren't oversaturated or blown out either.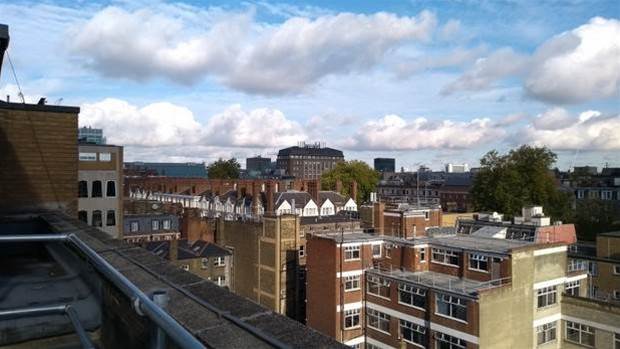 Turning HDR (see below) on adds even more zing to the photo: the trees and buildings spring to life, while crisp details emerge from the murky lowlights. It's seriously impressive: we're not sure we've seen better daylight camera performance from any smartphone in this price bracket.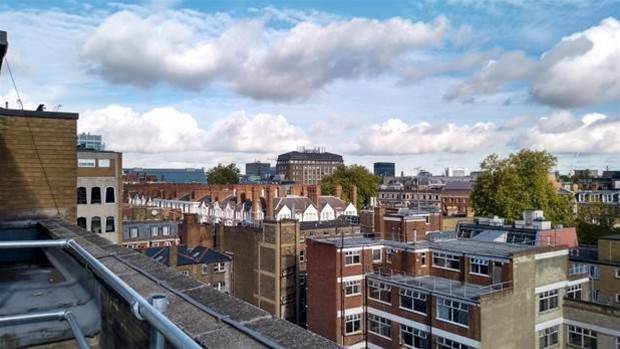 Predictably, the sensor doesn't do quite so well in low light. With the flash disabled, colours look more subdued and you don't have to look too closely to spot smeary noise.
Enable the flash and the noise vanishes, but now there's a distinct yellow tint. It's not too offensive but, having seen what the camera can do in natural light, we had hoped it would be able to make more of its own built-in lighting.
The front-facing camera, meanwhile, gets an aperture upgrade, from f/2.2 on the G5 to f/2.0 on the G5S, so your selfies should look slightly cleaner than before.
The sticking point here is resolution: the five-megapixel sensor inevitably means you'll capture less sharp detail than you would with something like the eight-megapixel selfie camera on the Vodafone Smart V8.
Conclusion
Motorola deserves credit for responding to criticism of the G5, and with the Moto G5S it's certainly got some things right. The new design is beautiful, the screen is bright and punchy and the camera has gone from a mediocre snapper to a best-in-class contender.
The catch is that Motorola has upped the price of the Moto G5S to $349 – $50 dearer than the original G5. However, it's still quite affordable and offers plenty of phone for the price, including features such as fingerprint reader and NFC for contactless payments via Android Pay.
The G5S is a likeable, good-value phone, although if you can stretch your budget a little, the Moto G5S Plus is even better.
Other Reviews in the Group Test:
Best smartphones of 2018