Motorola's latest big-screen budget smartphone offers impressive specifications for the price. We review the Moto G4 Plus to see if it delivers on its promise.
Australia has no shortage of the latest premium phones, but we're not always so lucky when it comes to budget and mid-range smartphones. You won't be able to get hold of the outstanding OnePlus 3, for example, unless you buy it overseas or from a grey-market importer.
One exception has been Motorola's Moto G series, although its fourth-generation range here doesn't include the standard Moto G4 model that's available in other markets. Instead, Lenovo (the new owner of the Motorola brand) offers Australians the more expensive Moto G4 Plus, the smaller $279 Moto G4 Play and the ageing, $319 Moto G (3rd gen).
Still, a retail price of $399 for the specifications offered by the Moto G4 Plus is impressive. We tested the G4 Plus to find out how well it stacks up against the previous-generation Moto G and other budget smartphones.
No argument, the Moto G4 is big
The big gain is a larger screen. The Moto G4 Plus has a 5.5in display, making it a whole half-inch bigger than the third-generation Moto G. It's now up there with the giants of the smartphone world such as the Galaxy S7 Edge and Apple iPhone 6s Plus in terms of its dimensions and, there's no denying it, it's one hell of a slab.
Rather impressively, however, Motorola hasn't just upped the size without considering the consequences. At the same time as enlarging the screen, it has slimmed down the case significantly, and it now measures 2mm thinner than the Moto G. The Moto G4 Plus is a mere 9.8mm thick, weighs 155g (that's seriously light for a 5.5in phone), and best of all it feels sturdy with it, with a softly curved metal frame surrounding the screen adding to the high–quality feel.
In terms of the overall aesthetics, the Moto G4 Plus isn't as brash and loud as previous Moto G handsets. The more subtle look of this year's Moto G4 Plus feels like Lenovo is playing it a bit safe.
The only big downer when it comes to the design is that the Moto G4 Plus isn't IPX7 water-resistant like the Moto G (3rd gen). It's still splash-proof, courtesy of a special coating, but don't go dropping it in a swimming pool.
On the plus side, the Moto G4 Plus has a fingerprint reader. An unassuming square module rimmed with chrome, it sits just below the screen in the centre of the screen surround. While other manufacturers have chosen the rear of the phone for the fingerprint reader, we think this position is better. It means you can use the reader while the phone is sitting flat on your desk without having to pick the phone up.
It works well, too. After registering your digit, it can be used to unlock the phone quickly and without fuss. Furthermore, integration with Google Play and third-party services such as LastPass means it can be a great convenience and time-saver.
It would also have been nice to use this to pay for items via Android Pay. Disappointingly, you won't be doing that with the Motorola G4 Plus. With no NFC chip built into the phone, it has no means of communicating with contactless terminals.
Still, there is at least support for dual SIMs, a feature that's handy for travel abroad. Pop a second SIM in and you can set which SIM is the default for data, thus avoiding potentially expensive roaming costs. And yet you'll still be able to receive phone calls and SMS messages as normal on your day-to-day phone number.
Just be aware that not every Moto G4 model sold globally has dual SIMs, so you should check this before buying, if this feature is important to you. You'll find the second SIM card slot right next to the primary one beneath the clip-off rear panel, and settings for the two cards in Android's settings menu under SIM Cards.
Specifications, performance and battery life
The key reason for the Moto G family's success has been the combination of sensible design and build quality with a keen sense of value, and the Moto G4 Plus maintains that tradition. Inside is an octa-core Qualcomm Snapdragon 617 running at 1.5GHz, and this is backed by either 2GB of RAM (for the base model with 16GB of storage) or 3GB of RAM (with 32GB of storage).
First impressions of the phone are that it's pretty responsive, but with the odd glitch here and there. There's some lag while zooming in and out of images in Google Photos, while scrolling quickly through image-heavy websites isn't as ultra-smooth as on more expensive handsets with high-end chips (although the 3GB RAM model may be a little smoother).
There's nothing here to make you grind your teeth or curse under your breath, however, and in the benchmarks, the Moto G4 Plus is clearly faster than last year's model.
In our Geekbench benchmark test for processing performance, the difference between the third-generation phone and the Moto G4 Plus amounts to a 49% advantage in the multi-core test and 26% in the single-core test. Those are both significant differences, and should keep the phone responsive for some time to come.
In GFXBench gaming tests, it's a similar story with the Moto G4 Plus gaining a 43% advantage over its predecessor in the onscreen (native resolution) test and a huge 71% gain in the offscreen test. The Moto G (3rd gen) is significantly slower across the board.
On battery life, however, the Moto G4 Plus has overall performance sewn up. Although the Qualcomm Snapdragon 617 is only a 28nm part, it seems to be highly efficient and, coupled with a 3,000mAh battery, comfortably delivers a day of moderate use. When we ran it through our standard video-rundown test, the Moto G4 Plus lasted 13 hours 39 minutes, which is an above-average score and better, for example, than the iPhone 7.
Display
In terms of its speed and battery life, the Moto G4 Plus is a budget tour de force, and it continues that trend with the display, which is, quite simply, magnificent. It has a 5.5in IPS screen with a Full HD resolution (that's 1,920 x 1,080 pixels), and it's sharp as anyone really needs at this size.
You can't see any pixels unless you squint really hard (or get out the magnifying glass), and unless you plan on using your phone for VR, you'll never notice the difference between its sharpness and that of a higher-resolution phone such as the Samsung Galaxy S7 Edge.
Best of all, though, Motorola has clearly spent some time in the lab tweaking, polishing and perfecting how it performs.
Indeed, for a smartphone that costs less than $400, the Moto G4 Plus' screen is astonishingly good. Maximum brightness reaches all the way up to 540cd/m2, which is better than the best phones in this price bracket by an enormous margin, and it's almost twice as bright as its predecessor, which was no slouch itself.
The contrast ratio is highly impressive, too, and although the sRGB coverage isn't quite as good as on phones with AMOLED displays (the Samsung Galaxy J3, for instance), it's good enough that colours still look vibrant and easy on the eye.
In the case of the Moto G4 Plus, the average Delta E is a mere 1.3. What does this mean? Essentially that, for most colours in the sRGB colour gamut, most people would struggle to tell the difference between the intended colour and the one shown on the screen. Photos, graphics and video content all appear pretty much as the creator intended (as long as that content was created with the help of equally colour-accurate hardware).
What may have more impact is that its screen dims to only 22cd/m2 (measured at minimum brightness on a white screen). This may not sound like much, but it's still bright enough to shine like a beacon in a darkened room compared with the best phones we've seen. The Samsung Galaxy S7 Edge, for instance, dips below 2cd/m2. So, if you're one of those people (you know who you are!) in the habit of checking your phone in the cinema, be aware that the Moto G4 Plus will earn you the ire of your fellow movie-goers. Otherwise, it's an absolute cracker.
Cameras
Happily, the camera is also great. You get a 16-megapixel rear camera with an f/2 aperture, a dual-LED flash for low-light indoor shots, and phase-detect autofocus. There's no optical image stabilisation, but there's no problem with image quality.
Photographs shot on the Moto G4 Plus are packed with detail and well exposed. Noise is kept under control in all but the darkest of scenes, colours are generally true-to-life and the HDR mode works well to equalise extremes of shadow and highlight.
We especially like how easy it is to drag the focus and exposure point around the screen and adjust the exposure compensation to suit.
Of course, you don't get Google Pixel or Samsung Galaxy S7 levels of quality here. The Moto G4's photographs lack the fine detail and low-light performance of those phones. For the money, however, what the Motorola Moto G4 Plus' rear camera is capable of is nothing short of stunning, and it's significantly better than the Moto G (3rd gen), capturing far cleaner, sharper and less noisy images.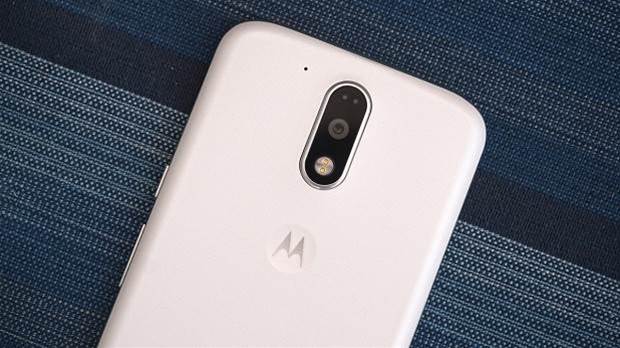 The front camera is accomplished as well. With a resolution of 5 megapixels, it captures colourful and crisp selfies. There are no gimmicks here, but the wide-angle lens does mean that you don't have to stretch out your arm to get in a decent chunk of background, or a group of friends.
Software
What usually puts the Moto G head and shoulder above its rivals is the quality of its Android skin, and the refreshing lack of any irritating or unnecessary eye-candy. Fortunately, nothing has changed on this front. The Moto G4 Plus runs on a base of Android 6 Marshmallow, and it looks largely as Google originally intended it to look.
That means it's clean, clearly laid out and sharply tailored. The pull-down notification menu looks and behaves exactly as it should, and has all the same toggles and switches as you'd expect to see on a Nexus handset. Google Now on Tap is in place, as is the new more granular permissions system, and everything else that makes Android 6 so good.
Naturally, there are some of Motorola's own features here, too, but they're mostly highly useful and unobtrusive. The Moto G4 Plus' gestures are our favourites. These allow you to access some basic functions by waving or waggling the phone around in a specific way while it's on standby.
Want to quickly switch on the torch? Simply do a double karate chop with the phone in your hand (you don't actually need to hit anything) and it will switch on. Another double-chop and it turns off again.
Need to get into the camera app quickly? Simply twist the phone in your hand twice in quick succession. If you haven't used a Motorola phone before, you'll be surprised at how easy it is to get used to doing this – and you'll really miss it if you ever move to a different brand.
The Moto G4 Plus' Active Display is just as handy. The phone senses whenever you pick it up, and displays the time and the date, plus recent notifications, so you may not have to turn on the phone at all. And if you do need to read more, simply touch the notification displayed on the screen, drag it up and the Moto G4 will unlock itself straight to the app in question. It's all sensible and very, very useful.
Sadly, Motorola's record for Android updates has suffered under Lenovo's ownership. When the first Moto G was launched, Motorola had a decent record of issuing updates nearly as quickly as Google issued them for Nexus devices, but that's no longer the case.
Thankfully, Lenovo has confirmed that the Moto G4 will be getting the upgrade to Android 7. Also known as Android Nougat, the newest version of Google's operating system offers a host of new features, including vastly improved notifications, real multi window multitasking, better battery life and greater control of your data. When the Moto G4 will be getting the update is less clear, however.
Conclusion
As an all-round package, it's hard to find fault with the Motorola Moto G4 Plus. It may be more expensive than the third-gen Moto G, but it's better in most ways – with superior battery life, a better camera, a brighter, bigger screen and a sleeker, more grown-up design.
It lacks NFC and waterproofing, and some may complain that it's too big. But let's not get too hung up about what the Moto G4 isn't and celebrate what it is: it's one hell of a smartphone, and delivers more bang per buck than any smartphone to date.
If you're looking to spend less than $400 on your next handset, there's simply no better choice than the Motorola Moto G4 Plus. If you can stretch your budget to $449, you'll get double the storage (32GB) and more RAM (3GB).
This article is based on reviews of the Motorola Moto G4 Plus and Moto G4 by alphr.com.
Verdict
It can't match the very best premium phones, but for under $400, the Motorola Moto G4 Plus offers an unbeatable mix of performance and features, along with a very good camera.
Specs
$399 AUD ($449 for 32GB model)
5.5in Full HD display (1920 x 1080 pixels); 1.5GHz Qualcomm Snapdragon 617 octa-core processor with 550 MHz Adreno 405 graphics, 16GB or 32GB storage; 2GB RAM (with 16GB model) or 3GB (32GB model); microSD card slot (up to 128GB); 16MP, ƒ/2.0 rear camera; 5MP, ƒ/2.2 front camera; 3000 mAh battery; 153 x 76.6 x 9.8mm dimensions; 155g; Micro USB port; 3.5 mm headphone jack; Android 6.0.1.