A boost in battery life and performance makes the ultra-slim 12-inch MacBook more tempting than ever.
When it was released in 2015, the 12-inch Apple MacBook was something of a revelation. Not only was it incredibly thin and light, but internally it showed off all of the expertise in creating tiny circuit boards and big batteries that Apple had gained creating the iPhone and iPad.
However, any kind of portable design is inevitably also a compromise. Despite the case packed with batteries, the 2015 MacBook's battery life was nothing more than average. Worse was performance: rarely has Apple, or anyone else, released a model costing more than others in the range, but offering less performance.
The MacBook, then, was something of a niche machine. It was great if you valued portability over everything else, and didn't have much requirement for performance or all-day battery life. The keyboard, with its super-shallow travel, also divided opinion.
But for many – those whose needs are fairly basic – the MacBook was ideal.
Design
Now, Apple has updated the MacBook, almost a year after its introduction. Superficially, nothing about its design has changed. If you've picked up a 2015 MacBook, you'll know exactly what to expect. It's still incredibly thin and light. The screen is still gorgeous, but not bezel-free like the edge-to-edge display on last year's Dell XPS 13. As before, you can get the MacBook in grey, silver and gold, and Apple is also making it available in 'Rose Gold'.
At under 1kg, you can throw the MacBook into any bag and barely notice it's there. Impressively, however, the body feels robust and taut; it doesn't creak or flex at all. This is high-end engineering of the kind that Apple has become exceptionally good at.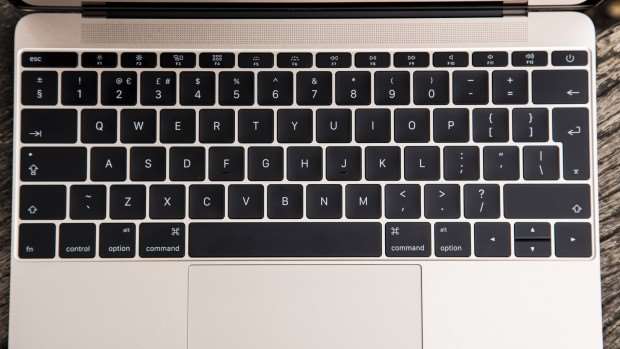 Display
The 2,304 x 1,440-pixel display is still superb – bright enough to be used outdoors on a reasonably sunny day, and with a good, wide colour gamut covering 94.2% of the sRGB colour space.
In fact, it isn't as bright as the previous version – in testing, it reached a maximum brightness of 335cd/m2 compared to last year's 381cd/m2 – and the contrast ratio is down as well, from 1,063:1 to 805:1. However, there's an upside: according to Apple, it uses less power than last year's display, and it still looks great to the naked eye. Yes, it's only 12-inch, but many will be happy to work on this screen for a full day.
As with all Apple retina laptops, it has a default setting that mimics something with less pixels – in this case, it "looks like 1280 x 800". You can, however, change this and run at other modes, including 2560 x 1600, all the way down to 1024 x 640. All of these modes look fine, although higher resolutions tend to make things look incredibly small on a 12-inch screen.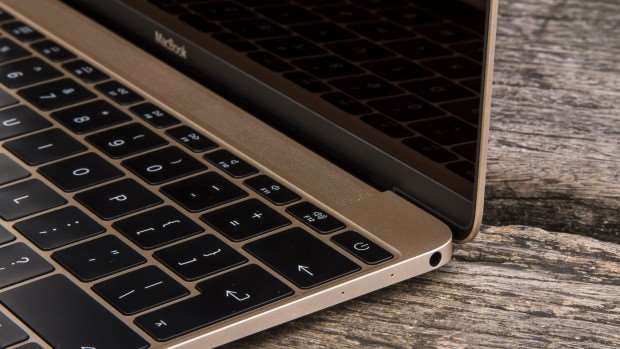 Usability
Another thing that hasn't changed is the fanless design. Apple has replaced the old Core M with a range of latest generation 'Skylake' Core M options. Our test model came with the Core m5-6Y54, but there are also faster Core m7 and slower m3 models.
Even the trackpad doesn't move – although you'll think it does. As with all Apple trackpads these days, it's big and feels great, employing Apple's ingenious Force Touch system. Press down on the trackpad, and sensors inside detect pressure is being applied; electromagnets then provide haptic feedback, which makes it feel as if the trackpad is being pressed downwards physically.
It's a spooky feeling when, after using the trackpad for a while, you try pressing down on it when the machine is turned off and realise it's just a solid, immovable piece of glass.
The keys on the keyboard do move, although, as with the previous version, this is something that's likely to polarise opinion. In a move designed to slim down the physical thickness of the keyboard, there's significantly less travel here than on conventional laptop keyboards.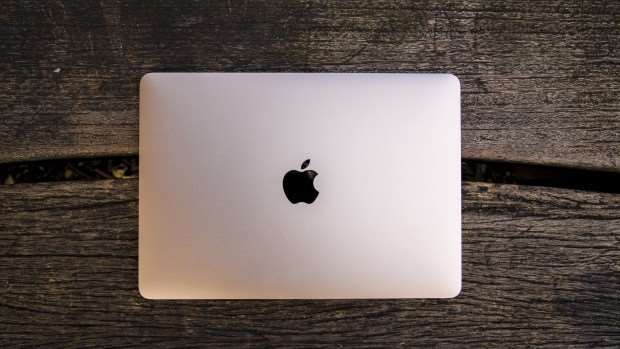 You should definitely try this keyboard before you run out and buy a MacBook. Either you'll find it perfectly acceptable or you'll react with visceral hatred towards it.
The other big controversial feature of the MacBook range concerns physical connectivity. Basically, there's a single USB Type-C port, a headphone/mic jack – and that's it. The USB Type-C port charges the laptop and provides all the connectivity bar audio. And yes, that means you can't connect a peripheral and charge the machine at the same time without using some kind of multi-port dongle.
Lots of people use their laptops without ever connecting anything to them, but if you're the sort of person who likes to plug in an external keyboard, mouse and monitor when you're using your laptop at your desk, be aware that you'll need to budget extra cash for connectors. The USB Type-C standard is clearly the future, and the advantages of using it are obvious, but having only a single port makes life more difficult than it should be.
Performance
Here's the good news: the 2016 MacBook is definitely faster than its predecessor. Our benchmarks showed it to be around 10% quicker than the previous model. The bad news is it isn't noticeable in day-to-day use. It's slower than any other currently available Mac we've benchmarked, and on a par with Dell's equivalent model, the XPS 12.
That said, subjectively, it's fine for light work – editing Office documents, web browsing and a bit of photo editing. If you spend all your time in Photoshop or CAD applications, this is not the Mac for you.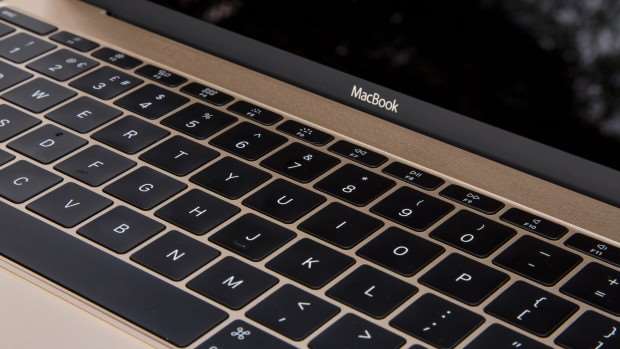 However, one big change is the battery life. The previous MacBook's battery life was disappointing, generally making it to just after lunch before needing a charge with typical office use.
Our tests on the last model delivered 7 hours 10 minutes of battery with Wi-Fi off and the screen turned down to 120cd/m2. This time round, that figure improved to a far more impressive 10 hours 12 minutes. The new MacBook might not make a full working day, but it gets a whole lot closer than its older sibling.
Conclusion
The 12-inch MacBook is not a true hybrid, of course, but it's closer to one than any other Mac. It runs OS X, but the design and feel of the product is heavily influenced by the iPad. It's the first Mac we've used where OS features that have been ported over from iOS, such as full and split-screen apps, actually make sense.
And, with the 2016 model, the MacBook is better than ever. It delivers a significant uplift in battery life, a minor but welcome increase in performance and, for those who want everything in Rose Gold, wider colour options. It's an iterative improvement, but iterative improvements can turn good products into truly great ones.
Like the original Apple MacBook Air, however, it feels like a design that has pushed a little bit further than the underlying technology wants to go. Just a little bit more performance, and maybe an extra USB Type-C port, would make the Air as redundant as the Air made the 2008 version of the MacBook. It took three years for the Air to effectively replace the MacBook as Apple's low-end Mac. Perhaps it's too much to expect the new MacBook to replace the Air in only a year.
The new MacBook is significantly more expensive than the Air, however, with pricing ranging from $1999 to $2689.
Should you buy one? If your needs are relatively light, and if you value design and portability over everything else, then you'll love the MacBook. But you'll also find yourself grimacing occasionally when you realise you've left the vital dongle you need to connect a monitor and power simultaneously at home. Thankfully, at least with this generation, you'll get closer to all-day battery life from it.
This article originally appeared at alphr.com.
Verdict
Incredibly thin and light, and with a superb 12-inch screen, the 2016 MacBook is an iterative improvement over last year's model, but it delivers a significant uplift in battery life and a minor but welcome increase in performance. It's ideal if you value design and portability over everything else.
Specs
From $1999 AUD
12-inch IPS LED-backlit display at 2304 x 1440-pixel resolution with three scaled solutions; Intel 1.1GHz Core m3, 1.2GHz m5 or 1.3GHz m7 processor; 8GB of 1866MHz LPDDR3 RAM; 256GB or 512GB PCIe flash storage; USB-C port; 802.11ac Wi-Fi; 92kg weight.