LG's new flagship phone offers an innovative, taller 5.7in screen that makes it easy to hold. But how does the rest of the handset stack up?
In a world where most smartphones look broadly similar, the LG G6 immediately stands out from the crowd, if only due to its distinctive shape. In a market that's largely adopted the 16:9 widescreen format, the taller, narrower 18:9 aspect ratio is a bold departure – but it makes a lot of sense.
You get the luxury feel of a large screen, measuring a generous 5.7in across the diagonal, without the cumbersome width that makes plus-sized phones sit awkwardly in your hand.
All models come with 32GB of internal storage; if you need more, the dual-purpose slot at the side will take either a second SIM or a microSD card, allowing you to add up to 2TB of additional storage.
Design and build quality
Two colours are offered, with the traditional airy names: you can choose from "Astro Black" or the "Ice Platinum" model that we tried out.
The LG G6 looks and feels like a high-end handset, thanks to its stylish metal frame and glass back. The latter uses Corning's Gorilla Glass 5, for a good degree of shatterproofing and scratch resistance (although it does have a tendency to pick up fingerprints).
The 5.7in front display uses Gorilla Glass 3, and benefits from an angled internal design, so if you accidentally drop the phone on its side, the impact isn't directly conveyed to the screen. According to LG, this should greatly reduce the likelihood of breakage. The G6 will also survive an accidental drop into water: it's IP68-rated, which means you could in theory submerge it at a depth of 1.5m for 30 minutes.
Controls and connections are minimal. There's a USB Type-C port at the bottom for charging and data transfer, and a 3.5mm headphone socket at the top. As with previous LG phones, the power button (which also serves as a fingerprint reader) is located on the back of the phone, beneath the camera.
Display
The main attraction of the LG G6 is of course its unusually shaped display. Pictures don't do justice to what an ergonomic step forward this is. It's comfortable to use one-handed, while affording an expanded viewport that's great for browsing the web and playing games.
But it's not just the dimensions that are interesting about this display. The IPS panel features HDR 10 support, allowing you to enjoy HDR videos from Amazon Prime and Netflix with stunning visual dynamics – or at least, it will once the necessary app updates roll out shortly.
Even for everyday use, it's a great display. We measured a maximum brightness of 492cd/m2, with fantastically deep blacks coming out at just 0.23cd/m2. That represents a contrast ratio of 2,139:1 – up there with the very best IPS phone screens.
The only slight disappointment is colour reproduction. The G6's screen covers 93.2% of the sRGB gamut; that's certainly not a poor score, but we've seen smartphones with AMOLED displays do even better.
Software and performance
The LG G6 runs Android 7, though you might not realise it as it's overlaid with LG's UX 6 front-end. Its most interesting feature is the ability to split the screen into two squares for multitasking. This works well: you can, for example, read about a restaurant in Chrome and simultaneously look up directions on Google Maps. Or you can keep your image gallery open while shooting new photos.
Although we didn't encounter any hiccups when running two apps at once, the LG G6's internals aren't particularly impressive. It uses the same quad-core Snapdragon ARM 821 processor found in the Google Pixel and Pixel XL phones. Clocked at 2.35GHz, and backed by 4GB of RAM, it's only a modest step up from the Snapdragon 820 found in the G5.
That's reflected in the G6's benchmark scores: in the Geekbench 4 single-core test it scored 1,777, with a multi-core score of 4,137. That's on a par with the Google Pixel, and actually slightly behind last year's Samsung Galaxy S7. It's easily outpaced by the Huawei P10, and will doubtless lose out to the Galaxy S8 as well, once we have a chance to test it properly.
It's a similar story with gaming performance, as measured by the GFXBench Manhattan test. The G6 actually has a decent amount of graphical power, as its offscreen scores indicate. However, the frame rates you'll actually experience are a step down from LG's rivals, no doubt thanks to the demands of driving the large, unusually shaped screen. Even the older G5 was slightly smoother.
Battery life
The G6 is powered by a 3,300mAh battery; that might sound a decent size, but it kept the phone going for a mediocre 12 hours 52 minutes in our battery test. The Google Pixel managed 16 hours 23 minutes in the same test, while the Galaxy S7 kept on trucking for an impressive 17 hours 48 minutes.
On the upside, thanks to its Snapdragon 821 architecture, the LG G6 supports Qualcomm's Quick Charge 3, which will let you charge it up to around 50% in 30 minutes. A fast charger is included in the box, along with a USB Type-C cable and earphones.
Camera
One of our favourite features of the old LG G5 was its dual-lens camera. That's been retained for the G6: at the rear there's one 125-degree wide-angle lens, and another standard lens with a 71-degree field of view. As with the LG G5, the main camera has a wide f/1.8 aperture, allowing it to work brilliantly in low light, while the wide-angle lens is slightly narrower at f/2.4.
Although the resolution has dropped, from 16 to 13 megapixels, images are clear and packed with detail. The dual-LED flash gives a good natural light – it doesn't tint the scene blue or pink, as we've seen with some smartphone flashes.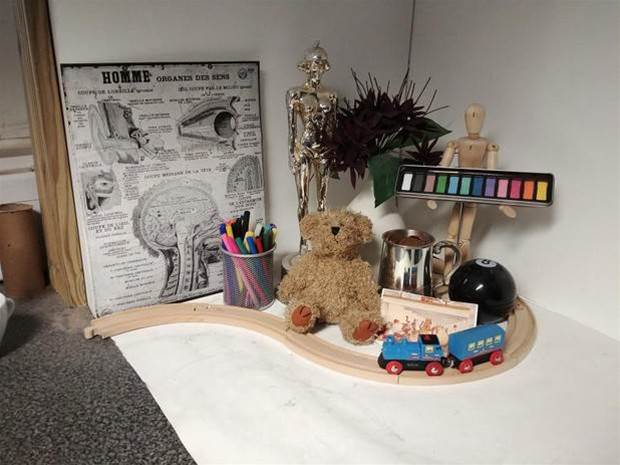 As we've noted, the G6's wide screen lets you split the display into two, so you can review your previous shots while keeping the camera open for immediate use. LG's camera app also provides a good range of options and modes: you can shoot panoramas and HDR scenes, as well as slow-motion and time-lapse videos.
For photography buffs, there are also manual photo and video modes. For stills, you can tweak the focus, shutter speed, ISO, white balance and exposure compensation. When shooting video, manual mode also lets you adjust the mic gain, add a wind noise filter and apply exposure locking. Video footage can be captured in 4K 16:9 at 30fps, or in Full HD at 60fps. Drop down to 720p and you can shoot at 120fps with a 16:9 aspect ratio, or 60fps in the cinematic 18:9 or 21:9 formats.
Conclusion
The LG G6 is a decent phone with a great screen, an impressive camera and an admirably innovative design. If you're tempted, though, it's well worth checking out the Samsung Galaxy S8 before buying. Samsung's latest handset is a similar shape, and comes with a more powerful processor, a more colourful AMOLED screen and twice the amount of internal storage.
The G6 isn't cheap either. It costs $1,199 outright from JB Hi-Fi and select Harvey Norman stores (from 13th April). It's also available on 24-month contract exclusively from Telstra from $82 per month (for 1GB of data) – although if you bump that up to a $95 or higher plan by 9 May, you'll get not only get at least 12GB per month but also a bonus LG 43in Smart TV.
That's the same outright as the new Samsung Galaxy S8, and the LG's Telstra exclusivity means you can get the latter on a cheaper plan – from $72 per month (for 1GB) from Optus.
Overall, if you want to buy right now, though, we'd be inclined to go for the Galaxy S8, but there's not a lot in it, and that recommendation may change if, like LG's previous phones, the G6's price falls.
This article originally appeared at alphr.com.
Verdict
The LG G6 is a decent phone with a great screen, an impressive camera and an innovative (and useful) design – although the Samsung Galaxy S8 has a similar shape and offers some better specs at a similar premium price.
Specs
$1199 AUD outright
5.7in 2880 x 1440-pixel screen; quad-core Qualcomm Snapdragon 821 processor; 4GB RAM; 32GB internal storage; microSD/second SIM slot; 13MP / 13MP dual rear camera (71-degree and 125-degree); 5MP wide angle front camera; IP68-rated water and dust resistance; 3300mAh battery; Quick Charge 3.0 compatible; USB Type-C port; 148.9 x 71.9 x 7.9mm; 163g; Android 7.0 (Nougat).