iPhone SE is a pocketable iPhone 6s for sensible money – if you're looking for an Apple handset on the cheap, it's just the ticket.
If you've been doggedly clinging to a now-battered iPhone 5 or iPhone 5s and steadfastly refusing to embrace the new generation of big-screen phones, then the Apple iPhone SE should make you very, very happy. It's your dream made reality: a retro-sized smartphone with plenty of power inside – and for less than $750.
And a brand-new iPhone for this price has got to be worth including in our gift guide series.
Design-wise, Apple has done away with the rounded edges of the iPhone 6 and 7, and returned to a more squared-off profile – one that's more reminiscent of the old iPhone 5 and iPhone 5s. In fact, according to Apple's specifications, the iPhone SE is literally the same size and weight as the iPhone 5s.
How does it compare with Apple's later-generation premium phones? Here's a quick summary:
It's just as powerful as the iPhone 6s – games and apps are smooth as butter – but it isn't as fast as the iPhone 7
The rear camera is identical to the iPhone 6s so it's good, but again not as good as the iPhone 7's
The selfie camera isn't great, though – it's a substantial downgrade on the iPhone 6s
It's not just smaller than the iPhone 7, it's also 25g lighter
Battery life is better than any current iPhone thanks to the compact 4in display
The 802.11ac Wi-Fi isn't MIMO – that means it lacks the Wi-Fi speed and range of pricier iPhones
It's the same size as the iPhone 5s, so old cases and accessories will work fine.
So is it basically a mini iPhone 6s then? Not quite – there's a number of subtle differences that are worth knowing about before you decide to splash the cash on an iPhone SE. Here's our full review.
iPhone SE vs iPhone 6s
Although the iPhone SE looks like a slightly refined iPhone 5s on the outside, it has the heart of an iPhone 6s. It's not literally a shrunken iPhone 6s, though. To keep the price down, Apple has made some changes. It has done away with the pressure-sensing 3D Touch technology, and also made do with a first-generation Touch ID sensor.
If you've become accustomed to the lightning-quick fingerprint recognition of the iPhone 6s and iPhone 6s Plus, you'll have to be a little more patient with the iPhone SE. In all fairness, however, this is not something that'll bother most people in everyday use.
The iPhone SE takes a little getting used to if you've acclimatised to larger phones. You'll never forget that you have iPhone 7 Plus in your pants or jacket pocket, such is its size and weight, but the iPhone SE seems to disappear. It's also much more exercise-friendly, whether you're in a gym or on a bike ride.
There is, however, one glaring downside to the iPhone SE's pocket-friendly dimensions. If you have big hands, you may have to type more slowly to avoid making mistakes.
Google to the rescue
If you find the keyboard on the iPhone SE just too small, however, there is a solution appeared from the most unlikely of sources: Google. Yes, Google's Gboard keyboard for iOS makes a huge difference to the iPhone SE.
Gboard adds a whole host of nifty new features, but while the addition of Swype-style keyboard input is little more than a bonus for the larger iPhones, it's a transformative addition to the iPhone SE. Rather than pecking away at a tiny keyboard with my giant sausage-shaped digits, Gboard makes it possible to trace out words quickly and easily, and with far fewer mistakes than with Apple's standard iOS keyboard. When Gboard does get it wrong the alternative word suggestions can be a little wayward, but that's a minor gripe – it's still a big improvement overall. And when you factor in the ability to search for information direct from Gboard, it really is an essential addition to the iPhone SE.
Keyboard aside, there are several benefits to the iPhone SE's small screen. One of those is that the it doesn't need the Reachability feature of its larger brethren. It's easy to reach every corner of the screen without having to adjust your grip or stretch your fingers uncomfortably. This makes a welcome change from having to doubletap the home button every time you need to type in a web address, or craning your thumb awkwardly upwards while simultaneously attempting to not drop your pristine new iPhone. Sometimes, tiny is just better.
A small screen, but just as sharp
With a resolution of 1,136 x 640 pixels, the iPhone SE's 4in display might appear as if it's lagging way behind the new breed of Quad HD and 4K phones, but in fact it's just as sharp as most. In fact, its display is precisely as sharp as the iPhone 6 and iPhone 6s as the pixel density is exactly the same, at 326ppi. It's not quite the match of its pricier cousins for overall quality, since images look a touch warmer and don't ooze with the same level punch and contrast, but most people are unlikely to notice.
Apple claims a maximum brightness of 500cd/m2 and a contrast ratio of 800:1, but in our tests the iPhone SE actually did a darn sight better. It hit a maximum brightness of 577cd/m2, which is a tiny bit brighter than the iPhone 6s, and the contrast ratio soared past its claimed figures to 892:1. That contrast ratio is about half that of the iPhone 6s, but the iPhone SE makes amends by covering the same range of colours as the iPhone 6s and 6s Plus, and it's just as accurate. Colours are bold and vivacious, and, since the iPhone SE covers 94.6% of the sRGB gamut of colours, it's perfectly balanced. It's a superb small display.
A great camera
If there's one reason to upgrade from an old 4in iPhone, it's the camera. Selfie aficionados will be crestfallen to hear that Apple has stuck with a front-facing 1.2-megapixel camera, but the rear camera is another story. The SE boasts the same 12-megapixel camera found on the iPhone 6s, as well as the self-same True Tone flash. The only thing lacking is the optical image stabilisation from its bigger brother, the iPhone 6s Plus.
The results, as you'd imagine, are routinely great. Like most smartphone cameras, the small sensor begins to struggle as the lights go down, but it's still one of the best smartphone cameras you can get – and now it comes in a teeny, tiny package. Photos teem with detail and natural, lifelike colours, and, as long as you don't expect too much in low light, the 4K video quality is astonishingly good.
Is it as good as the Samsung Galaxy S7? No. But where other manufacturers go overboard with the image enhancement, leaving images smeared with noise reduction and edge sharpening artefacts, the iPhone SE just goes about its business quietly and unobtrusively. Images do look a little soft as a result, but there are no obvious image nasties, and the little iPhone SE fares surprisingly well even in dim conditions.
Features and connectivity
At first glance, you'd be forgiven for thinking that the iPhone SE is barely lacking anything in the way of connectivity – you get 802.11ac Wi-Fi, Bluetooth 4.2, NFC and LTE for high-speed 4G. Delve deeper, however, and there are some crucial differences.
For starters, unlike the iPhone 6s, the iPhone SE doesn't have support for LTE Advanced networks. This means that, once mobile carriers upgrade their 4G networks, the iPhone SE will be limited to a theoretical peak download speed of 150mbps – which is half that of a 4G LTE Advanced connection. Given that most people will never see such speeds on even the best 4G networks, this is unlikely to prove a significant limitation.
The Wi-Fi also marks a slight downgrade on its pricier cousins. Just like the original iPhone 6, the iPhone SE lacks the MIMO antennas of the latest models, so it loses out a little for speed and range. In fact, even though theoretically it shares the same 802.11ac tech as an iPhone 6 Plus, we found it gave a noticeably poorer connection with our Wi-Fi router.
iPhone 6s performance
You've got to hand it to Apple – taking the powerful A9 processor from the iPhone 6s and cramming it into the tiny iPhone SE is something of an engineering feat. And if you suspected that it would be a cut-down, half-pint imitation of its bigger brothers, you would be wrong: the iPhone SE matches its pricier stablemates blow for blow. No matter what apps we tested the iPhone SE with, it sliced through them with silky smoothness.
If you're the kind of smartphone user who gets easily annoyed by jerky animations and regular pauses as you open or switch between applications, then the iPhone SE will be right up your proverbial lightning socket.
This was shown in both our Geekbench 3 processor tests and GFXBench games tests. The iPhone SE even edged ahead of its Apple compatriots in the GFXBench onscreen tests, thanks to its lower screen resolution.
If you want a phone that's pocketable and seriously powerful, the iPhone SE doesn't have much competition.
Small in stature, big on battery life
That lower-resolution, smaller screen also gives battery life a significant boost. After running through our usual video-rundown test (with the screen brightness dimmed to 170cd/m2 and Airplane mode enabled), the iPhone SE's battery kept trucking for well over 16 hours.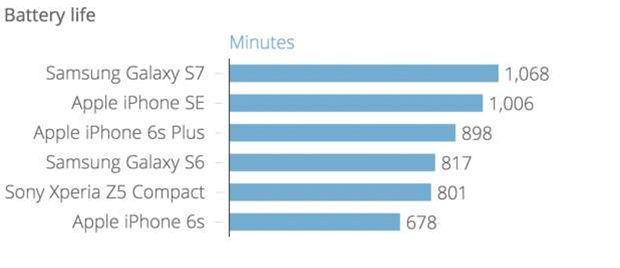 That's significantly longer than any of Apple family members, and not far behind the outstanding Samsung Galaxy S7. This is a tiny but impressively long-lasting phone.
Accessories and cases
Already got an iPhone 5s in your pocket? Then you're in luck: all the existing iPhone 5s cases will fit the iPhone SE without any hassle or customisation whatsoever. Simply bung your old phone on eBay and pop your shiny new iPhone SE in your old case.
And if it's time for a new case for your iPhone SE, there are plenty of options, including Apple's $59 iPhone SE Leather Case.
Existing accessories will also continue to work with the iPhone SE, too. For instance, we found a dusty olloclip 3-in-1 lens at the bottom of a drawer and it worked perfectly with the new iPhone. In tandem with the iPhone SE's upgraded camera, the olloclip's multiple lenses open the door to a variety of creative photographic possibilities: you get 180-degree fisheye, wide-angle and ultra-closeup macro modes to play with. And even if you don't have an olloclip 3-in-1 lens lying in your drawer, it's readily available online.
The best iPhone bargain yet?
So overall, the iPhone SE is small but as powerful as anyone could need it to be; the battery life exceeds even Apple's plus-sized handsets; and the screen, camera and all-round quality should be enough to seduce almost anyone who's in the market for a smaller phone. And the fact that you can forget it's even in your pocket makes it a nice change from the litany of 5in phones available – it's a phone that's there when you need it, but almost invisible when you don't.
The clincher is the price, although to be honest, we couldn't wholeheartedly recommend the $679 model with just 16GB of storage. The $749 64GB model, however, is great value. It's also good value on contract, with monthly pricing for a 1GB plan starting at $49 per month (from Virgin). That's a saving of $744 over an equivalent iPhone 7 plan over 24 months.
This isn't the most alluringly high-tech device that Apple has ever created – check out the iPhone 7 or iPhone 7 Plus if that's what you're after – but we suspect many people won't care in the slightest. The iPhone SE is a tiny phone with the heart of a giant.
This article originally appeared at alphr.com.
Verdict
The iPhone SE is as small as the iPhone 5 but as powerful as the iPhone 6s – and it has the same great rear camera – all for $679 (or $749 for 64GB of storage).
Specs
From $679 AUD (for 16GB storage, or $749 for 64GB)
4in LED‑backlit widescreen, at 1136 x 640‑pixel resolution; A9 processor; 2GB RAM; 12MP, ƒ/2.2 rear camera (with 4K video recording at 30fps); 1.2MP, ƒ/2.4 front camera; 3.5mm headphone plug; 123.8 x 58.6 x 7.6mm; 113g; iOS 10.
Other Reviews in the Group Test:
Best smartphones of 2018