Despite the lack of headphone jack, Apple's new flagship phone is a good upgrade. But has it improved enough to regain the lead as the best smartphone?
Have we all got over our collective shock at the iPhone 7's lack of 3.5mm headphone jack? Sure? Then, perhaps, we can begin assessing the phone's true worth. And that's important, because, as much as we love a controversy – and the removal of the headphone jack is a doozy – the iPhone 7 has several other important features. Really, it does.
There's still a little residual shock at Apple's big decision. Removing a socket that has been around since the days of the Sony Walkman and before is a big, big step – and not completely necessary either.
Apple called the decision "courageous", a move that would save space in the chassis and bring other advantages to the table. It's done now, but I'm not convinced. You have to question how much space is really saved by not including the headphone socket – other smartphone manufacturers seem to cope fine – and the inconvenience visited on those who still want to listen via wired headphones is unarguable.
Simply put, you won't be able to charge and listen at the same time without purchasing a special adapter. That is a pain.
Still, Apple isn't being completely bloody-minded about it. It's at least included an adapter in the box that will connect regular headphones to the Lightning socket, although it won't charge at the same time. For that you'll need an audio-power Lightning adapter that the likes of Belkin is selling for around $60.
But if you've already invested in a decent pair of wireless headphones, nothing changes for you. The iPhone 7 still has Bluetooth, although it uses the standard SBC Bluetooth codec as opposed to the more exotic, less lossless aptX codec. And if you don't have wireless headphones, we're sure to see plenty hit the market soon – that's as well as Apple's own AirPods which will available in late October for $229.
And there are advantages to connecting your headphones to the Lightning socket, which are evident in products such as the JBL Reflect Aware: active noise-cancelling headphones that don't need a cumbersome power source, because all the processing takes place aboard the phone.
It's when you come to replace your trusty cans that you may come to regret Apple's decision to remove the headphone socket (and yours in buying an iPhone 7 in the first place). Why? Because there will be less choice for you, and at least initially, Lightning-enabled headphones will be more expensive.
Bye-bye home button
The next big change, however, is all good: the replacement of the physical home button with a Force Touch one.
Apple has had a bit of an obsession over the years with removing mechanical parts from its products – think back to the iPod, where it moved from a physical scroll wheel to one that didn't move at all. As phones move closer towards full edge-to-edge displays, the physical home button became a headache for Apple. Removing it should make it easier, at some indeterminate point in the future, to shrink it or build it into the display in some way.
There's another, bigger benefit, though, one that helps both users and Apple alike. Any moving part, no matter how well-engineered, will always be a point of failure. Mechanical things tend to break down more often than parts that don't move, for reasons that should be obvious.
Over time, they attract dust, grease from your fingers, fluff from the inside of your pocket, and all kinds of unpleasant dirty stuff. Removing mechanical parts improves the reliability of iPhones, which means fewer breakdowns for users, and fewer warranty replacements for Apple.
So what is this new home "button" like to use? In short, it's excellent. Thanks in large part to Apple's "taptic engine" haptic feedback technology, which the company uses in both the Apple Watch and the latest MacBook touchpads, it's responsive and feels uncannily like a real button when you push down on it.
It does a little time to get accustomed to the way it feels, however. At first, you sense there's a tiny delay between pressing down and the feedback engaging, and the lack of physical movement is disconcerting. But this sensation soon disappears, and it becomes second nature. Even if you don't like the way the new home button feels at first, it's possible to tweak the strength of the feedback dig in the iPhone 7's settings.
The one caveat here is that when the phone is sitting on a flat surface the buzz is reduced in effectiveness. It still works, but with a less intense haptic nudge.
Waterproofing and re-nosed design
Perhaps an even bigger change, at least in terms of toughness and reliability, is water resistance: the iPhone 7 is now officially dust- and water-resistant to the IP67 standard.
That isn't as good as the Sony Xperia Z5 or the latest series of Samsung Galaxy S7 phones, which achieve the IP68 standard (six is the dust-resistance score and eight is the water-resistance rating). According to the specification, both types of phones can be submerged for up to half an hour, but the IP68 phones can be submerged in water up to 1.5 metres, compared to 1 metre for the iPhone 7. That's not a big difference and isn't likely to an issue in most real-world situations, unless perhaps you drop it into a pool.
Not much has changed in terms of the iPhone 7's overall look and feel. The old "rail track" antenna lines have been shunted out of the way to the edge of the handset, which results in a cleaner rear panel. That's nice, but not groundbreaking.
The rear camera bulge is slightly larger, while the new glossy Jet Black finish looks predictably spiffing. As with most of these glossy modern finishes, it collects fingerprints like a stamp collector picks up small squares of sticky paper at a philately convention, but that's nothing new. It does at least clean up quickly with a quick wipe on your shirt.
Screen quality, speakers
The quality of the screen is another subtle improvement, brought about not by a change in technology, but a different approach. After years of calibrating its screens to target the comparatively narrow, but most universally used, sRGB colour space, Apple is calibrating the iPhone 7 against the wider DCI-P3 colour space, traditionally used in the movie industry.
Apple, as it typically does, has renamed this standard, calling it "Wide Color", and if you set the iPhone 7 down next to the iPhone 6s, both with screen brightness set to maximum, the difference is palpable. The colours on the iPhone 7 have more impact and more glow to them, while black looks deeper as a result. It's almost AMOLED-like in appearance, but without the lurid quality that afflicts many screens of its type on other handsets.
Indeed, it's clear that Apple doesn't want to throw the baby out with the bathwater here, as our colorimeter-based testing reveals. Indeed, the iPhone 7's measurements bridge the divide between the two colour spaces remarkably well, covering 95.8% of sRGB and 73.5% of DCI-P3.
Oddly, the iPhone 7's screen comes out as not quite as bright as the iPhone 6s (we measured it at 540cd/m2 with the brightness slider at maximum and the screen filled with white), and it lags slightly behind on contrast ratio as well, hitting 1,458:1.
Those are still good numbers, though, and to the eye, the iPhone 7 display represents a notable step forward: it's more colourful, more vibrant, and more immediately engaging.
Audio has received a boost in performance as well in this iteration, and for the first time, the iPhone 7 has stereo speaker output. It's an odd arrangement, though, with one speaker at the top of the phone behind the earpiece, and the other in its standard position behind the right-hand grille at the bottom of the phone.
That's right, the right-hand grille. Although Apple has removed the headphone socket from the left-hand side and balanced the design by replacing it with what looks like another speaker, the holes are purely aesthetic. No sound comes out of these holes at all.
Still, the iPhone 7's speakers do sound better than the iPhone 6s's mono speaker, with a little more volume, body and presence. There isn't a huge amount in it – the laws of physics dictate that there's no bass and that it still sounds tinny – but the second speaker does at least mean the sound doesn't disappear altogether when your hand grips the edge of the phone.
The camera
As for the camera, that's a little more difficult to peg. On the surface, it ought to be a belter, and despite the fact that it doesn't get the cool dual-camera of its bigger brother, or a resolution bump (it still captures 12-megapixel stills and 4K video), a handful of specification improvements suggests better all-round image quality.
There's now optical image stabilisation (OIS), where previously this had restricted to the Plus version. There's also a beefed-up image signal processor (ISP), which should ensure things such as better noise reduction and speedier high-dynamic-range (HDR) processing. A brighter f/1.8 aperture, which lets 50% more light onto the sensor, six-element lens and quad-LED flash top things off nicely.
Our initial tests reveal that the OIS works as you'd expect it to. In bright light, the iPhone 7 captures images at both lower ISO sensitivity and higher shutter speed than on the iPhone 6s, which means it's able to freeze action much more successfully and the results ought to be cleaner.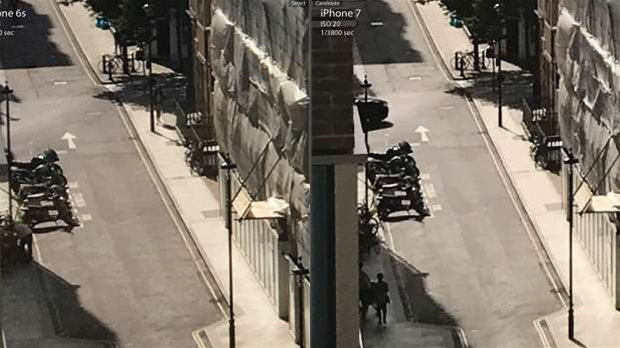 Meanwhile, in low light, images are typically captured at lower ISO sensitivity and lower shutter speeds, which should also give you cleaner, brighter, more colourful images. In practice, that's largely what happens in real-world use.
Check out the two images below, shot in dimly lit conditions under fluorescent office lights. The iPhone 6s image on the right is far less colourful than the iPhone 7's shot on the right. The iPhone 7's image is crisper and sharper, too. The iPhone 7 image is on the right, the iPhone 6S on the left.
And yet, there are problems with the iPhone 7 image. Examining the shadows in the background reveals an unpleasantly mottled, lumpy texture that's obvious, even without zooming right in. There is less grain than on the iPhone 6s image, but the graduation between light and dark areas is far less smooth and natural.
In fairness, in most cases, it's clear that the iPhone 7's rear camera is an obvious upgrade over the iPhone 6s. The advantages of the brighter aperture and OIS outweigh such processing problems, which hopefully Apple should be able to iron out in a software update.
On the other hand, it's clear there isn't a big enough improvement here to overhaul the Samsung Galaxy S7 Edge's camera, which remains our favourite smartphone camera.
In fact, the biggest upgrade is arguably to the front camera, which gets a boost from 5 megapixels to 7 megapixels. It delivers images with significantly more detail and superior contrast to the iPhone 6s, and we also found in my testing that the fake flash (where the screen flashes momentarily bright, pale yellow to illuminate your face) seems to activate more readily on the iPhone 7.
Speed, performance battery life
It's clear from using the iPhone 6s and iPhone 7 side by side that the newer phone is the more rapid device. But, again, it's not a huge difference. In day-to-day operations, apps launch at roughly the same speed, but there's a clear speed advantage when returning to the homescreen.
This much is also clear from the benchmarks. Both in Geekbench and GFXBench GL, the iPhone 7 outstrips its forebear – and pretty much every other phone on the planet right now.
That's thanks to the iPhone 7's new processor: the A10 Fusion, which is clearly a beast. However, of more interest to most people will be the low-power part of this particular equation. The iPhone 7's chip has twice the number of cores the iPhone 6s does (that's four compared with two), and those extra two are aimed at greater efficiency with everyday tasks.
Now, all those little jobs that run in the background, such as music playback, message updates and file synchronisation, can run on a less power-hungry processor – the theory being to save battery life without compromising peak performance.
UPDATED: In our battery life test, things were looking very good initially. After just over five hours or so of video playback, battery capacity had fallen by around 33%, indicating a final result of around 15 hours. Yet by the time it had run through the full cycle, the iPhone 7 had lasted a distinctly less impressive 13 hours 2 minutes. That's two hours longer than the iPhone 6S lasted, which is good news, but still a long way short of the Samsung Galaxy S7, which lasted 17 hours 48 minutes.
Software
As with every new iPhone launch, the iPhone 7 comes with the latest version of iOS preinstalled. That's iOS 10, which offers a number of improvements.
There's a new lockscreen, which now gives each notification its own bubble and more rapid access to the camera (with a quick swipe of the finger to the left). There's extended support for 3D Touch, too.
At long last, you can delete Apple apps, and Siri has now been opened up to developers, so you should see more Siri support across third-party apps. Mail and Messages have also received small design tweaks, and the iOS Photos app has facial recognition, making it easier to create dynamic libraries for different people.
Conclusion
As usual with a new iPhone, there's not much to talk about when it comes to price. Despite upping the base storage allocation from 16GB to 32GB (and about time too), the iPhone 7 costs the same as the iPhone 6s did when it launched in 2015.
The 32GB model is $1,079, then, with the 128GB version coming in at $1,229 while the 256GB costs $1,379. The Jet Black version is only available in 128GB and 256GB sizes. Contract pricing for 1GB-plus plans starts at $66 per month (from Optus).
So it's expensive, but 'twas ever thus. It hasn't prevented Apple fans from purchasing iPhones yet and is unlikely to with the iPhone 7.
The question is: is the iPhone 7 good enough to retake its place at the top of the smartphone tree once more, ousting Samsung at last? Well, not quite: the Samsung Galaxy S7 Edge still has its nose slightly out in front, with a superior camera, curved AMOLED display and storage expansion. We're talking marginal gains here, but it's still the best phone around while still managing to keep its headphone jack.
The iPhone 7 does, however, take its place as the best iPhone yet, and for many fans that will be enough. It has a better camera than the iPhone 6s and more colour options. It's faster and water-resistant, the screen is improved, it has more storage and the new haptic home button is a dream to use.
The battery life is significantly better than its predecessor, and with the long-standing storage issue remedied by the introduction of a 32GB base model, we're happy recommending the iPhone 7. It's an outstanding smartphone.
See also our full review of the iPhone 7 Plus.
This article originally appeared at alphr.com.
Verdict
Apple's new flagship phone is faster than its predecessor, it has a better camera and screen, more storage, and it's water-resistant. If you can deal with the lack of headphone jack, it's worth the upgrade from an older iPhone. But while it's a great phone, it's not the very best.
Specs
From $1079 AUD
4.7in display with 1334 x 750-pixel resolution (326 ppi); 64-bit A10 Fusion processor; 32GB, 128GB or 256GB storage options; 138.3 x 67.1 x 7.1mm, 138g; 12MP rear camera and 7MP front camera.
Other Reviews in the Group Test:
Best smartphones of 2018