Performance
Fortunately, things pick up considerably when it comes to overall performance. With the Qualcomm octa-core Snapdragon 835 processor and 4GB RAM this was always going to be a snappy handset and, while the version in our hands was the version with 64GB of storage, another edition with 128GB of storage and 6GB RAM is available, too.
Not that the standard version is sluggish or anything. Here's how it did in our Geekbench 4 benchmarks, which measure overall CPU performance:
As you can see, the HTC U11 is almost the best; just a gnat's wing behind the Samsung Galaxy S8 for both single- and multi-core performance. It comfortably beats the Google Pixel, and the LG G6, which sells for the same price.
Things aren't quite so impressive in the graphically intense GFXBench tests, but it's still a solid performer, especially when things aren't slowed down by the need to output to the device's QHD display: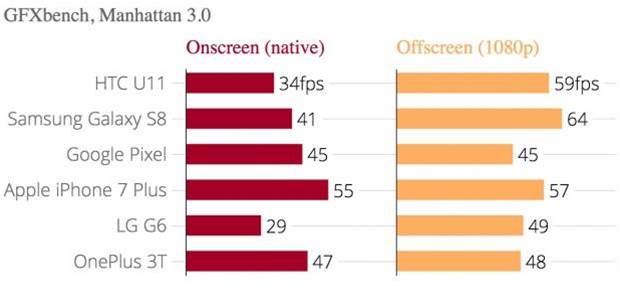 Sound is always something that's important to HTC fans and the U11 can proudly sit along its forefathers on that score. BoomSound is back again and it goes loud and clear with very little distortion that I could hear. You still wouldn't want to hear someone else's music through the speakers on a crowded train but if you don't have earphones or a Bluetooth speaker to hand, they work pretty well in a pinch. Better than most, for sure.
In terms of battery life the HTC U11 delivered mixed performance. In our benchmark test, which involves playing a video on loop at a brightness of 170cd/m2 in flight mode, the HTC U11 lasted 13 hours 18 minutes, which is good but not great.
In day-to-day use, though, it felt better than that. We rarely arrived home after work to less than 40% capacity remaining after a standard day's usage, something our Samsung Galaxy S7 can't claim, despite its superior performance in our tests.
Why the discrepancy? It's likely a combination of things: our aging smartphone is part of it, yes, but the architecture of the HTC U11 is also likely to have helped. This is our first Snapdragon 835 phone review, and the efficiency of the chip is something the company has been shouting about. The evidence is certainly looking strong for now. 
Camera
And so we reach the camera and, surprisingly, what could be HTC's ace in the hole – surprisingly,  because HTC cameras have proven a touch disappointing in the past. But the U11 puts that right and then some. Whether it's the best or not is open to debate, but it's certainly right up there.
In the "best" camp are the imaging specialists at DxOMark, who rate it a score of 90, pushing it ahead of both the Google Pixel, our favourite, and the Samsung Galaxy S8, our second favourite. On paper it certainly looks the part: the rear camera is a 12-megapixel snapper with a bright f/1.7 aperture, 1.4um pixels, dual-pixel autofocus and optical image stabilisation, which is a match for the very best in the business.
Here are some samples so you can judge for yourself.
HTC U11 (left) vs Google Pixel XL: outdoor shots compared
It's very, very good, that much is clear, but whether it's better than the Pixel is open to debate. Yes, it seems to dig out a touch more detail than the Pixel in hard-to-capture areas like foliage and brickwork, but the Pixel wins on the subtle tones of clouds and shadow.
HTC U11 (left) vs Google Pixel XL: lower-light shots compared
In low light, however, it's excellent, presenting heaps of detail and without too much noise. Performance is a touch laggy, though, so if capturing the moment is all important to you, then you may be better off looking at the Pixel or the Samsung.
Conclusions
The other good news about the U11 is its price. At $999 and with 1GB plans starting at $59 (from Optus), it's the cheapest of the latest flagship phones.
In short, the HTC U11 is a wonderful phone that we'd recommend to anyone. Move past the squeeziness, which is a pointless gimmick, and you're left with a fast phone that has arguably the best camera in the game and impressive speed and battery life. The display is a slight blot on the copybook, but that isn't enough to impact its high overall score.
This article originally appeared at alphr.com.
Verdict
The HTC U11 is a wonderful phone and the cheapest of the new flagship phones. Move past the Edge Sense gimmick and less-than-perfect display, and you're left with a fast phone that has arguably the best camera in the game and impressive speed and battery life.
Specs
$999 AUD outright
5.5in 2560 x 1440-pixel Super LCD display; Qualcomm octa-core Snapdragon 835; 4GB RAM; 64GB storage with microSD; 12MP (UltraPixel) ƒ/1.7 rear camera; 16MP ƒ/2.0 front camera; 169g; Android 7.1.1.
Other Reviews in the Group Test:
Best smartphones of 2018