The Samsung Gear S3 offers seriously impressive battery life, but how does it otherwise stack up against its competitors? We spent some time with the new smartwatch to find out.
The Samsung Gear S3 does one thing well that most other smartwatches fail abysmally at. It has great battery life: if you charge the S3 fully to 100%, it'll last you almost five days. Yep, you read that right, five days. That's nearly four days of normal operation (with the screen in timeout mode and no GPS usage), and then when it hits 5%, more than 24 hours of use in power-save mode.
That's fantastic stamina for any smartwatch, let alone one with a full-colour OLED display, and it leaves the Apple Watch Series 2 in the dust. The question is, how about the rest of the watch? Is it good enough to match Apple's wearable when it comes to developer support and ease of use?
Design
Let's look at the aesthetics first. The Samsung Geary S3 is available in a couple of flavours – the Classic and the Frontier – and both look stunning.
We've been sent the Frontier for the purposes of this review, and it's a real looker, finished in smoky, gunmetal grey, with a burly rubber wristband (both large and small sizes are included in the box), butch knurled buttons, and an aggressively notched bezel that rotates with a light clicking action, just like on a dive watch.
The difference, in the case of the Gear S3, is that this bezel isn't used simply for adornment or timing purposes; it's part of the fabric of the way the watch works.
Spin it and the watch face whirls away to make way for a galaxy of different notifications and widget screens. Not only that, but it's also used to scroll through items in lists and alter settings, depending on whereabouts in the UI you find yourself. The Gear S3 watch still has a responsive touchscreen, but I found myself using the bezel whenever possible because it leaves the screen free for reading.
And what a great screen it is. The Samsung Gear S3 has an AMOLED panel with a resolution of 360 x 360 pixels, and it's topped with Corning's wearables-specific scratch- and shatter-resistant Gorilla Glass SR+. It's comfortably readable in most conditions at the default setting of seven and, handily, it automatically dims in low-light conditions, so it won't blind you or irritate everyone in the cinema when you want to check the time.
The problem with the Samsung Gear S3 – and the only one in my book – is that it's a bit on the beefy side. The S3 Frontier measures 46 x 12.9 x 49mm (including the lugs) and the S3 Classic is exactly the same size. That makes it thicker than most modern smartphones.
The payback is that Samsung has been able to fit in a larger, 380mAh battery than in most smartwatches – resulting in that fantastic battery life. However, those with wrists of a delicate persuasion may not find this watch as appealing as the Apple Watch, which is available in both small and large sizes, or indeed the Gear S3's predecessor, the Samsung Gear S2.
Features
Samsung has considerably improved on the Samsung Gear S2's capabilities with the Gear S3, and the big upgrade is built-in GPS. This means that, as with the Apple Watch Series 2, you can have it track your run without having to take your phone.
This worked pretty well in our experience, locking onto GPS satellites in around 1 minute 30 seconds from cold in a built-up area. It didn't provide particularly accurate tracking information with buildings around, with the GPS track showing plenty of cut corners. Move out to the park for a run or a walk in a residential area, though, and it works fine. Distance covered appeared to be on the money, too.
Also new in the Samsung Gear S3 is a built-in speaker to go with the microphone the Gear S2 already had. This unlocks a couple of new capabilities, principal among which is the ability to answer and make phone calls from your wrist.
Now, this isn't something we're keen on doing when we're out and about, but it comes into its own at home. The Gear S3's Wi-Fi connectivity means you don't have to be within Bluetooth range of your phone to receive notifications or make/receive calls, so if the phone rings and you've left your phone on the other side of the house, you'll be able to pick up or reject it as you see fit.
The speaker also allows the watch to double as an interactive fitness coach while you're working out. It'll gee you up when you start to fade and deliver timely audible info as you pound the pavement. The only problem is that the speaker isn't loud enough to hear over the rush of breath from your lungs and the blood pounding in your ears, so you'll have to use the Samsung Gear S3's Bluetooth connectivity to hook up a pair of headphones instead.
These new capabilities build on the Gear S2's already-impressive collection of features. There's an optical heart-rate monitor that continuously tracks your pulse during exercise and keeps tabs on your resting rate with spot checks during the day. There's an altimeter/barometer and an associated app, keeping tabs on your altitude and the atmospheric pressure. There's NFC, 4GB of storage for music storage, wireless charging via the WPC standard, and a dual-core 1GHz Samsung Exynos 7270 chip with 768MB of RAM.
This is all good stuff, and the watch runs as smoothly as you could possibly want. The only time we saw slowdown was while playing Fruit Ninja – but that's really not what this device was made for. In every other respect, it responds smoothly and instantly to touchscreen dabs and clicks of the bezel.
What isn't so great is that the Samsung Gear S3 isn't properly waterproof like the Apple Watch Series 2; it's water-resistant and rated to the IP68 standard. This means that, although the watch can be submerged to a depth of 1.5m in freshwater for up to 30 minutes, you can't take it for a swim.
Fitness, S Health
That sets the Samsung Gear S3 at an immediate disadvantage to the Apple Watch Series 2, which has a decent swim-tracking mode in addition to GPS and heart-rate monitoring. But the Samsung hits back with excellent automatic tracking and stats-packed activity monitoring.
Walk briskly for a few minutes and the watch will quickly pick that up and log it as an activity. The same happens if you take it for a run and forget to manually hit start – excellent if you're a bit forgetful. It'll also auto-pause when you stop to cross the road, which is nice, and it reports a fully comprehensive bank of data to your phone once you're done, from the usual average speed, distance and average heart-rate data to the more unusual average and maximum cadence.
What's also excellent is the series of health-based widgets you can view your stats on, which look great and present data in a surprising amount of detail. These can be dropped in on the right-hand side of the watch face, and show all the usual stuff – calories burned, steps taken and your recent sleep record – plus a couple of extras, including the number of floors you've climbed and a screen that lets you monitor the number of cups of coffee and glasses of water you've consumed.
It all feeds into the S Health app on your smartphone, which syncs the data and presents it in a more digestible manner. If you're familiar with the app through owning a Samsung phone, there will be no surprises here: the app presents your goals at the top of the main page with a couple of key stats on graphs beneath (steps and sleep by default), with specific data, from your stress levels through SpO2 and floors climbed, encapsulated in a series of square panels below that. Tap one of those and you can drill down into the nitty gritty.
This is all rather impressive, and as far as Android-based fitness smartwatches go, it's the best out there.
Communications and apps
When it comes to core smartwatch features, the Samsung Gear S3 is a bit more of a mixed bag. The first thing to note is that Samsung's Gear watches are no longer limited to working with only Samsung phones. Although the Samsung Gear S3 runs Samsung's Tizen wearables OS, you can pair it on any modern Android smartphone via the Samsung Gear app, and this is a very good thing.
Generally, the watch's notifications system works well. As they're delivered, all notifications are stacked up to the left of the watch face – just swipe left or twist the bezel anti-clockwise to get to them. And just as it's possible to answer calls on the watch, it's also possible to respond to SMS and WhatsApp messages directly on the watch face. You can either tap out words and emoji using the onscreen T3 keypad or, if you're feeling brave, have Samsung's S Voice transcribe for you.
This all works beautifully. Even S Voice seems to have improved in the past year, to the point at which it managed to accurately transcribe the basic messages I dictated to it reasonably reliably. Thumbs up.
However, it's weirdly inconsistent in what you can respond to and what you can't. We had the Gear app installed on a Google Pixel XL, and while notifications for email received via the Gmail app were sucked onto the watch, there was no way to act on those emails other than to read them (in full) on the watch or to open them and respond on the phone.
Also, the way it interacts with Google Calendar leaves something to be desired. It'll display your appointments and reminders, but there's no way of filtering the view if you have multiple calendars and want to exclude one or two.
And then there are the third-party apps. This is not an Android Wear or watchOS timepiece: it's based on a proprietary, single-company platform, and that means the number of third-party apps available is always going to be more limited.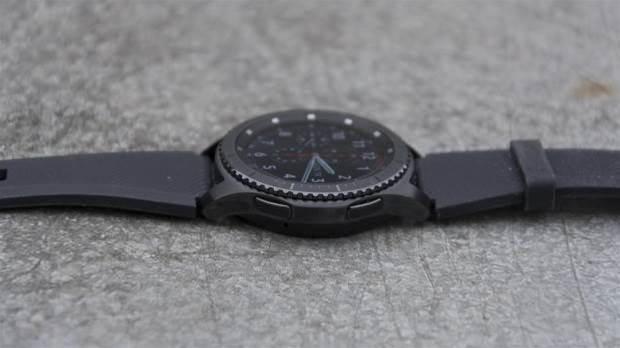 There is a Spotify remote controller app and a Facer app for downloading or creating your own watch faces, plus a healthy selection of games, but there's nothing like the selection available to its rivals.
Conclusion
The question is, should you care? In some respects, we'd argue you shouldn't. The watch's core apps and general all-round capabilities are so good that it's worth the asking price anyway, without the addition of third-party apps.
The fitness side of things is particularly impressive, offering most of the tools (aside from swim tracking) that the modern fitness fanatic needs to log exercise and keep motivated. And the notifications side of things works just as well, a couple of niggles aside, as it does on Android Wear smartwatches.
The big bonus, though, is that the Samsung Gear S3 combines all of those things with superb battery life and luxurious high-end design.
For those reasons, we're giving the Samsung Gear S3 a big thumbs up. It feels like a proper, luxury watch and a high-end smartwatch in one. It's a pleasure to use, to wear (as long as your wrists aren't too slim) and to train with, and even at a price of $598.99, we feel it's now the Apple Watch alternative to beat. If you own an Android smartphone and you're looking to invest in a smartwatch, you should put the Samsung Gear S3 at the very top of your list.
This review originally appeared at alphr.com.
Verdict
It's rather bulky and the Tizen OS lacks the range of apps for Android Wear or watchOS, but the Samsung Galaxy Gear 3 is otherwise a brilliant smartwatch with five-day battery life, and great design and software.
Specs
$598.99 AUD
1.3-inch Super AMOLED touchscreen (360 x 360 pixels); 1.0GHz dual-core Exynos 7270 processor; 768MB RAM; 4GB storage; wireless charging; Tizen Based Wearable OS 2.3.2; 380mAh battery; IP68 water and dust resistant; Bluetooth 4.2, Wi-Fi b/g/n, NFC, GPS, LTE (embedded SIM); 46 x 49 x 12.9mm; 59g (Classic) or 63g (Frontier) (without bands).