The Asus Transformer 3 Pro looks stunning, but how does it compare with Microsoft's market-leading 2-in-1 device?
There are no prizes for guessing who Asus is challenging with the Transformer 3 Pro. With its adjustable kickstand, folio keyboard and 2-in-1 design, it's the spitting image of Microsoft's Surface Pro 4. Asus is clearly hoping that its twist on the formula can win it a slice of Microsoft's sales.
The entry-level Transformer 3 Pro costs $1,699 and includes an Intel Core i5 processor, 8GB of RAM and 256GB solid state drive. There's also $2,499 model with a Core i7, 16GB of RAM and 512GB SSD, although it doesn't appear to readily available yet.
Design and features
If looks are the first hurdle, then the Transformer 3 Pro gets off to a strong start. The all-metal body strikes that almost-perfect balance of solidity, heft and slender dimensions that you want in a $1,700 device, and it's lovely to hold in the hand.
It's nicely weighted whichever way around you're holding it, yet somehow only tips the scales at a very reasonable 800 grams.
There is a striking resemblance to Microsoft's iconic 2-in-1, right down to the flattened edges and indented cooling ducts along the tablet's upper edge, not to mention the integrated kickstand at the rear. This swings out through 155 degrees, providing enough flexibility to use the tablet on a desk, or crammed into a Ryanair plane seat. It's well designed, too: stiff enough to not flop backwards, yet pliant enough to adjust one-handed.
One of the major departures from Microsoft's 2-in-1 is the presence of a USB Type-C port. This allows for superfast data-transfer speeds via USB 3.1 and Thunderbolt 3.
If you're looking for a tablet that will genuinely replace a desktop PC at home, then this kind of flexibility makes all the difference, but the good news is that Asus hasn't left out any of the essentials. You still get a full-sized USB 3 port, a full-sized HDMI output, and a microSD slot, too, which gives you a lot of flexibility for an ultraportable laptop.
Keyboard, touchpad and pen
If you're irked by the idea of 2-in-1 manufacturers charging extra for keyboards, then Asus will be your new best friend: the Transformer 3 Pro's folio keyboard comes bundled in the box. With backlit, Scrabble-tile keys, it's arguably a touch better than Microsoft's Type Cover thanks to a stiffer backing and keys that provide a firmer, more positive action while typing.
It's not perfect, though. The touchpad beneath can be a little pernickety at times, and did occasionally ignore the odd swipe or stroke, but that was a rarity – in our time with the Asus, it was largely trouble-free. A bigger issue, however, was the keyboard's eagerness to become dislodged from the tablet itself. Clearly the hidden snap-on magnets aren't quite as strong as they could be.
The Transformer 3 Pro is also ready and raring for stylus-related fun and games (or just making some meeting notes, depending on your preference). The Asus Pen comes in the box, and it certainly looks the part. The smart, brushed-aluminium finish is topped with a little pen clip, and there are a couple of buttons on the shaft. Just like the Surface Pro 4, Asus has opted for N-trig's digitiser technology, which provides 1,024 levels of pressure sensitivity, and that makes for smooth, fuss-free writing and onscreen scribbling.
Display
Everyone knows that bigger is better, and the Transformer 3 Pro's 12.6in display trumps the Surface Pro 4 with a higher screen resolution of 2,880 x 1,920 pixels. Despite its larger screen – 12.6in to the Surface Pro 4's 12.3in – that gives the Asus a narrow lead for pixel density. But at 275 pixels per inch to Microsoft's 267ppi, it'd take Clark Kent to spot the difference in a side-by-side test.
Putting those tiny pixels to one side, the Asus's screen largely does all the right things. It's glorious to look at, and this is principally because it reproduces all the colours you'd expect it to – 99% of the sRGB gamut, in fact.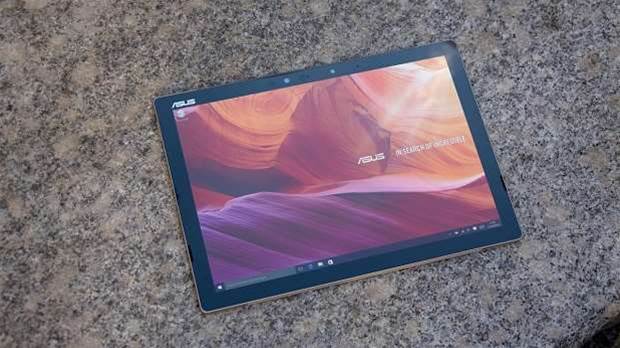 The glaring, or rather not-so-glaring, flaw is that it's really not that bright. A maximum screen brightness of 292cd/m2 is absolutely loads for indoor use, but carry it outside and it struggles to remain legible on brighter days. By comparison, the Surface Pro 4's 400cd/m2 backlight means that it's much more usable while you're out and about.
Performance and battery life
The Transformer 3 Pro comes in both Core i5 and Core i7 flavours – interestingly, Asus hasn't resorted to lightweight Core M CPUs here. Asus sent us a unit with a dual-core 2.3GHz Intel Core i5-6200U processor, but the pricier model bumps up to a Core i7 6500U.
Compared to a similar Core i5 Surface Pro 4, the Transformer 3 Pro lagged a little way behind in our 4K benchmarks. Despite a respectable overall score of 31, the Surface Pro 4's faster dual-core 2.4GHz Core i5-6300U chip pulled ahead with 44, putting it quite some way ahead of its Asus rival.
A closer look at our benchmark results revealed a key difference between the two Core i5 processors. While the Transformer 3 Pro kept pace with the Surface Pro 4 during most of the tests, multitasking performance saw the Asus lag behind. Given the surge of noise from the internal fans during that section of the benchmarks, it seems that the Transformer 3 Pro simply couldn't keep its cool under pressure – or at least not as well as the Surface Pro 4.
As you'd expect, most 3D games are too much for the Transformer 3 Pro. Even older titles such as Dirt: Showdown slowed to a crawl at any detail setting above Low, and at a relatively modest resolution of 1,280 x 720 pixels.
Where the Transformer 3 Pro mainly falters, though, is battery life. The benchmark here is, unsurprisingly, the Surface Pro 4, which lasted 5 hours 56 minutes in our continuous video-playback test. Under the same conditions, the Transformer 3 Pro lasted 4 hours 20 minutes.
Conclusion
There's much to like about the Transformer 3 Pro – it's pretty, has loads of connectivity options and it feels every bit the premium 2-in-1.
Unfortunately, it falls short of the Surface Pro 4 in a few key areas, with the latter markedly faster and longer-lasting and having a brighter screen.
Still, the Core i5 Transformer 3 Pro is good value at $1,700 – and $500 cheaper than the equivalent Surface Pro 4 when you factor in the cost of Microsoft's Type Cover.
This article originally appeared at alphr.com.
Verdict
Speed and battery life lags Microsoft's Surface Pro 4, but the Asus Transformer 3 Pro is $500 cheaper and offers solid performance and a great design.
Specs
From $1699 AUD
Entry-level model: Intel Core i5 6200U processor; 8GB RAM; 256GB SATA3 M.2 SSD; 12.6in (3:2) LED backlit display with 2880 x 1920-pixel resolution; USB 3.1, Thunderbolt 3, HDMI, microSD slot. Higher-end model: Intel Core i7 6500U processor; 16GB RAM; 512GB SATA3 M.2 SSD.