It's Apple's best smartphone ever – but you'll sure pay for that privilege.
The iPhone X – pronounced iPhone "Ten" – is the expensive flagship handset Apple developed to mark the tenth anniversary of the original iPhone and it's startlingly similar to the Samsung Galaxy S8.
Yet labelling the iPhone X as little more than a look-at-what-Samsung-is-doing in the smartphone space is a little unfair. Of course, Apple hasn't always been at the forefront of tech – it added NFC long after Android phones and is jumping on the augmented reality bandwagon more than a year since Pokémon GO's peak – but it has been instrumental in bringing many technologies to the mainstream.
Apple has the uncanny knack of waiting until consumers are ready to embrace these changes, rather than getting ahead of them. And this is exactly what it's done with the iPhone X.
Design
Apple deliberately saved its high-end features for the iPhone X and it's unlike anything it's released before.
It has the largest screen of any iPhone, at 5.8in and it stretches from edge to edge like those seen on the Samsung Galaxy S8. This screen is Apple's first foray into OLED displays, too, and to fit the larger screen onto the device the home button has been ditched. Instead, there's a 'notch' that houses the phone's Face ID camera (more on which later).
You'd imagine this might make the handset feel large, but by maximising screen size without increasing the size of the handset, the iPhone X feels smaller than the iPhone 8 Plus. In fact, it's closer in design and feel to the original iPhone than any of its recent predecessors.
The iPhone X is available in white with a chrome silver trim, and black, with a shiny dark grey trim, and is reminiscent of the iPhone 3GS in look if not build quality. This is a bold move away from its range of previous colours – and while there's no denying it's a classy looking phone, it's lost that trademark iPhone look. In fact, with its screen switched off it's reminiscent of flagship Android phones like the Galaxy S8.
Made predominantly from glass reinforced with steel, a design move enforced by the inclusion of wireless charging, the handset has a habit of picking up fingerprints ridiculously easily. This glass panelling doesn't feel as cold as the metal handsets of yore, though, and there's something reassuring about how its warmth adds to how attached you feel to it, even after a couple of minutes of use.
Aside from the lack of home button, most other design features remain. The power and volume buttons are where you'd expect, preserving a modicum of familiarity. The iPhone X has IP67 dust and waterproofing and there's still no 3.5mm headphone jack, sadly.
To compensate for the lack of home button, Siri and Apple Pay features have moved to the side button, which also needs to be clicked when installing apps. You also now take a screenshot on the iPhone X by holding the right-hand button and volume up together, which feels very "Androidy". The camera bump is fitted vertically rather than horizontally on the rear (to make room for the Face ID sensors) and this makes the phone noticeably wobble when placed on a flat surface.
Face ID
The unsightly notch mentioned before, which encroaches from the top edge of the screen, replaces the Touch ID home button and it brings with it a new form of biometric authentication: Face ID.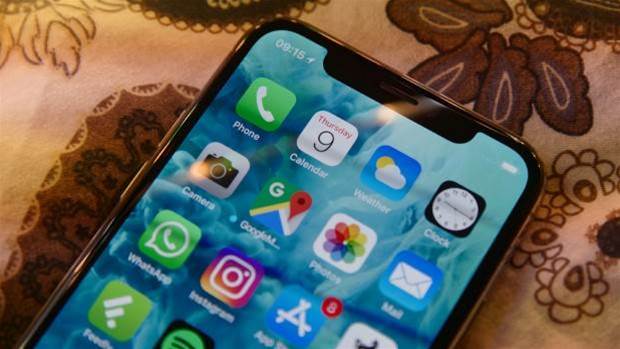 Powered by Apple's so-called TrueDepth camera system, this includes a number of sensors designed to recognise a person's face, including a dot projector, infrared camera and flood illuminator (a fancy name for what is effectively a flash), all of which work together to scan your face when you look at it for the purposes of unlocking the phone and authenticating Apple Pay transactions.
We were cynical at first but Face ID is incredibly slick and swiping up from the bottom of the screen as the phone unlocks soon becomes second nature. Setting up Face ID is far simpler than adding a fingerprint too, you simply roll your face in a circle, and it's amazing just how smoothly all those sensors work with such little interaction.
Face ID works effortlessly with glasses and without, and even performs in dim or dark conditions. By comparison, Samsung's iris recognition tech doesn't work at all if you're wearing glasses. Although we've had more failures with Face ID in the dark than at any other time, we've had only a small handful of failures in the two days we've been using it.
Moreover, Apple has built in a certain degree of protection against accidental unlocking – a system Apple calls Attention-Aware, which checks that you're awake and alert before unlocking the phone. Of course, the standout feature of this tech is the ability to create Animojis, which use the Face ID camera to transform your facial expressions into a singing poop or unicorn. Completely pointless but fantastic fun and a sign that Apple doesn't always take itself too seriously.
One frustration with Face ID is that it's not as easy to open the device when it's on a table as it is with Touch ID and using it to pay for stuff via a contactless card reader (on the London Underground, for instance), now involves having to double tap the side button and look at the phone before placing it on the terminal.
There's another knock-on effect from the loss of the home button, too. One of these is that the Control Centre is now accessed by swiping down from the tiny space to the right of the notch instead of the more straightforward swipe from the bottom of the screen.
We're also not too keen on the new action for bringing up the iPhone's notifications – a swipe from the very top of the screen, just below the notch – which, to us, feels fiddly and very Androidy.
Getting to the recent apps view is a little more intuitive. You drag your thumb up from the bottom of the screen and hold it there for a short while. However, it's no longer possible to simply swipe your apps away; instead you have to press and hold and then click the red 'delete' icon. A small yet significant annoyance.
Camera
Apple has consistently made great cameras. They may not always be the best in the market (the Google Pixel 2 currently takes that crown) but the iPhone X camera, like the iPhone 8 Plus, captures photos reliably and shoots detail-packed, steady 4K video.
On its rear, the iPhone X has two 12MP rear cameras, both equipped with OIS (optical image stabilisation) and phase detect autofocus. One is a wide-angle f/1.8 camera, the other a 2x telephoto "zoom". The latter offers slightly brighter aperture at f/2.4 than the iPhone 8 Plus' telephoto camera, but otherwise, it's the same setup.
That means performance across the board is pretty similar with excellent results in both good and bad light. It may not reach Pixel heights but the iPhone X's camera is right up there with other rivals, such as the Samsung Galaxy Note 8.
There is one oddity, though. While the brighter aperture of the zoom lens ought to translate into less noisy images in low light, what seems to happen is that when the light dips, the software simply switches to the wide-angle camera and crops the image. That's disappointing, and it impacts on image quality.
Still, that's a small complaint, and for the most part the camera works brilliantly. Portrait mode works as nicely as ever and, for the first time, this mode is available using the front-facing 7MP camera; a way to turn your selfies into professional-looking snaps at the touch of a button. It's not as good as the rear camera at producing flattering photos but it's certainly a positive addition.
Next: display, performance and verdict
Display quality and performance
Early third-party benchmark tests of the iPhone X have been unanimously positive. In fact, Displaymate, which runs exhaustive tests on phone displays, says the iPhone X has the best display it has ever tested.
Our own tests echo Displaymate's findings. The iPhone X's 2,046 x 1,125-pixel OLED screen is sharp, it's incredibly colour accurate and it's bright, too. Plus, there are no problems with viewing angles and odd-looking colours (Google Pixel 2 XL, we're looking at you).
As for speed and responsiveness, well that's unimpeachable as well. The iPhone X uses the new Apple A11 Bionic chip to power it along and this, coupled with 3GB of RAM, produces very similar benchmark results to the iPhone 8 Plus.
Basically, alongside its less siblings, the iPhone X is the fastest phone on the market – trouncing everything else on the market in both processing and graphics performance.
More important than all-out speed is battery life and although we've only had the phone a few days, it is possible to draw some early conclusions on this. The first is that it doesn't last very long during video playback.
In our battery benchmark, which involves playing a video on loop in flight mode until the battery dies, the X lasted a mere 9 hours 22 minutes, which is a disappointing result, certainly when compared with Android rivals. The iPhone 8 Plus with its larger battery lasted far longer at 13 hours 54 minutes, while Samsung's Galaxy S8 lasted 16 hours 45 minutes.
That's not to say the phone won't last you a day in real-world use – that depends on how you use it – but it's safe to say that it won't last as long as the iPhone 8 Plus or Galaxy S8.
Conclusion
The iPhone X doesn't feel like an iPhone at all, and that's not a criticism. It feels luxurious, sturdy and as expensive as its high price tag.
Overall, we still think the Samsung Galaxy S8 is a better phone, but for those who prefer Apple's operating system, the iPhone X subtly adds some of the better Android-style features without compromising the less cluttered iOS environment.
Some of the physical design changes that move it closer to Samsung don't excite us as much. After just two days we were feeling nostalgic for our iPhone Plus with its familiar larger keyboard, for example.
That said, there are enough innovations and differences here to make a buyer seriously consider upgrading from the iPhone 7 or earlier – or there would be if it weren't for that sky-high price.
With prices starting at $1,579 for the 64GB model or $1,829 with 256GB, this is a phone that's almost as expensive as a MacBook. That compares to $1,079 for the 64GB iPhone 8, $1,229 for the 64GB iPhone 8 Plus, and $1,199 for the Samsung Galaxy S8 (which is being discounted to $999 until 16 November).
The iPhone X is pricey on a plan too, with the cheapest 2GB two-year contract (from Virgin) costing $92 per month, compared to $69 for the equivalent iPhone 8 plan, $75 for the iPhone 8 Plus and $68 for the Galaxy S8.
Tim Cook recently said that this high price was justified given just how much tech is inside the device, but it's still hard to stomach. In short, while the performance, display and the camera combine to make this Apple's best ever phone, it isn't significantly better than its rivals to warrant the huge jump in price.
If you're desperate to buy a new iPhone, do yourself a favour and check out the iPhone 8 Plus first. You might not be getting the latest and greatest Apple has to offer, but you'll be saving plenty of cash, getting a phone that's nearly as good, and one that – according to SquareTrade – is a lot less breakable, too.
This review is based on an article that originally appeared at alphr.com.
Verdict
The X is Apple's best iPhone yet, with advanced features such as facial recognition, outstanding performance and a superb edge-to-edge 5.8in display. It's expensive, however, and the likes of the Samsung Galaxy S8 and iPhone 8 Plus offer better value.
Specs
From $1579 AUD (outright)
5.8in AMOLED display with True Tone and 2,436 x 1,125-pixel resolution; 64-bit hexa-core A11 Bionic processor; 64GB or 256GB storage; dual 12MP rear cameras (f/1.8 and f/2.4 with OIS); 7MP front camera; Qi wireless charging, IP67 dust and waterproofing; iOS 11.
Other Reviews in the Group Test:
Best smartphones of 2018