Amazon Echo 2 review
The Echo 2 is smaller than the original in every way, but that has enabled Amazon to price it aggressively at $149 – cheaper than any competitor.
The original Amazon Echo was a tall cylinder, somewhat futuristic looking in a way that could be quite dated in a decade. This time, Amazon has given it more of a homey look, with one of three fabric finishes, making it blend in a bit more like the Google Home.
Unlike Google Home, these finishes can't be switched out – so do make sure you're happy with your pick before splashing the cash.
The Echo 2 comes in at just under 15cm tall – the original Echo was 23cm. Some of the bulk is regained because it's slightly wider.
The overall effect is a speaker that seems more keen to blend into its surroundings this time around and that's fine, except it actually extends to how you interact with it too. The original Echo had a twistable top segment that acted as a manual volume control and it worked beautifully. This time around, you've got ugly + and - buttons on the top panel, like the Echo Dot. Ho hum.
There's a curious new addition to the Echo – one borrowed from the Echo Dot – you can now plug it into an external speaker through a 3.5mm cable. It's potential useful, but it's a bit weird – if you're going to plug it into a better sound system anyway then why wouldn't you save $70 and buy an Echo Dot? Hopefully, it'll make Google realise that it really needs to give that option with its Home devices, though.
Performance
Performance is pretty much identical between the two generations of Echos. So identical that this section may end up being comically short, but here goes.
Alexa is quick and responsive to voice commands. And, although it isn't quite as smart as Google at answering general questions, it's still a bit like stepping into the future.
Sound quality, despite its stumpier frame, is also similar to the original Echo, which is to say that it's perfectly decent, but not quite as hot as other speakers in its price range. Of course, speakers at a similar price to the Echo 2 don't have the virtual assistant, so it's something of a moot point.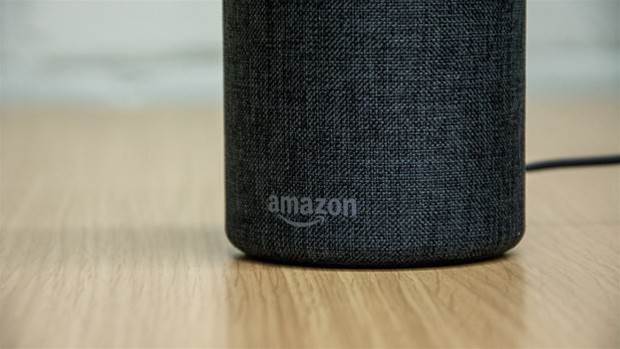 If we were being hypercritical, we'd say that the mids are slightly thinner and harsher-sounding than the original Echo, but there are two reasons why this isn't a big deal: First, it really is a minor difference that most people won't notice or care about (and if you do, just buy a Dot and link it to a high-quality sound system). And second, it's cheaper than any other smart speaker.
Bottom line
While the Echo 2 is a smaller, cheaper version of the original Echo, the sound quality and digital assistant are pretty much just as good – and if anything, it probably looks better.
Of course, this is the Amazon way: make an awesome prototype, then cut the price and force it into every home. It did it with the Kindle, and now it's doing it with the Echo.
At $149, if you can get past the creepiness of having a device listening to your every move, this is the ideal time to see if Alexa can help you today.
Next: Amazon Echo Plus review