They're are finally arriving in Australia. We put Amazon's smart speakers to the test.
It's been nearly three years since the Amazon's original smart speaker landed in US homes, but finally it's available in Australia. If imitation really is the sincerest form of flattery, then Amazon CEO Jeff Bezos must be blushing right now. Since then, we've seen the release of the Google Home – which we reviewed when it arrived in Australia last year – and the likes of Apple and Sonos announcing their own answers to the question that nobody seemed to be asking a few short years ago.
Amazon is not resting on its laurels, though. Australia is actually getting the second-generation Echo 2, along with a new, larger model, the Echo Plus, and the tiny Echo Dot, which is designed to add smarts to an existing speaker system.
All three are due for release on 1 February but available for pre-order on the Australian Amazon website now, with the Echo Plus going for $229, the Echo 2 for $149 and the Echo Dot for $79.
Here we review the Echo 2 and the Echo Plus, but first let's back up and explain what you're getting here.
The Echo is a smart speaker. That means that as well as playing your music, audiobooks and podcasts, it can be controlled by the voice and act as a digital assistant – which is driven by Alexa, Amazon's AI assistant. You can talk to the speaker and it will do its best to help you.
It will run through your itinerary, give you the weather forecast, read the latest news briefings, switch radio stations, call other Echo speakers, set timers and alarms, give you the answers to general questions and even tell jokes – all without the need to pick up a device or sit down at a keyboard is incredibly freeing.
Being an Amazon product, you can also use it to order products and play music through the company's streaming services. But you're not obliged to if you don't want to, or if you're worried you or some stranger on the TV might accidentally order an expensive item.
Next: Amazon Echo 2 review
Amazon Echo 2 review
The Echo 2 is smaller than the original in every way, but that has enabled Amazon to price it aggressively at $149 – cheaper than any competitor.
The original Amazon Echo was a tall cylinder, somewhat futuristic looking in a way that could be quite dated in a decade. This time, Amazon has given it more of a homey look, with one of three fabric finishes, making it blend in a bit more like the Google Home.
Unlike Google Home, these finishes can't be switched out – so do make sure you're happy with your pick before splashing the cash.
The Echo 2 comes in at just under 15cm tall – the original Echo was 23cm. Some of the bulk is regained because it's slightly wider.
The overall effect is a speaker that seems more keen to blend into its surroundings this time around and that's fine, except it actually extends to how you interact with it too. The original Echo had a twistable top segment that acted as a manual volume control and it worked beautifully. This time around, you've got ugly + and - buttons on the top panel, like the Echo Dot. Ho hum.
There's a curious new addition to the Echo – one borrowed from the Echo Dot – you can now plug it into an external speaker through a 3.5mm cable. It's potential useful, but it's a bit weird – if you're going to plug it into a better sound system anyway then why wouldn't you save $70 and buy an Echo Dot? Hopefully, it'll make Google realise that it really needs to give that option with its Home devices, though.
Performance
Performance is pretty much identical between the two generations of Echos. So identical that this section may end up being comically short, but here goes.
Alexa is quick and responsive to voice commands. And, although it isn't quite as smart as Google at answering general questions, it's still a bit like stepping into the future.
Sound quality, despite its stumpier frame, is also similar to the original Echo, which is to say that it's perfectly decent, but not quite as hot as other speakers in its price range. Of course, speakers at a similar price to the Echo 2 don't have the virtual assistant, so it's something of a moot point.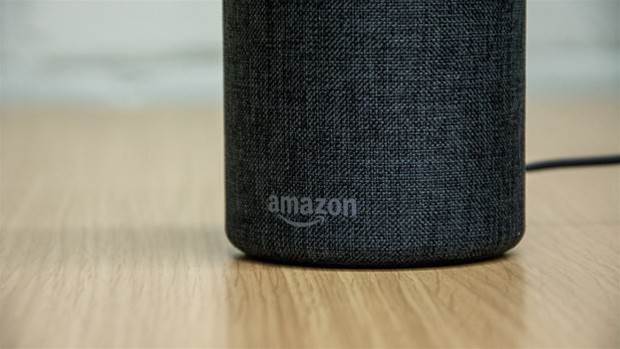 If we were being hypercritical, we'd say that the mids are slightly thinner and harsher-sounding than the original Echo, but there are two reasons why this isn't a big deal: First, it really is a minor difference that most people won't notice or care about (and if you do, just buy a Dot and link it to a high-quality sound system). And second, it's cheaper than any other smart speaker.
Bottom line
While the Echo 2 is a smaller, cheaper version of the original Echo, the sound quality and digital assistant are pretty much just as good – and if anything, it probably looks better.
Of course, this is the Amazon way: make an awesome prototype, then cut the price and force it into every home. It did it with the Kindle, and now it's doing it with the Echo.
At $149, if you can get past the creepiness of having a device listening to your every move, this is the ideal time to see if Alexa can help you today.
Next: Amazon Echo Plus review
Amazon Echo Plus review
There's only ever been one significant issue with the Amazon Echo – sound quality. That's probably why Amazon has released the bigger, more expensive Echo Plus.
With the help of Dolby processing and improved speaker drivers, the Echo Plus takes audio quality up a considerable notch from the original Echo or Echo 2. So, where those smaller models neglect bass and mid-bass notes to a large degree, the Echo Plus sounds warmer, richer and is actually really enjoyable to listen to music on. And there's actually, you know, some bass.
How much bass? We played a few numbers by Milt Hinton, double bass player extraordinaire, which are packed with the sorts of tunes that sounded terrible on the original Echo. But we can happily report that it's now actually quite listenable – at least, we haven't switched to headphones.
We're not suggesting the Echo Plus it's perfect. Far from it. For some types of music – lightweight acoustic numbers and classical – it can occasionally sound a bit boomy around the mids. By and large, though, the Echo Plus is a world away from the harsher, rather thin-sounding Echo.
And as for the speaker's improved array of seven-microphone far-field microphones, that's something that we haven't really noticed. The original's microphones were so good that they barely needed improving upon anyway.
Smart home features  
The improved sound quality is enough to warrant an upgrade on its own, even at the cost of $229. But that's not the only improvement Amazon you get with the Echo Plus – it has a couple of neat extra tricks.
The first is rather prosaic: a 3.5mm audio jack output, which allows you, at a pinch, to improve the sound further by hooking it up to your big sound system. Handy, potentially, if you wanted to use the Echo Plus to power the soundtrack to your next house party we suppose but if you're planning on having it set up this way permanently, you might as well opt for the Echo Dot.
If you do, though, you're going to be missing out on the Ace up the Echo Plus' sleeve: built-in smart home connectivity. The Echo Plus is Amazon's attempt at unifying the rather fragmented smart home market. It has a Zigbee radio chip inside and this allows the speaker to talk directly to compatible devices such as Philips Hue and Ikea Tradfri lightbulbs, bypassing the need for the dedicated hardware hubs and software that these types of product usually need to run successfully.
This isn't intended to replace Alexa's Skills, which do essentially the same job but are developed by the manufacturers themselves. Those remain in place and you can choose to keep using them if you want. Instead, it's intended to simplify things by placing control within the Echo speaker itself.
We love the idea, because you're potentially no longer locked in to a single vendor for, say, smart bulbs. Previously, to use different brands in your home, you'd need a separate hardware hubs and apps. What the Echo Plus promises is to integrate them by allowing you to control them via the Alexa app's new Routines and Smart Home Groups feature, which lets you group various actions and devices together under single voice commands.
Brilliant! But wait, there's a problem – isn't there always? Although the core functionality works well, there are currently some significant compromises.
First, setup can be quite a rigmarole. Yes, you can put the speaker into discovery mode by saying "Alexa, discover my devices" and this works well, but only if you reset the devices you want to control first and put them in pairing mode – which can be a bit of pain if you have, say, have three different types of smart lightbulbs.
Second, Alexa doesn't yet work with every product – only bulbs and plugs – and even they can have some compromises. Paired with the Echo Plus, none of our bulbs retained their colour temperature change capabilities. It wasn't even possible to change the colour temperature of a Philips Light Strip. And, if you use geofencing to trigger smart home actions, you'll lose those facilities, too.
Moreover, if you have any Z-Wave based products in your house, be aware that these won't work at all with the Echo Plus since it's only directly compatible with Zigbee kit.
The good news is that Amazon has, thus far, had a pretty good record at steadily improving what Alexa and the Echo products are capable of, so the issues (aside from the lack of Z-Wave support) may well be ironed out in time. Right now, though, as a piece of smart home hub hardware, the Echo Plus is limited.
Bottom line
The Amazon Echo Plus is, quite simply, worth buying for the improved sound quality alone. It's vastly better than the original, and although it does lag a little behind the best Bluetooth speakers at this price, it's more than adequate as a kitchen or study speaker.
Plus, of course, it does everything every other Echo speaker is capable of, including being able to act as a regular Bluetooth speaker and Spotify Connect target. All of which is nice.
If you were considering buying the Echo Plus purely for its smart home integration, however, we'd counsel you to hold fire. With limited features at the time of writing and compatibility only with plug units and bulbs, it's a long way off yet being the smart home solution we're all searching for.
These reviews are based on articles on the Amazon Echo 2 and the Amazon Echo Plus that originally appeared at alphr.com.
Verdict
If you can get past the creepiness of having a device listening to your every move, the $149 Amazon Echo 2 is the best-value smart speaker available. If want better sound quality, however, the bigger Amazon Echo Plus is worth the extra $80.
Specs
$149 AUD for Echo 2; $229 for Echo Plus
Amazon Echo 2: 148 x 88 x 88 mm; 2.5in woofer, 0.6in tweeter. Echo Plus: 235 x 84 x 84 mm; 2.5in woofer, 0.8in tweeter, built-in smart home hub with support for Zigbee devices. Both: 7-microphone array; dual-band 802.11n Wi-Fi with support for streaming music; Bluetooth connectivity with A2DP and AVRCP support; 3.5mm line-out; Alexa app supports Android, Fire OS and iOS.