With its 5.7in screen, digital radio and stylus, LG's Stylus DAB+ is a budget smartphone to take note of.
Samsung's Galaxy Note was the first the bring back the stylus for writing notes on a big-screen smartphone. But if you don't want to pay for a premium phone, LG has released an appealing alternative with its 5.7-inch Stylus DAB+.
Priced at $449, the LG Stylus is less than half the price of the Galaxy Note 5. That makes it more feasible to buy outright and enjoy the flexibility of a BYO phone plan – but it's also significantly cheaper on a plan. Prices start at $40 per month for a 1GB plan (from Optus) – $25 less than the equivalent Note 5 plan.
The Stylus' other distinguishing feature is a DAB+ digital radio, but at this price something has to give, and in this case it's the display and internal components. Powered by a quad-core 1.2GHz Qualcomm Snapdragon 410 processor, it's no faster than your typical budget handset, while its 1280 x 720-pixel resolution display pales in comparison to the 2,560 x 1,440 screen of its Samsung rival.
Display
Having said that, when the Stylus still has a respectable pixel density of 258ppi, you begin to wonder whether sky-high resolutions are all that necessary. The Stylus looks perfectly sharp at a normal viewing distance, and it's only when you really get up close that you can make out a few jagged edges around text and app icons.
The screen performed pretty well in our tests too, though its range of sRGB colours could be better. Red and green were rather poorly reproduced, resulting in colours appearing to be quite 'flat' overall.
However, the screen's contrast and black level were very impressive. The latter means black looks deep and inky even on high brightness levels, and images have plenty of detail on show. The display exhibited a high maximum brightness, which means it's readable in most outdoor conditions as well. There's even a blue light filter to reduce the levels of such light, which may help you if using your device late at night.
Stylus
Then, of course, there's the Stylus' titular pen. This 107mm-long wand is incredibly slim, but its semi-soft rounded nib is great for jotting stuff down quickly. It doesn't have any kind of spring-loaded docking mechanism, forcing you instead to pry it out of its slot with your nail, but this isn't too much of a chore and the fact it's located on top of the phone means it shouldn't fall out accidentally if you forget to push it back in correctly.
Once the stylus has been removed, the phone automatically launches LG's Pen Pop overlay to give you quick access to apps like Pop Memo, QuickMemo+, Capture+ and Pop Scanner. The first two are basic note-taking apps, allowing you to scribble down quick reminders while Capture+ captures an image of what's currently onscreen and lets you annotate it.
Pop Scanner doesn't really require the stylus at all, as this has been primarily designed to straighten images of things like presentations you've taken at an angle. Opening the app will automatically launch the camera, for example, and it will then detect what needs to be straightened once you've taken a photo.
Admittedly, using the stylus to alter the cropped image is a lot easier than using your fingers. You can also add another app to the Pen Pop shortcut list, but it's a shame you can't customise it with more apps, or switch out LG's pre-defined lineup for stylus-friendly apps you use more regularly.
Performance
The main difference between the LG Stylus and the Note 5 is its speed. With just a quad-core 1.2GHz Qualcomm Snapdragon 410 processor at its disposal, the Stylus can feel slow and jerky at times. We didn't notice it too much when using the stylus, but web browsing could be a bit stop-start.
That was reflected in our benchmark tests: the Stylus achieved one of the lowest web browsing scores we've seen from this type of processor. Thankfully, its general performance scores were significantly better – well behind the Note 5, of course, but just a fraction behind one of our favourite budget phones, Motorola's third generation Moto G. The Stylus struggled with complex 3D games, but it was able to play the likes of Hearthstone without too much trouble.
If you're planning on installing a lot of apps, you'll probably need to make use of the Stylus' microSD card slot, as only 10.3GB of its default 16GB storage is available to the user. This is found underneath the rear back panel next to its removable battery.
Speaking of which, the Stylus' 3,000mAh battery should provide plenty of power for heavy media users. It lasted 11 hours 30 minutes in our battery life test – only an hour less than the Note 5.
Design
The LG Stylus is surprisingly light for a 5.7-inch phone, weighing just 145g and measuring a rather svelte 7.4mm thick. It's still quite a handful to hold, particularly with its rather slippery finish, but otherwise, the plastic chassis is fairly inoffensive.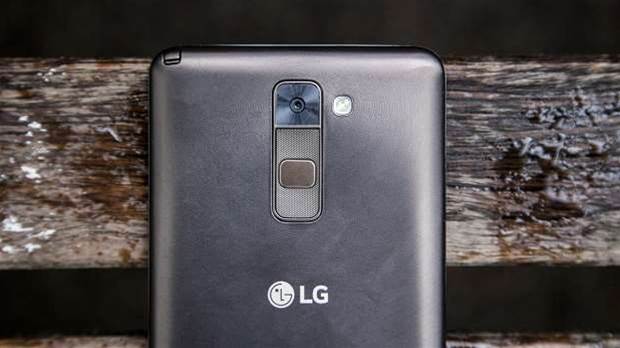 As with almost every other LG phone, with the exception of the LG G5, the Stylus has its power and volume buttons on the back of the phone. This can take some getting used to, but it didn't worry us.
Camera
Sitting just above the rear buttons is the Stylus' 13-megapixel camera. This isn't an advanced camera by modern smartphone standards, with only basic auto, HDR and panorama modes to play with, but it can still take pretty decent shots whether you're shooting indoors or outside.
Even on a grey, rainy day, its photos looked colourful, bright and natural, with a very high level of detail on show. There was a little grain in places, but we didn't find this overly problematic. Enabling HDR mode improves things further, as this not only gave colours more punch, but it also brightened the whole image, introducing more contrast to really make the image pop.
Indoor performance was surprisingly good, too. There was a noticeable amount of noise and speckling on our white background when our studio lights were turned off, but otherwise, colours were rich and vivid. Object outlines were a bit soft and over-processed in places, but its warm flash quickly sorted this out.
DAB+ radio
The Stylus is the first phone to include a DAB+ radio, which means you'll be able to listen regular radio stations in digital sound quality, along with an additional 30 digital stations.
Unlike Spotify and other streaming services, digital radio doesn't consume mobile data, although it's currently only available in Sydney, Melbourne, Brisbane, Adelaide and Perth metropolitan areas. As with the FM radios on other phones, it only works when you've got a pair of headphones (with the antenna) attached.
Conclusion
Unless you're prepared to buy the likes the OnePlus 2 or Moto X Play from a grey-market website, Australians are exactly spoilt for choice when it comes to budget big-screen smartphones.
Fortunately, the LG Stylus DAB+ is not only readily available but it's also good value. Yes, it lacks the performance and display resolution of higher-end phones, but its compromises are not unreasonable given the price.
The digital radio is a nice addition, while the stylus and supporting note-taking apps could be very useful to many users.
This article originally appeared at alphr.com.
Verdict
It lacks the performance and display resolution of higher-end phones, but the LG Stylus DAB+ offers plenty for its $449 price – including a nice 5.7-inch screen, stylus and supporting note-taking apps, and a digital radio.
Specs
$449 AUD at the time of writing
5.7in screen with 1280 x 720-pixel resolution (258ppi), 16GB storage, microSD slot, 1.2GHz quad-core Qualcomm Snapdragon 410 processor, 2GB RAM, 3000mAh removable battery, 145g weight, Android 6.0.