DJI's folding drone is convenient to store and transport, and as we found in this review, there's no compromise to its flying and photography capability.
Okay, so $1,699 might be a bit pricey for the DJI Mavic Pro to be considered part of our gift guide series, but for a good-quality drone, it's actually pretty reasonable. And you may actually be able to use it for your business.
As we have previously reported, drones are being used for real estate advertising, for difficult or dangerous building inspections, to assess the health of crops on farms, for marketing landscapers and wineries, and for other businesses where aerial photos and video can be useful.
The trouble is flying high-end drones often requires a steep learning curve, but that's not the case with the DJI Mavic Pro. It's as suitable for beginners as it is for professional drone pilots who make a living selling their skills on the commercial market.
It's also a folding drone, which makes more convenient to store and transport than fixed-wing drones. And following the global recall of GoPro's folding Karma Drone (which, in a few cases, lost power and fell out of the sky), the Mavic Pro currently has this segment of the market wrapped up.
In fact, the Mavic Pro is hands down the most responsive, stable and powerful drone we've ever flown. Perhaps it isn't as fun to fly as the fixed-wing Parrot Disco, but it's enjoyable in its own way. And almost all the satisfaction derives from its reliability. The fact that you don't have to worry about it careering into the side of a building under its own steam, or dropping out of the sky onto some unsuspecting dog-walker's head. The fact that you can simply focus on flying it rather than keeping it in the sky.
Design
You might be surprised to discover, then, exactly how small the Mavic Pro actually is. When we first received the drone, it turned up in one of those standard-issue FedEx flat boxes, and we were somewhat taken aback to discover what was squeezed inside.
With its rotor arms folded against its matte-grey fuselage, and the blades tucked neatly away like some robotic bird of prey sheltering against the storm, the Mavic Pro is incredibly compact. You can pick it up in one hand and stow it in a small rucksack. Then, when it comes time to fly, simply unfurl the legs, remove the transparent cowl and support protecting the camera and fragile three-axis gimbal.
Assuming you remembered to charge both the controller and drone, you're now good to go.
The control pad is even neater than the drone itself. This can be used to control the Mavic Pro on its own via twin analogue sticks, but you'll probably want to dock your smartphone for better ease of use and a bird's eye view through the drone's 4K nose camera. To do this, simply unfold a pair of legs from the controller's underside, slot your smartphone between them and plug it in.
The whole system is beautifully elegant, and demonstrates such delightful attention to detail that it's hard to think of a better way of doing it.
Flying the DJI Mavic Pro
Forget the Pro moniker. Yes, it's powerful and, true, it's as packed to the gunwales with tech as any drone on the market. However, this has to be the easiest drone we've ever flown.
Once you've performed the compass calibration "Haka" – spinning the drone around horizontally and vertically to make sure it flies in a straight line – fired up the app and switched everything on, all you need do is tap the Take-off button in the app. The drone leaps into the air then sits there, steady as a rock. It won't drift or move or wobble until you touch the sticks, and it's amazingly responsive when you do, reacting in an instant to the slightest nudge.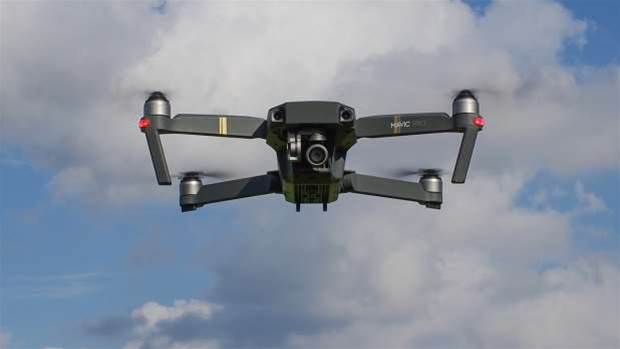 There's a beginner mode that limits speed, altitude and how far you can fly, which helps with peace of mind, and it's also good to know that the sensitivity of the sticks is dialled back. The Mavic Pro benefits from downward- and forward-facing cameras and ultrasonic sensors to help it avoid crashing into obstacles.
Features
Once you're au fait with the whole flying thing, there's a bewilderment of options and settings to play around with. For daring drone pilots, Sport mode lets you fly at the Mavic Pro's top speed of 65km/h (although you lose obstacle avoidance in this mode). There's a tracking mode that you can use to automatically follow your subject. TapFly lets you fly to points on the map. Gesture mode, which I found neither useful nor reliable, lets you wave at the drone to get its attention and take a picture of you.
There's also a mode in which the drone circles an object, pointing the camera at it the whole time, while Tripod mode dials the controller sensitivity right back to help you capture the smoothest, steadiest footage possible.
Finally, you can tell the drone to hug the ground as it follows you as you walk, climb or ride up the side of a hill. Note, however, that if you want the Mavic Pro to follow you as you descend a ski slope, you're out of luck. Oddly, it won't hug the ground on your way down.
Despite that rather strange omission, and the hit-and-miss nature of the Gesture mode, the DJI Mavic Pro is an incredible power flying camera. Still-image quality is crisp, and video quality is superb and smoothly stabilised. There's up to 27 minutes of flight time per charge from the 3,780mAh rechargeable battery.
The range, which DJI is crediting to its new OcuSync technology, is an astonishing 7km. You get dual redundant sensors in case one goes hinky mid-flight, and it's also possible to fly, via Wi-Fi, just with your phone if the battery dies on the controller unit.
Just like the DJI Phantom 4, the drone will fly back home automatically if it loses contact with the controller or is about to run out of battery. Even more cleverly, by matching images captured as it takes off with images it takes as it comes into land, it aims to land in exactly the same spot it took off from.
Conclusion
The one downside to the DJI Mavic Pro is that, unlike the currently unavailable GoPro Karma, you're not getting a professional-level action camera into the bargain. But the image quality is good enough, and the rest of the package is so convincingly executed that it's hard not to give it a glowing recommendation.
Sure there are cheaper drones available, but you'd be taking a big step down in flying capability, image quality, usability and convenience.
The fact that Mavic Pro is cheaper than the Phantom 4 and, in our view, superior and far more convenient, means it's our new favourite drone. If you're serious about capturing top-quality video with the minimum of fuss, it's the very best you can buy.
The Mavic Pro is due for release in December but the likes of JB Hi-Fi are taking pre-orders now.
This article originally appeared at alphr.com.
Verdict
The DJI Mavic Pro folding drone is not only convenient to use, but it also offers an unbelievably good flying experience and superb 4K image and video quality, all for a reasonable price.
Specs
$1699 AUD
4K Ultra HD video and 12MP camera with Gimbal stabilisation, up to 27 minutes flight time, up to 7km of transmission range, 65km/h top speed. Folded dimensions and weight: 83 x 83 x 198mm, 743g.