Invoice2go allows you to send invoices using SMS, WhatsApp, Facebook Messenger and other mobile apps.
Sending invoices via email is a standard feature of accounting and invoicing applications. But email has become a secondary or even tertiary communications channel for a growing number of people.
SMS and messaging services such as WhatsApp and Facebook Messenger are more effective ways of reaching those individuals, so Invoice2go now provides the option of sending invoices that way.
The company suggests this can lead to quicker payments. That makes sense, because some people seem to check their email as infrequently as once or twice a week, although they respond almost instantly to the 'ping' of a new message.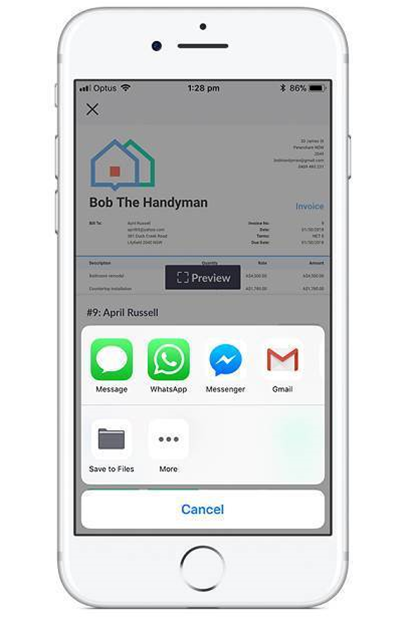 All Invoice2go users need to do is preview an invoice in the normal way, and then tap the new message button instead of its familiar email counterpart. A row of buttons showing the supported services is then displayed – initially WhatsApp, Facebook Messenger and iOS's iMessage/Message or Android's Messages.
This sends a message to the customer in the form "Hi, your invoice can be viewed here" followed by a link to the invoice on the Invoice2go site. Assuming the customer's mobile number is stored on the device, all that's left is to tap the send button.
When the customer receives the message, they tap on the preview image of the invoice to be taken to Invoice2go's site where they can view and pay their bill.
See 'Eight affordable ways to make invoicing easier' for our reviews of Invoice2go and similar tools.