There's more to the Sony Xperia XZ Premium than its 4K screen. We give our first impressions.
Sony made a bold statement at this year's Mobile World Congress with its latest flagship smartphone, the Sony Xperia XZ Premium. The last time it released a phone with a 4K screen (the Sony Xperia Z5 Premium) it was mocked for only being able to display 4K some of the time (although that problem has since been rectified), and the rest of the time proving such a heavy drain on the battery that the phone fell short of ten hours in our regular video-playback battery test.
This time, though, Sony insists things are different. Well, we'll see about that when we get one for longer-term testing, but our hands-on first impressions and its specifications are promising. In particular, the brand-spanking new Qualcomm Snapdragon 835 processor will hopefully help keep a lid on the 4K screen's power draw, while simultaneously boosting all-round performance.
Key features
Design-wise, there's not much to see here, although that's not necessarily a bad thing. Sony's design continues to evolve slowly rather than leap forward every year and the XZ Premium follows a familiar pattern, with a squarish profile, flat front and rear, and sharp corners.
There's Gorilla Glass on the front and rear with an oleophoic coating to help you keep it clean, plus IP68 dust and water resistance bringing it into line with the Samsung Galaxy S7 and S7 Edge, and the phone comes in "Lumius Chrome" and "Deepsea Black" colours. It looks very nice indeed and is 0.2mm slimmer than the previous Premium model, which is nice, but that's not a difference you're going to notice by comparing the two phones side by side.
The key new features are the Qualcomm Snapdragon 835 processor, an octa-core chip comprising twin quad-core CPUs running at 2.45GHz and 1.9GHz, and a new 19-megapixel camera. The latter comes with a bunch of new features, including 920fps slow-motion capture (it only grabs 0.82-second long clips, though) and a pre-capture facility that's able to detect motion in the frame and automatically begin to shoot images, so if you hit the shutter button early or late you don't miss out on that special moment.
It's also worth noting, and it's something Sony certainly seems pretty keen to push, that one of the key advances the Xperia XZ's Snapdragon 835 chip will bring to the table is Gigabit 4G/LTE. Yep, downloads of up to 1Gbit/sec will be possible with this phone, although you'll need a compatible network and the right contract to make the most of it, of course.
First impressions and early verdict
Inevitably, perhaps, the XZ Premium will attract praise and scepticism in equal measure, probably most for its 4K screen, which, frankly, is still ridiculous. But we're willing to give it a second chance. In particular, its high dynamic range (HDR) capability means that it beams out with incredible brightness while maintaining a decent black level. That should ensure everything from browsing your photos to watching Netflix on the train home is a truly awe-inspiring experience.
On top of that, the handset maintains all the hallmarks of a Sony flagship smartphone. It looks lovely and feels great in the hand, and we're hoping that the Snapdragon 835 processor will bring not only faster performance but also great efficiency. If it can do that, perhaps it will convince us that 4K is the way to go.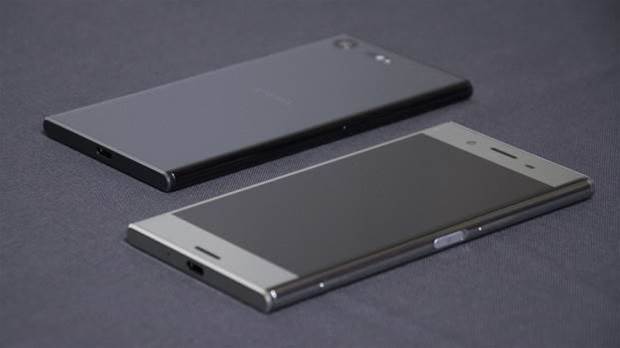 Sony didn't provide pricing details, saying only the XZ Premium was due for release in the second quarter of 2017 – hopefully that includes Australia. Keep an eye out for our full review.
Specifications and release date
5.5in, 4K HDR display
2.45GHz octa-core Qualcomm Snapdragon 835 processor
4GB RAM
64GB storage, with microSD slot for expansion
3,230mAh lithium-ion battery.