Following nine months of public testing, Windows 10 is ready for prime time. Has Microsoft's experiment paid off?
If ever an operating system has grown up in public, it's Windows 10. Since the first preview release appeared in October 2014, its every tweak and transformation has been pored over by hordes of volunteer testers – almost five million of them - feeding back usage reports and feature requests.
Now, however, Windows 10 is finally with us. Retailers are able to sell PCs with Windows 10 preinstalled, and users of Windows 7 and 8 who have claimed their upgrades (more on this later) will be able to move up to the final release of the software.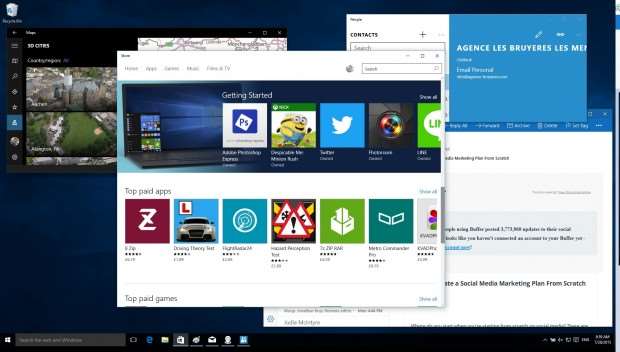 Except that in the case of Windows 10, there's no such thing as a final release. The new version of Windows brings a new philosophy, which Microsoft's Terry Myserson called "Windows as a service". Just as the Insider builds have progressively introduced new features and interface elements, the public release of Windows 10 will continue to develop over time. There may not ever be a Windows 11: major features that would previously have been saved up for a major release will now trickle out through Windows Update as they become ready.
This makes Windows 10 very much a moving target. It might work one way when you install it, but turn into something quite different in a year's time. For businesses, Microsoft is providing options to keep things stable, but for consumers running the Home edition of Windows 10, Microsoft has taken the bold decision to disallow the skipping or deferring of updates. Like it or not, upgrading means taking an open-ended leap of faith.
Windows 10 review: Who gets it?
In previous years, most of us only moved to new editions of Windows when we bought a new PC. With Windows 10, Microsoft aims to change that. If you're currently running a non-enterprise edition of Windows 7 or 8, you may already have seen a pop-up notification on your desktop inviting you to "reserve" your upgrade to Windows 10.
For once, there's no catch. As Microsoft moves to "Windows as a service", it no longer wants to be held back by the inertia of huge numbers of customers using old versions of Windows. So for the first year (at least) of Windows 10's availability, Windows 7 and 8 users are entitled to a free in-place upgrade.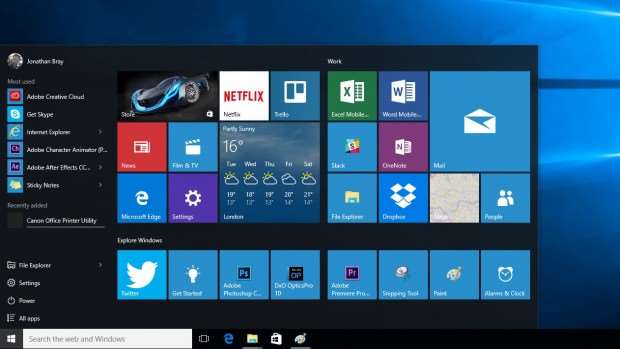 It's worth noting that the upgrade requires you to be using a fully up-to-date release of Windows 7 SP1 or Windows 8.1, so if you're not getting the pop-up, try running Windows Update. Those using compact tablets may also find they don't have enough storage for an in-place upgrade: Microsoft says it's working on a solution, which may involve a USB flash drive.
The upgrade process is almost entirely automatic, and keeps your existing applications, so it's an easy offer to accept. If you're running a professional edition of Windows 7 or 8 you'll be moved up to Windows 10 Pro, otherwise you'll receive the Home edition.
Why Windows 10?
Like previous versions of Windows, Windows 10 is available in both 32-bit and 64-bit variants, and in Home and Pro editions, alongside packages for education, enterprise and industry.
But Windows 10 is about more than a single piece of software. It represents the transformation of Microsoft's business, from a PC software company with a smartphone division into a grand unified platform, spanning from mobile devices to servers. Soon it will also take in consumer devices such as wearables and the Xbox One, as well as interesting one-offs such as the Surface Hub – a whiteboard-sized conferencing system and display – and the HoloLens, Microsoft's forthcoming augmented-reality headset.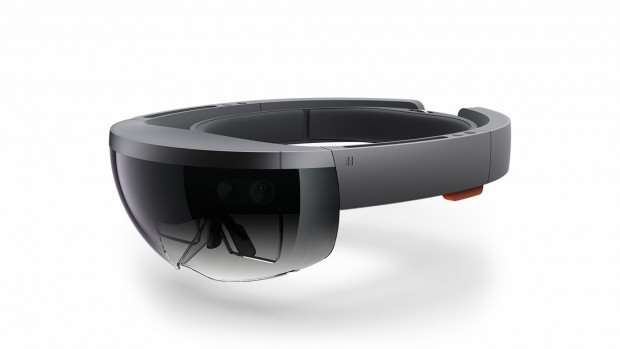 What are Universal apps?
It's all underpinned by the idea of Universal apps: touch-friendly, mobile-style applications that will run on a Windows 10 device. Fundamentally, it's an evolution of the Windows 8 app concept, but we've come a long way since then.
The old Metro app platform (latterly renamed Modern) was clunky and ill-suited to desktop and laptop PCs. It made more sense on tablets, but here Microsoft was pushing Windows RT, and consumers were reluctant to buy in. They were wise to stay away: Windows RT has proved an evolutionary dead end. Windows RT devices are incapable of being upgraded to Windows 10, although Microsoft says that future releases of RT will see at least some of Windows 10's features being brought to the platform.
Windows Phone, meanwhile, despite sharing design cues with Metro, was a different platform with a separate app framework. No wonder the Windows Store was initially a bomb, setting back Microsoft's dreams of emulating Apple's success in the emerging tablet-friendly world.
Universal apps make the idea work at last. In Windows 10, it's possible to open a Universal app on your desktop PC, then grab an Atom-powered Windows 10 tablet and carry on working with the selfsame app – in full-screen mode with touch controls. It will even be possible to run the same software on your Lumia phone once the Windows 10 Mobile update arrives. Just note that won't be until later this year, or perhaps even early 2016.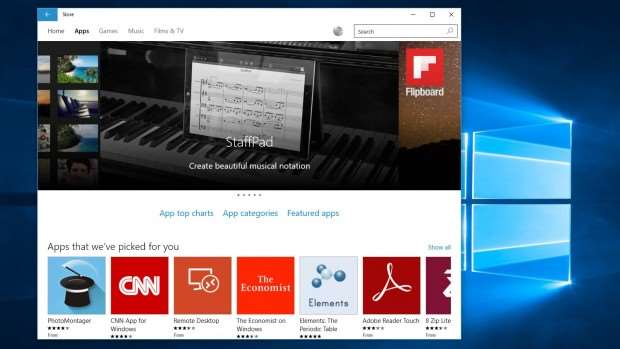 Ready to rumble
We're not just talking about games here. Microsoft has already unveiled Universal ports of Office, and it's making a strong case for businesses to adopt the platform for internal projects. It has unveiled new SDKs allowing established developers to import Android and iOS apps into Visual Studio and adapt them to the Universal app framework.
Updated design guidelines mean Universal apps should be more attractive and usable than their forebears. Where Windows 8 emphasised big text and white space, Windows 10 allows apps to be laid out more like web pages, with a greater use of links and scroll bars, and no more need for "edge-swipes". And the fact that Universal apps can be run both in desktop and fullscreen modes, depending on your device and preference, should also encourage faster take-up.
Another form of Universal app will be the hosted web app. Like Chrome apps, these are fundamentally HTML 5 applications that can be downloaded and stored locally on your device, so you can use them whether or not you're connected to the internet.
A developing story
How this plays out in the real world depends on third-party support, of course, which has so far been the Achilles heel of the Windows Store. But the proposition will be far more attractive to developers than it was when the Store launched three years ago.
Microsoft is promising a wide range of payment options for the Windows 10 Store, including the ability to sell recurrent subscriptions to services. Developers can choose whether customers will be allowed to buy an app once and run it on all their devices, or whether separate platforms must be paid for individually.
And, thanks to Microsoft's generous upgrade terms, Windows 10 will be a huge market, with the company aiming for one billion installations by 2017. In short, this time, Microsoft has got the ingredients right.
Windows 10's BIG new features
Windows 10's "new" features are already familiar thanks to the multitude of preview builds. The headline, of course, is the Start menu. Not just a reinstatement of the old Windows 7 orb, this now offers resizable Live Tiles with at-a-glance updates from Modern apps such as News, Mail and Calendar.
To the left of the Live Tiles, the Start menu displays a series of shortcuts to recently used applications, and those most recently added. Click "All Apps" and you'll see an alphabetical list of everything on your system. It's a bit annoying that this is stuck into a single column, while the Live Tiles eat up screen space. Recent documents aren't stored here either – something that could be added in a future release, perhaps.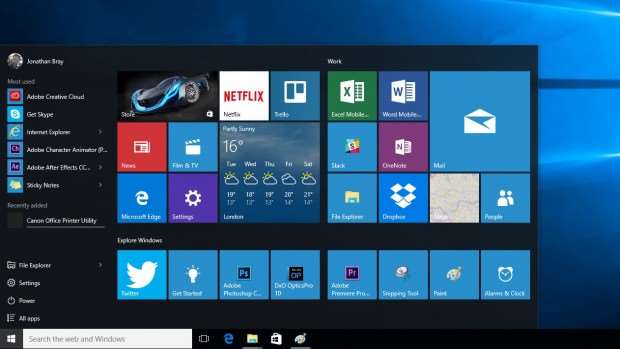 Here's a feature we really like, though: the new Start menu provides an Uninstall link directly on the tile, for both desktop and Modern apps. It's a small but welcome step towards easier housekeeping. Another improvement is the location of the Shutdown and Restart controls. In the original release of Windows 8, these were hidden in a hard-to-find Settings pane, leaving beginners unable to figure out how to turn off or restart their devices. In Windows 8.1, Microsoft wisely moved the power button onto the Start screen; in Windows 10, for desktop users, it sits conspicuously at the bottom of the Start menu.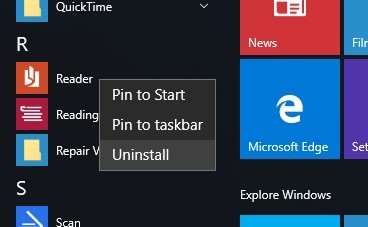 By default, the Start menu is a rather generous size, taking up at least a quarter of a Full HD screen, but you can resize it both horizontally and vertically, and if your tiles don't all fit, you can scroll to view them. On touch hardware, the Start menu opens in a full-screen view reminiscent of the old Windows 8 Start screen.
Cortana
Start typing to search for an application or item and you'll meet the second major innovation in Windows 10. Cortana, the smart personal assistant introduced in Windows Phone, is now the default search agent for Windows 10, and can be invoked from the Windows key or with a three-fingered tap on your touchpad (assuming your touchpad supports multitouch gestures).
The system finds programs and documents as before, but can also respond to other types of request: type in a calculation or a phrase such as "weather Sheffield" and results will pop up directly from your taskbar. It's a clever way of dissuading people from going to Google for simple errands, but not yet smart enough: after a few requests such as "show me bus times" yielded only dumb Bing searches, we found ourselves falling back on the browser.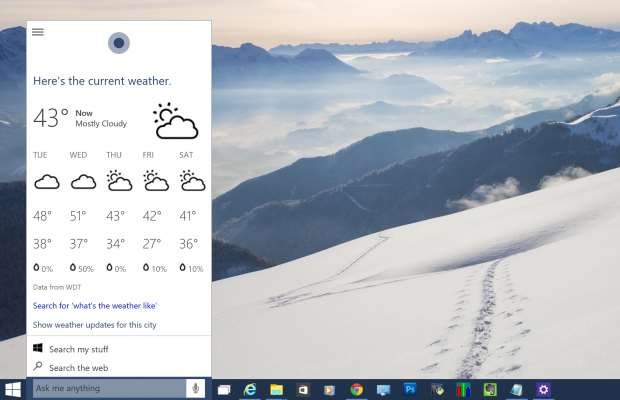 Interestingly, Cortana keeps the speech-recognition capabilities of its original smartphone incarnation. If you choose to enable your device's microphone, you can simply declare "Hey Cortana", followed by your request. As well as carrying out searches, you can perform simple actions such as setting a reminder, checking your calendar or opening applications. It's even possible to send an email using only your voice. That's certainly a plus for tablets that lack a physical keyboard.
Microsoft Edge
The third big feature in Windows 10 is Microsoft's all-new web browser, codenamed Project Spartan and now called Edge. After 20 years of service, Internet Explorer has been deprecated in favour of something much simpler and slicker.
Some might say Edge is too simple, since there's currently no support for plugins (a planned update later in the year should add this). Otherwise, it's responsive and easy to use, and because it's a Universal app there'll be no culture shock if you move between devices.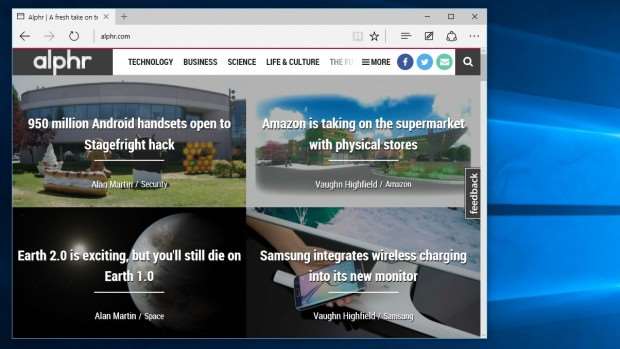 Edge even introduces a few interesting items, including an annotation feature that lets you scribble with a stylus onto a web page, or type into sticky notes, and save or share your markup for future reference – and across Windows 10 devices.
There's Cortana integration too. Visit a restaurant's website and you'll see a Cortana prompt in the address bar: "I've got directions, hours and more." Click and the details appear in a pop-up pane at the side of the window.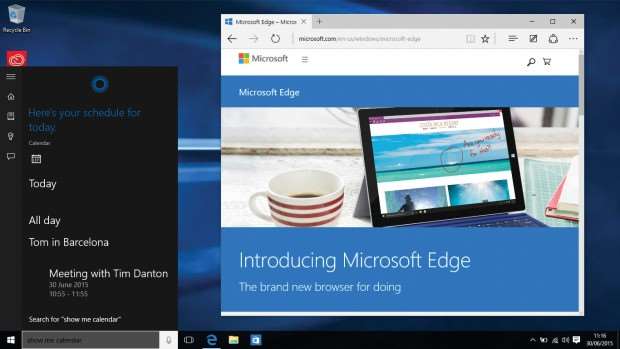 The new browser is now more secure, benefitting from the sandboxing built into the Universal app framework. As a result, it's far less vulnerable to hackers and drive-by downloads than Internet Explorer ever was. So confident is Microsoft in the robustness of its new browser that it's offering a "bug bounty" of up to $15,000 for anyone who manages to expose a security vulnerability.
Other new features: Look and feel
Nobody at Alphr is as keen on the interface revamp that turns all title bars either white or grey – it creates a dull appearance that makes it harder to see at a glance which window is active. That said, there's a whole host of other, smaller updates, that go together to make Windows a better place to be.
For a start, Windows 10's taskbar icons are an improvement. They're more compact than in previous editions of the OS, and open apps are highlighted via an underlining effect, with the active app indicated by a slightly longer line.
Windows Explorer has been renamed File Explorer, and the old Favorites list has been replaced by a new list called Quick Access. This may appear to do the same thing, but it includes self-updating shortcuts to the last few folders you accessed – a real time-saver if you're switching back and forth between folders. To pin a shortcut here permanently, simply click the pin icon next to it.
We're also glad to see the back of the "charms" – a menu of OS and app controls that appeared on Windows 8 when you swiped in from the right-hand side of the screen. In Windows 10 the charms features have been divided up between the notification centre, the Start menu and individual app settings. Microsoft deserves credit for trying something new, but the charms never worked well.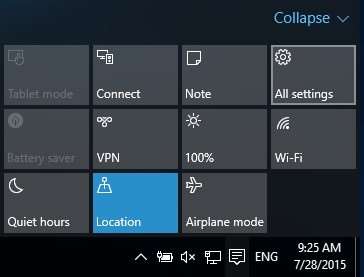 Likewise, the new Action Center is a big improvement. In previous editions of Windows, notifications used to pop up and then vanish. Windows 10 collects them together in one place, for you to review by clicking the icon in the system tray. The panel also offers one-touch shortcuts to let you quickly switch to Tablet mode and access settings such as screen-sharing and brightness.
And it's good to finally see Windows adopting a sensible approach to scaling for multi-monitor setups. Windows 10 lets you set display scaling on a per-screen basis – so you can hook up your compact laptop to a 4K desktop screen, drag windows back and forth between the two, and get the best image quality from both. Sadly, this doesn't mean scaling problems will vanish entirely – that requires software developers to ensure their applications scale properly - but it's a step in the right direction.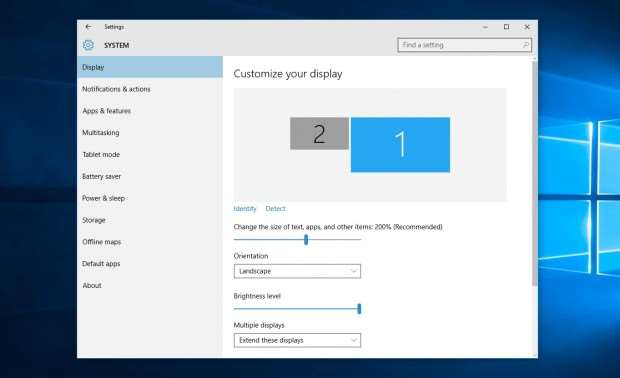 Snap to it
One simple but very likeable new feature is Snap Assist. It's an upgrade to the old Aero Snap feature in Windows 7, which let you dock windows to the sides of the screen by dragging or pressing the Windows key plus the left or right cursor. In Windows 10, when you snap a window into half-screen view, you're presented with thumbnails of other open windows: a click expands one to fill the other half of the screen.
Task View takes Windows 8's old app switcher mode to another level. Launched via an unobtrusive icon next to the search box on the taskbar (or the Windows+Tab keystroke), this displays thumbnail images of your open apps in a tiled overview, similar to OS X's Expose feature: you can click on a thumbnailed window to open them, or use the cursor keys and Enter if you like.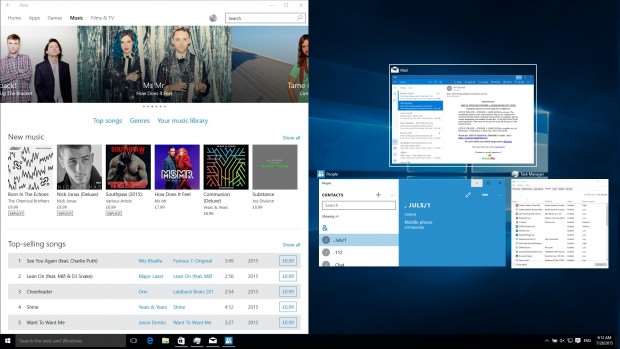 Task View is also where Windows 10's new multiple desktop features reside. Because, finally, Windows 10 lets you set up multiple desktops, each with its own applications and windows. Perfect for those who like to set up specific workspaces for different projects.
You can switch desktop in the Task View, or by holding down Windows+Ctrl and pressing the left or right cursor key. Applications can also be dragged from one desktop to another in the Task View.
Setup simplicity
Windows 10 introduces a shiny new Settings app with a cleaner hierarchical interface that helps you discover and access configuration options. It looks a bit like Windows 8's PC Settings app, but it offers many more controls, so you don't need to keep switching back to the old Control Panel.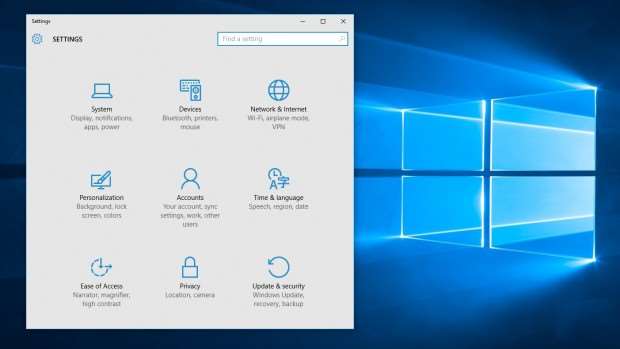 The Network and Sharing Center, introduced in Windows Vista, has always been a bit of a mess. Windows 10 introduces a new pop-up view for wireless networks, making it easier to see and connect to your chosen network. The pop-up also offers an accompanying shortcut to the network-configuration page in the streamlined Settings app.
Windows Hello says goodbye to passwords
Windows 10 also includes a new technology called Windows Hello that can identify you biometrically, say using a fingerprint reader or iris scanner. It will even work with Intel's RealSense camera technology to make facial recognition more secure. We haven't had the opportunity to test this yet, but will update this review when we have hardware which can make the most of the feature.
The rest
Windows 10 also comes with a raft of smaller new features that are worth knowing about. Here's a list of our favourites:
New sounds and sound control: A new set of system sounds adds to Windows 10's distinct identity, and it's supported by a new finger-friendly volume widget that drags left and right rather than up and down.

Updated command prompt: The command prompt harks back to MS-DOS days, but in Windows 10 it gets a modest update: at last you can freely resize command prompt windows, and select, copy and paste text just as you can in regular Windows applications. You can also adjust the opacity of the window, if you don't enjoy staring at a big black box.

OneDrive selective sync: In Windows 8, the OneDrive Explorer folder displayed all your files that had been uploaded to Microsoft's cloud service – but this didn't necessarily mean they were all present on your computer. To save space, Microsoft implemented a system whereby remote files could be stored offline and downloaded as needed. Now it's concluded that this behaviour isn't clear enough to keep users happy, so in Windows 10 it's moved to a simpler model that only shows files that are actually on your hard disk.

Calculator: It's a small change, but a symbolic one: the familiar Windows Calculator tool, barely changed since Windows 95, has been replaced in Windows 10 with a new Modern calculator app. All the familiar options are still available (including unit conversions and Scientific and Programmer modes), but it's a clear illustration of how Modern apps can now fit happily into a desktop workflow.

Print to PDF: Windows has long supported the XML Paper Specification (XPS) – a kind of alternative to PDF – and if you don't have a physical printer connected, then the Print function in Windows 7 and 8 will default to generating an XPS document. The XPS format has never gained widespread adoption, though, and in Windows 10 the default driver is replaced with a new Print to PDF function.

Windows Spotlight: A new feature called Spotlight allows Windows to show live content on the lockscreen while you're away from your PC. It's been suggested that Microsoft might use this to highlight features of the operating system; others have noted that it could be used for advertising.

Automatically upload photos and videos to OneDrive: Windows 10 includes new OneDrive AutoPlay options: when you mount an SD card or attach a smartphone, the operating system can automatically import your pictures and sync them up to your OneDrive account. A similar auto-upload feature was already available in the OneDrive smartphone client, but the idea hasn't previously been supported on the desktop.

Continuum: Continuum is a fancy name for a simple concept: Windows 10 devices can switch automatically into Tablet mode and back based on what hardware is connected. It's aimed particularly at two-in-one devices, which you might want to use as a regular laptop or as a tablet.

New three-finger gestures: For touchpad users, Windows 10 introduces a range of new three-finger swipe gestures. Swiping upwards with three fingers from the desktop brings up the Task View; swiping to the left or right with three fingers lets you switch between virtual desktops. If you've used OS X's Exposé and Spaces features then – not to put too fine a point on it, just in case any lawyers are reading – you'll be right at home.

Codecs galore: Audiophiles and video enthusiasts can celebrate: Windows 10 includes native support for FLAC lossless audio and Matroska video, so there's no need to mess around with third-party codecs. FLAC was released in 2001, and the Matroska project was started in 2002, so it's a case of better late than never.
The built-in apps
Along with Cortana and the Start menu, Windows 10's built-in apps have also seen a fairly major update, none more significantly than the OS's email application. Windows 8.1's ugly Mail app has been retired and replaced by the neater, more stylish and easier-to-use Mail & Calendar.
Make no mistake, this is still a pretty basic email client: It has no features for setting up rules, for example. However, there's far less wasted space and if feels like a much more grown up app than before.
The new mail client incorporates such features as touchpad and touchscreen gesture support, with emails able to be archived, flagged or deleted with a swipe of the finger. It's now possible to embed tables and bulleted lists within mails as well.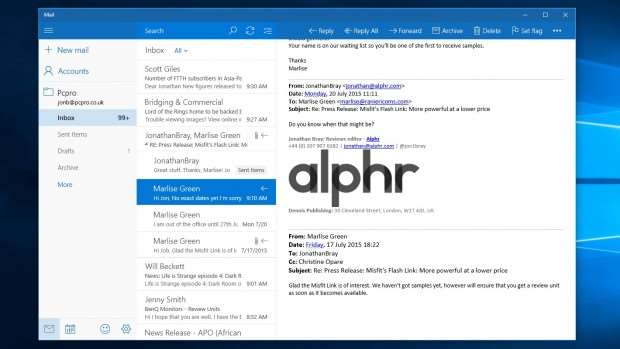 The Calendar app is now incorporated into the Mail app, and has been significantly revised and enhanced for Windows 10. As with its desktop counterpart - Outlook - the Calendar can be accessed by clicking a small icon in the Mail view in the bottom-left corner, and it has a desktop-sized feature set as well.
We're particularly pleased that the new calendar app can create and track events across multiple Outlook.com, Exchange, Gmail and even iCloud accounts, making it a doddle to keep on top of a busy schedule.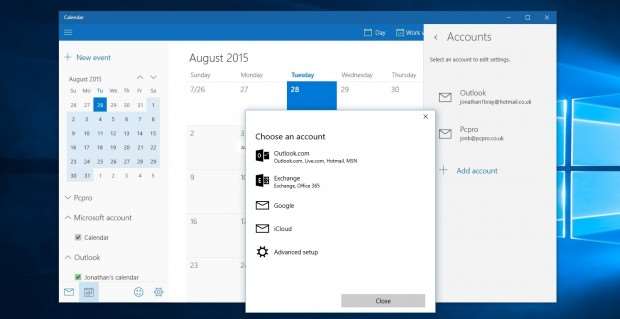 Photos
Photos was the first Universal app released by Microsoft, and it's undergone a steady evolution since it first appeared. Since it's a Universal app, it's necessarily simple in appearance, but it looks pretty good on both desktop and tablet.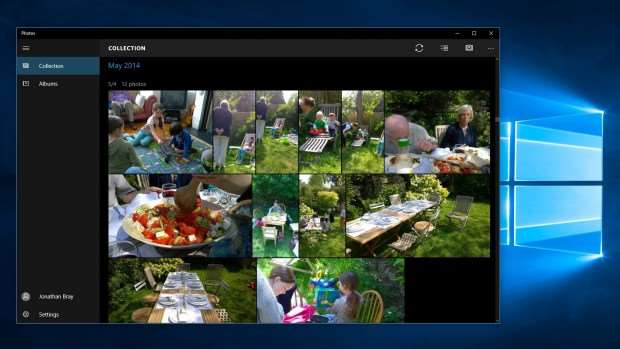 It's there to amalgamate the photos stored on your laptop, those loose in your OneDrive, and images saved online automatically via the Camera Roll on your Windows Phone devices. Fans of the old Windows 8 app will be disappointed that there's no there's no integration with third-party devices such as Flickr and Google Photos, but if you shoot a bunch of photographs around the same time, Photos will automatically put together albums of your "best shots" for you.
There's also a selection sharing and basic photo-editing tools - a one-click enhance option, plus various tuning, filter and special effects tools - but there's nothing here to rival iPhoto on OS X.
People
At launch, the Windows 10 People app seems like a step backwards from the Windows 8 version, or even the version running under Windows 8.1. Out go the social features introduced there - the What's New view with its status updates - and what we're left with is a fairly straightforward contacts manager. Don't worry, though. There are big changes yet to come to this app, and others, in Windows 10.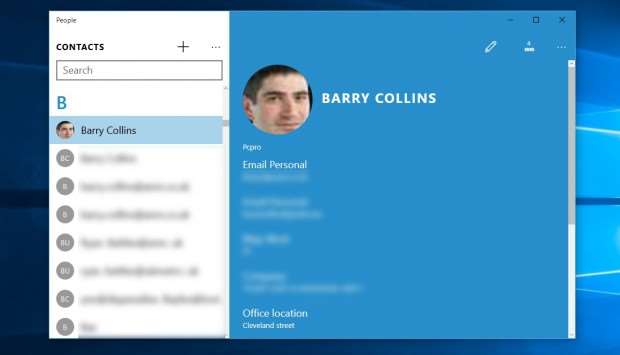 In short, Microsoft has more ambitious plans for contacts management than it was able to implement in time for the launch. It all goes back to when Microsoft bought Skype in 2011. After four years, the company is still in the process of integrating Skype's voice, video calling and messaging platform into Office and Windows; you'll have to wait for the ability to start Skype calls directly from the People app, for example.
We expect more advanced features to roll out in the coming months, but for now the only way to use Skype within Windows is to download and install the desktop app from skype.com.
Groove Music, Film & TV
Windows 10 brings major changes in the way music and video are handled as well. Not only have the Xbox Video and Xbox Music apps been superseded by the new Film & TV and Groove Music apps, but the desktop Windows Media Player has been all but abandoned, while Windows Media Center is no longer supported at all.
Although it might sound as if Windows 10 is no longer a good platform for home entertainment, that's not the case. You can still view photos, watch video and listen to music within Windows 10, and and that includes media stored on your hard disk as well as that that streamed from the internet. You may, however, have to change the way you do it.
The new Film & TV app has two roles. First, it gathers together any content you've purchased or rented on the Windows Store (which runs across Windows PCs, Windows Phone and Xbox). Second, it's a video player for any other video content you have stored on your network, laptop or tablet.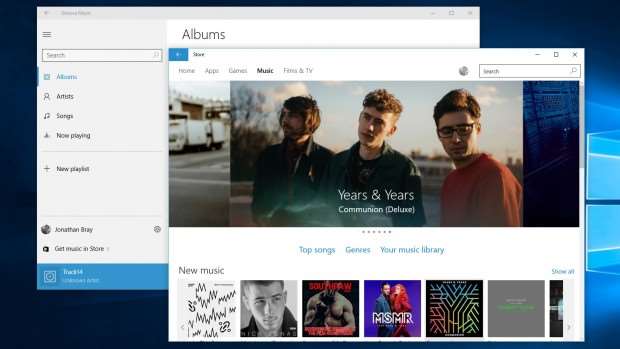 For listening, meanwhile, there's the new Groove Music app, which runs along similar lines. It's a streamlined player focused on creating playlists and playing locally stored music, and also plays host to Microsoft's Music Pass streaming service.
Maps
The redesigned Maps app doesn't do anything dramatically different to the old Maps app on Windows 8.1. It looks different, incorporating a similar look and feel to the rest of the built-in apps, but it still has Bing Maps at its core.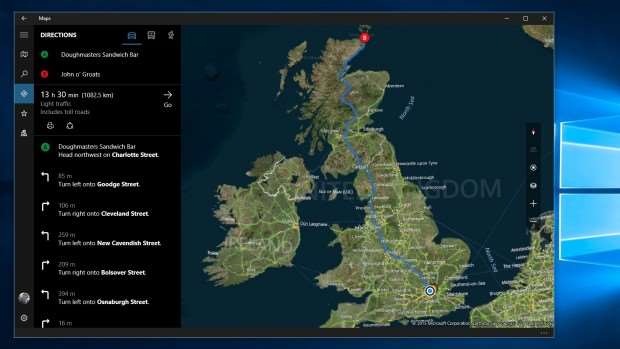 Few people outside Microsoft would suggest this is better than using Google Maps, but the Maps app does have one crucial advantage: it's closely integrated with Windows 10's Location features, with the Edge web browser and with Cortana.
The app lets you view the map in 3D and top-down 2D views, gives access to walking, public transport and driving directions. Because it's a Universal app, you can download maps for offline browsing, and even get turn-by-turn instructions... not that this is particularly useful on a desktop PC or laptop.
News, Sport, Money and Weather
Finally, Microsoft's attempt to serve up the day's latest news continues in Windows 10, with updates to its News, Sport, Money and Weather apps. As with the rest of the core apps, they're laid out in a clear and easy-to-use way, with a menu bar down the left-hand side of the window and the rest of the window largely given over to content.
The menu bar is used to navigate between each app's various sections, while a series of links across the top of the window lets you drill down into various subsections. In general, these apps are an improvement over their Windows 8 counterparts.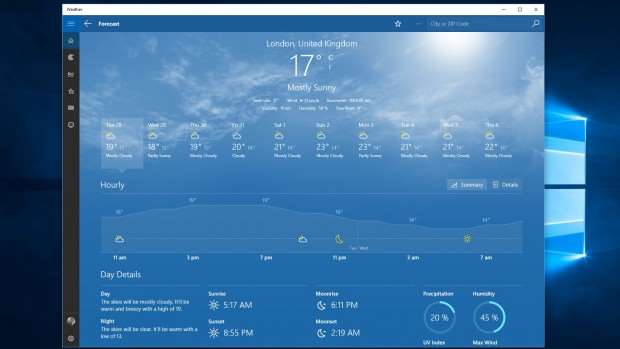 There's less white space and screen space wastage now that the apps can be viewed in a window on the desktop, although they can still look awkward if you view them full-screen in landscape.
Generally, though, the news apps look great. It's just a shame you can't tweak the coverage by adding your own news sources. Integration of some kind of Reading List functionality would have been great, too, especially if tied into the Edge browser.
Windows 10 for phones and gaming
Windows Phone is no more; Microsoft's new OS for phones is called "Windows 10 Mobile". Technically, it's very different to the desktop OS: it's designed for a hand-sized interface, and runs on ARM hardware rather than x86. But the name change emphasises the fact that, with the advent of Universal apps, the whole Windows family now works together.
The new Microsoft smartphone OS is all about integration. It introduces Skype as the standard messaging client, for easy synchronisation between phone and desktop, and Edge as the system browser. It syncs notifications with your desktop PC, and it looks more like the desktop too; for example, your wallpaper now shows behind the whole homescreen.
Windows 10 Mobile introduces a feature called Host Card Emulation, which should enable tap-to-pay support at a wide range of merchants, similar to what's already offered by Apple and Samsung. There will also be a "tap-to-pair" feature, making it extremely simple to get two Windows 10 devices to connect via Wi-Fi, or to activate screen mirroring over Miracast.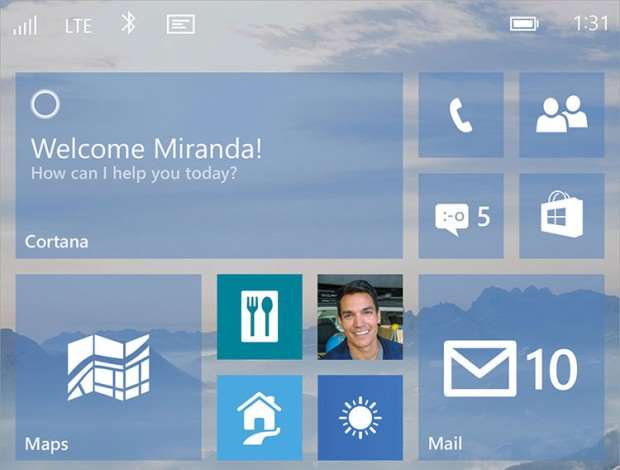 Similar to what's planned for the desktop, Microsoft plans to roll out Windows 10 as a free upgrade for "the majority" of Lumia phones. That includes even comparatively low-end devices, such as the Lumia 520, which includes only 512MB of RAM. Don't hang out the bunting just yet, though: Microsoft has warned that not every device will support all the features of the new OS.
There's no official launch date, either, but it's almost certain that Windows 10 Mobile won't arrive until some months after the desktop version. Speaking at the Microsoft Build conference, Joe Belfiore confirmed that "phone builds have not been as far along as our PC builds. We're adapting the phone experiences later than we're adding the PC experiences."
For those who can't wait, Microsoft has launched an Insider Programme for Lumia users wanting to test pre-release OS builds, with 33 handsets supported. Proceed with caution, though - the download page reminds testers that the update "could cause your phone to stop working permanently". You can wipe the preview OS and return to Windows Phone 8.1 via the Windows Phone Recovery Tool.
Windows 10, meet Xbox One
Microsoft's games console also has a big part to play in the Windows 10 vision. A future update to the Xbox One will give it the ability to run Universal apps – so you'll be able to play the same games on the big screen as on your phone and tablet, and run other entertainment apps. No firm date has been set, but the update is expected by the end of the year.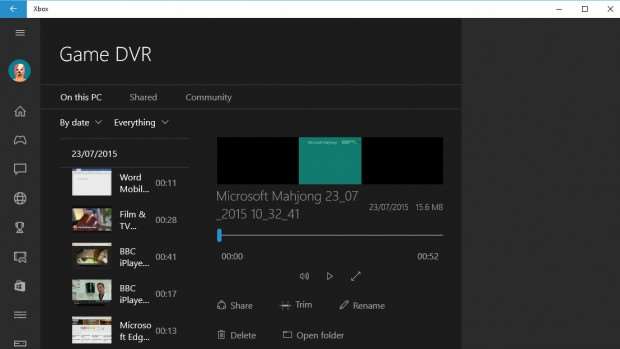 For those who prefer to play on the small screen, Windows 10's new Xbox app supports game streaming from the Xbox One – so you can load up a disc in the front room, then play it on your tablet or desktop. In games that run on both Xbox and Windows, players on different platforms will for the first time be able to compete against one another online.
One final new feature in the Windows 10 Xbox app is "Game DVR", which lets you record and share footage of your own gameplay. This means that if you pull off an amazing stunt, or a flawless victory, you can capture the last 30 seconds of play and share it with the world. It even works with older games, including Steam titles, and you can "Like", "Share" and comment on other players' clips.
Should you upgrade?
If you're wondering whether the new OS will run satisfactorily on your PC or laptop, the good news is that Windows 10 has the same official hardware requirements as Windows 7 and 8, so performance shouldn't be an issue.
As for stability,we've certainly seen blue screens and quirky drivers during the preview period – but after nine months of public testing and telemetry, Windows 10 is the most scrutinised edition of Windows ever, with every crash relayed back to Microsoft and analysed. If you're happily running Windows 7 or 8, there's no reason to expect trouble from the final release of Windows 10.
What about the user experience? If you're coming from Windows 8 on a laptop or desktop, you have everything to gain. While the latest 8.1 update resolved the worst quirks, the lack of a desktop-friendly Start menu remained a frustration, as did the very limited support for running apps apart from in full-screen mode.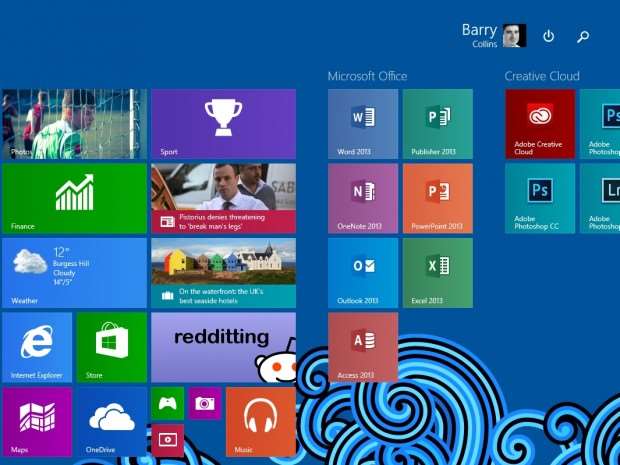 The same is true for compact touchscreen devices. Alongside the new features detailed elsewhere, it brings a choice of operation modes – Desktop and Tablet – which you can switch between by dabbing a button in the notifications centre, or by docking or undocking a convertible device. You get a full-screen Start menu and apps when you want them, while the conventional desktop remains always at hand.
There's yet more for tablet users. The new OS refines the touch controls, replacing the awkward edge-swipes of old with multi-finger gestures. Plus, while Universal apps can be made compatible with Windows 8.1, we anticipate that developers will focus on Windows 10: Microsoft has led the way, releasing previews of the Word, Excel and PowerPoint mobile apps review as Windows 10-only.
The only constituency with a good reason to stick with Windows 8 is Media Center users. The much-loved media manager has been discontinued in Windows 10, considered redundant in an age of smart TVs and Xbox One media apps. Everyone else, though, will surely be happier and more productive after the upgrade.
Windows 10: Should you upgrade from Windows 7?
If you're currently using Windows 7, you may be more apprehensive. The veteran OS still does a perfectly good job, and if you've been using it for this long without feeling the need for mobile-type apps, you may not be eager to jump onto a platform designed for a different world. That will surely be the case if you're using Windows 7 for work, as many are.
But although Windows 10 aims to be more than just a desktop OS, Microsoft knows that the non-touch, standalone laptop remains the most common Windows platform. You can still use the Start menu as before, and run all the same applications: there's a slight learning curve involved in the new Settings app and the Edge browser, but to offset that you get the benefit of the new Explorer features. It's easier than you might think to keep on trucking.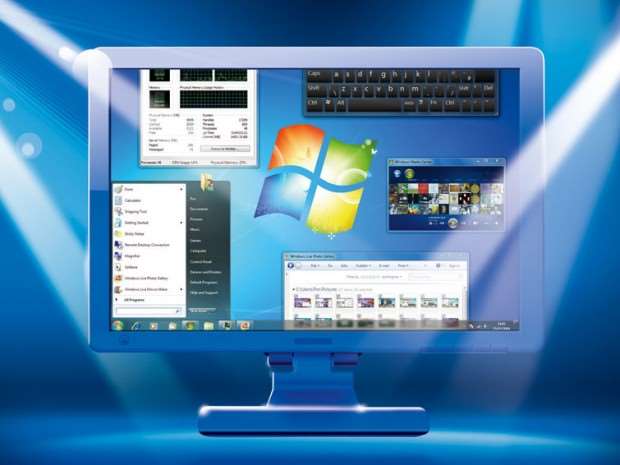 Upgraders from Windows 7 will also gain all the best features introduced in Windows 8: the enhanced task manager provides a welcome insight into system activity, and OneDrive – with a generous 15GB of free space – makes it easier to hop between devices. There's improved multi-monitor support, and the File History system that permits continuous backup to a connected external or network drive. And that's in addition to much faster startup and reboot times. All told, Windows 10 makes a better desktop OS than Windows 7.
There's one more consideration: Windows 7 is now out of mainstream support. Security patches will continue, but otherwise the software is frozen, and in 2020 it will stop being supported altogether. By contrast, Windows 10, with its rolling update model, should never expire – so there's every chance you'll want to get onboard sooner or later. That being the case, it's a good idea to claim your upgrade while it's free. It's conceivable that Microsoft might end up making the OS free forever, but we wouldn't bank on it.
For those running a Windows 10 Insider Preview build, your upgrade options depend on how you installed your preview. If you upgraded from Windows 7 or 8, then you'll get the option to install the full release when it's available; if not, you'll need to reinstall your old OS to upgrade. Otherwise, you'll continue to receive preview builds of forthcoming updates indefinitely.
Windows 10 for business
Companies running Windows 7 or 8 Pro can upgrade their desktop clients via the free upgrade programme, while those on a volume licensing agreement can roll out Windows 10 Enterprise whenever they want. By now the feature set will be familiar: the professional releases include everything in the Home edition, plus BitLocker encryption, Hyper-V, group policy management, domain support and the ability to act as both client and server in a remote desktop session.
These editions of Windows 10 also feature Windows Update for Business, which frees businesses from having to keep the OS constantly up to date. Devices running Windows 10 Pro have the option to switch to an update stream entitled "Current Branch for Business", which allows non-critical updates to be deferred to allow time for testing. Note that they can't be skipped altogether, and it remains to be seen how long the window will be in practice.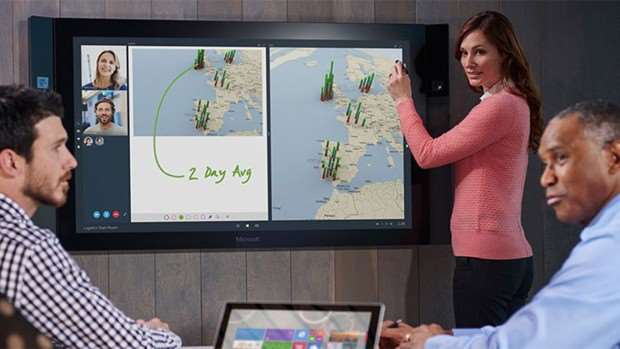 Windows 10 also introduces the new idea of Long-Term Servicing Branches (LTSB) – builds of the operating system that can optionally receive critical updates but don't otherwise change at all. New branches will be issued periodically, and will receive mainstream support for five years after their issuance, with a further five years of extended support available.
Only Windows 10 Enterprise – and the Education edition – have access to these branches. LTSB installations of Windows 10 Enterprise also come with Internet Explorer as the default browser rather than Edge, to maintain compatibility with legacy applications, while Pro users have the option of using either.
When it comes to device management, Windows 10 builds on Windows 8, with new options for administering company-owned hardware: there's support for managing multiple users on the same device, using a container model. Clients can also log in using their Azure IDs, and connect directly to Azure Active Directory resources.
Finally, Windows 10 brings the ability for firms to curate their own app stores, for easy distribution of bespoke apps. Of course, this requires an investment in the Universal app platform, but since these apps are lightweight and sandboxed, and easy to assemble in a visual environment, it's a good fit. It doesn't hurt that they'll also run on Microsoft smartphones – as well as tablets and laptops – once Windows 10 Mobile arrives.
Looking forward: The Windows 10 verdict
As we've indicated, switching to Windows 10 isn't a one-off change; it's a step onto a perpetual conveyor belt of upgrades. The first update is expected as soon as this spring – perhaps updating the Edge browser – with a more substantial update coming down the line next year.
That being the case, you might understandably be concerned that your hardware could start to struggle as the OS develops. The user experience could be volatile too: Microsoft has already showcased the idea of interactive Live Tiles for a future update. With a few changes like that, Windows 10 could morph into something quite different to the platform before us today, and there's no guarantee that we'll like it.
Yet there are reasons to be upbeat. So far, Microsoft has shown good taste with Windows 10, listening to customer feedback through the Insider Hub app. And since the Insider Programme continues after the formal release of Windows 10, volunteer testers will have a chance to flag up any disastrous decisions before they're rolled out to regular users.
So overall, Windows 10 is a hit. On the desktop it feels as right as Windows 7, yet it's equally at home on compact tablets. Is it the perfect OS? No: Cortana falls some way short of the perfect virtual assistant, while aspects of the design lack slickness.
But it's absurd to focus on such little things when the significance of Windows 10 is so big: if Universal apps take off as they deserve to, that will be a persuasive reason to consider Windows 10 for your next tablet or smartphone. Even if that doesn't happen, Windows 10 is still – without a doubt – the best OS for any desktop, laptop or convertible that's capable of running it. If you haven't already claimed your upgrade, hesitate no longer.