HomeKit will be here in June, and it's going to take over your home. Why would Apple even want to bother?
According to new information, Apple's HomeKit will be available in some markets within just a few weeks – considerably earlier than we thought. Previous reports pointed to an early Autumn release date, but in an interview with The Wall Street Journal, Apple spokesperson Trudy Muller said "we already have dozens of partners who have committed to bringing HomeKit accessories to market, and we're looking forward to the first ones coming next month."
What is Apple HomeKit and how does it work?
Unveiled at the company's WWDC event last year, HomeKit is Apple's ambitious plan to take over your home. A secure, connected network for a range of smart household devices, HomeKit uses a standard "common protocol" to enable products in the home to communicate with each other – and ultimately be controlled by an iPhone or iPad.
HomeKit will be able to control intelligent devices such as lighting, music, thermostats and garage doors using Apple products – and will even feature Siri integration. Users will also be able to group different devices into scenes, so giving a command such as "film" could close smart blinds, turn music off and dim the lights.
It's the first time Apple has committed to a summer release date for HomeKit, and although it's actually been embedded into iOS 8 since last year, the company has been relatively silent about it. The earlier June date is surprising, particularly as it follows rumours of setbacks in the system's development process. According to Fortune, Apple's standardised protocol had worked fine on larger products, but was too memory-reliant to run on smaller, battery-powered devices.
Will Apple HomeKit be successful?
HomeKit continues Apple's plan for domination of our entire lives, and on the surface seems like its most ambitious project yet. We'd normally associate Apple with competing for a place in your pocket, on your wrist and on your desk, and the company's desire to take over the kitchen, living room and bathroom seems like a bridge too far. But it's a logical step.
Although the idea of fully automated homes seems ambitious, the reality is that many are already using different types of automated, connected technology. The hugely popular Sonos range is a great example, and offers a wireless audio experience that can be controlled from the palm of your hand. With similar products from Denon, Philips and pretty much every other manufacturer now on the market, it's no longer uncommon to find such technology in the home.
Philips' Hue system has done the same for lightning. Using existing Wi-Fi networks, it allows users to control lighting from anywhere in the house with a smartphone, tablet or even an Apple Watch. Smart thermostats such as Google's Nest and British Gas' Hive have also proved popular – and shown a demand for connected products that goes well beyond audiovisual applications.
An elegant solution that will benefit from Apple's infrastructure, HomeKit will be a success – eventually. Strong support from third parties and a solid UI are two factors that HomeKit adoption hangs on, and Apple's unstoppable rise demonstrates a proven track record in both.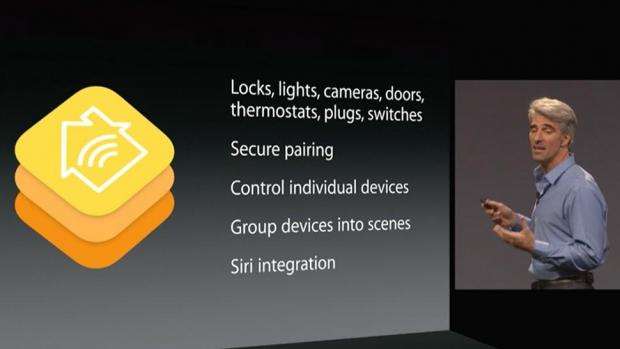 You only have to look at the Apple Watch to see the power Apple has in gaining support from third parties. Despite being out for a matter of weeks, there are already more than 3,500 apps designed for the Apple Watch – a testament to the clout the Californian company instils in developers, even with a brand-new product. And, in the same way that audio companies scrambled to incorporate Apple's new Lightning connection into their products, makers of home appliances will be rushing to get HomeKit certification. Combined with Apple's recent strides in UI technology such as Force Touch and the iOS 7 redesign, HomeKit is destined to be a success.