A security provider is warning of a large-scale attack of malicious emails purporting to be from multiple brands.
Local email security provider Mailguard says a "very large" campaign of fake emails is posing as Quickbooks invoices from multiple brands.
The fake emails are purportedly from:
Allcraft Cabinet Works
Asian Wok
Becton Property Group Limited
Brilliance Developments
BO Group
Burger Martine Dr.
Catering Now
CT Corporate Living
Dexus Property Group
Fence Factory
FKP Property Group
J N Mousellis Civil Contractors
Jimmy Choo
Lms Lawyers Services
McInnes Management
McKinnon Cabinetmakers
Mitchell Brandtman
Mutual Property Consultant
Native Design Workshop
OneLeap Finance
Oxfam Shop
Pearce-Higgins Simon
Posh Opp Shoppe
Red Earth Developments Australia Pty Ltd
Resolution Propety Group Pty Ltd
Rocdon Development Pty Ltd
Silk Homes
The Hopkins Group
Tijac Pty Ltd
What they have in common, according to MailGuard, is a reference to invoice number INV-0601 and a link to a compromised SharePoint account that downloads malware to the victim's computer.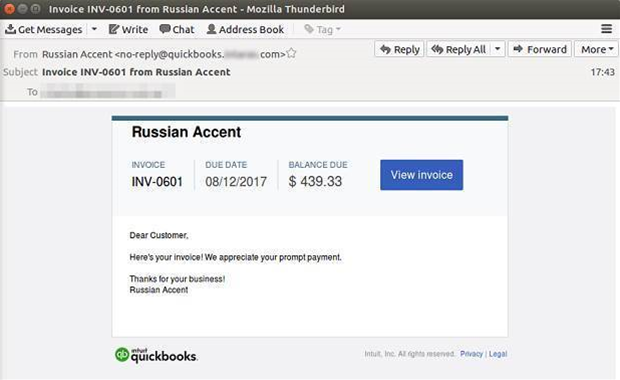 An example of one of the fake invoices.
So keep your eyes open, and avoid the temptation to peek at what might be someone else's invoice. And if you haven't already done so, consider an external mail filtering service.