HP Chromebook 14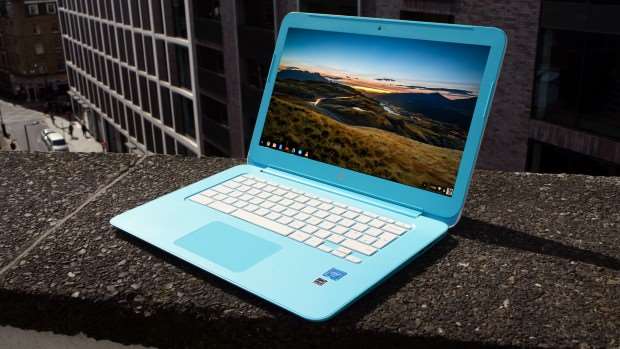 At first glance, you could almost mistake HP's new Chromebook 14 for its similarly-named 2014 predecessor. Both have a neat, white exterior and flashes of sky blue along the side. Open them up, however, and the differences quickly become apparent. Where the last model only had a sky blue finish around the lid, the new Chromebook 14 is now blue throughout, giving it an even more eye-catching, vibrant look.
It won't be to everyone's tastes, but the HP Chromebook 14's keyboard tray also has a pleasantly glossy finish to it, as well as a very lightly patterned design that resembles school graph paper. It's quite charming in its own way.
Overall, the HP Chromebook 14 feels well constructed, despite the copious amounts of plastic. It's a little lighter than its predecessor at 1.69kg, compared with to the former's 1.9kg, and it's also marginally thinner, measuring 17.8mm rather than 20.6mm.
Keyboard and touchpad
Otherwise, the two models are very similar physically. The keyboard has the same springiness to it as before, and it once again proves surprisingly comfortable to type on. The only mild annoyance is that super-thin Enter key, which can sometimes be a bit tricky to press correctly when typing at speed.
The touchpad is a good size and is coloured a slightly different shade of blue to the rest of the laptop's interior. It has a smooth coating that lets finger swipes glide across the surface, and it was able to recognise multitouch inputs without any issues. All-in-all, the build quality of the HP Chromebook 14 remains as good as its predecessor, which was already very good for its price.
Specification, performance and battery life
If the HP Chromebook 14 is barely any different to its predecessor externally, it's all change inside. It still has one of Intel's Celeron chips, but this is now a dual-core N2840 model that runs at 2.16GHz and can Turbo Boost to 2.58GHz. That's quite a bump up from the old 1.4GHz 2955U Celeron processor.
The amount of RAM remains unchanged at 4GB, though, and you still only have 16GB of internal storage. Luckily, there is a microSD card slot to give you even more room, but (as with all Chromebooks) you'll largely be reliant on using cloud-based storage for most of your files. You do, however, get two years' worth of 100GB Google Drive storage included.
In our benchmark testing, the HP Chromebook 14's results weren't the greatest, but as Chrome OS is such a lightweight operating system, it doesn't require a particularly high-powered specification to get the most out of it. Subjectively, web browsing with the HP Chromebook 14 felt responsive and reasonably quick for the most part. Only after opening several tabs did pages start to chug, but once they did eventually load, even image-heavy pages scrolled up and down without any hiccups.
Arguably, battery life is more important than straight out performance anyway, and at 9 hours 14 minutes (around the same level as the previous HP Chromebook 14) it's excellent. That's more than enough to get you through a full day's use, especially since Chromebooks are generally used for lighter tasks than their full laptop counterparts.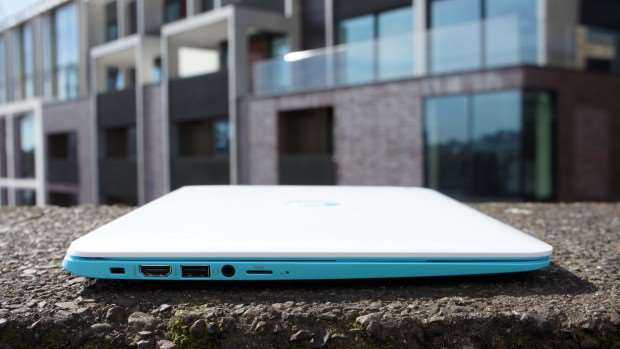 That's not to say Chromebooks can't be used for anything more taxing than web browsing, however, and the HP has plenty of connectivity to help it out in this regard. There are plenty of USB ports for connecting external devices, with two USB 2 sockets and a single USB 3 port, while an HDMI output lets you connect it to an external display or TV.
The built-in speakers were better than average, too – good enough to watch films on Netflix without having to reach for your headphones every time. If you want to listen to music you're still better off using the headphone jack, though.
Display
The quality of the screen was one of the most disappointing elements of the last Chromebook 14, but sadly the new model doesn't fare much better. It has the same 14.1-inch, 1,366 x 768-pixel resolution display as the last Chromebook 14, and it achieved almost identical scores in our calibration tests as well, suggesting HP might well have resorted to using the same panel.
The black level was once again high at 0.82cd/m2, meaning shadows appear grey and washed out rather than dark and inky. It's reasonably bright for a laptop, reaching 239cd/m2 at maximum settings, but combined with that high black level its contrast ratio is a mere 291:1, which leaves a lot to be desired.
Admittedly, the new Chromebook 14's colour accuracy is marginally better this time round at 64.6% of the sRGB colour gamut, but it's still not particularly rich or vibrant. All this is par for the course for an entry-level Chromebook, though, and the display's matte finish does help to combat overhead reflections.
Conclusion
The HP Chromebook 14 builds upon a lot of things we liked about the old model – particularly its build quality and battery life – and if you're looking for a general, all-round performer for Chrome OS, then this will serve you well.
With a retail price of $499, however, it's quite pricey for a Chromebook.
These Acer Chromebook 14 and HP Chromebook 14 reviews originally appeared at alphr.com.