Cisco won best in show at Macworld for their Webex Meeting Center for iPhone. And, after getting a tour through the application with a couple of Cisco gurus, it's easy to see why.
iPhone is known as a hugely popular consumer device, but until recently, there hasn't been too much for businesses to get excited about.
Apple's synchronization with Exchange has allowed business email wherever you go, and now Webex Meeting Center mobile allows for meetings to be held wherever you may be travelling.
The idea behind Webex is simple: gather together all participants into a web-based meeting, where they can all view the same presentation, hear audio, web-chat and send direct messages to other participants. Extending that web-based meeting to mobile provides all the same tools, using 3G or Wi-fi.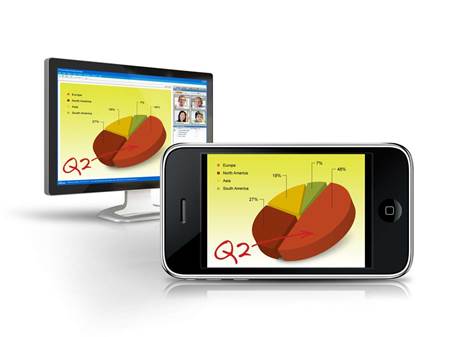 The interface on the iPhone is similar to the browser-based PC version.
To use Webex for iPhone, you first download a Cisco Webex Meeting Center application, which is free from the Apps store. Anyone with a Cisco Webex account can set up a meeting, and you then use the Webex app to join, either direct or via an email link from the meeting host.
First, Webex establishes an audio call - the system will call you back on your iPhone - and then you click home/meet in the Webex application to join the meeting.
Accessing Webex through the iPhone app is straightforward.
Once in the meeting, you can view presentations on your iPhone screen, and you're able to view the list of participants and chat with attendees. The iPhone multi-touch screen makes zooming in and out simple: you can check out the fine print on a presentation if you need to.
You can also see who is participating in the meeting, and an icon displays the number of chat messages, so you can easily select and view them.
The host of a meeting can "pass the ball" to give another participant presenter rights. If the ball is passed to you, other participants can then watch any presentations you run, or view your desktop for a demonstration.
Other smartphones?
Cisco launched Webex for iPhone first simply because of the iPhones popularity - though it helps that the iPhone has extra features that make web meetings useful and intuitive.
In February 17, Cisco announced that Webex Meeting Center will be available on Blackberry, Symbian and Windows later this year. Unlike the iPhone, there won't be a dedicated app, and you'll access webex using browser-based access. There will be integrated audio/video on 3G and Wi-fi connections.
Costs and setup
All Webex downloads are free; there's no cost to attend a meeting.
Anyone wanting to host a meeting needs a Webex account; that usually involves a subscription on a monthly basis.
The basic pricing starts at $79 per user, per month, for unlimited uses - you can have as many meetings as you want. That unlimited use model means that Webex scales if your business grows.
For enterprise users, other purchase models are also available. See www.webex.com.au.