Don't go expecting your upload speeds to go through the roof on Telstra's 21Mbps wireless broadband; they'll be more like 1Mbps for now.
While we were gawping at Telstra's 21Mbps wireless broadband presentation today, we couldn't help notice one not-so-incredible fact: the new 21Mbps modems are rated at 1.9Mbps uplink speeds.
And you're not likely to hit 1.9Mbps, with Telstra saying typical upload speeds average 300kbps to 1Mbps, bursting to 1.3Mbps. If you're sending a lot of data on the road as well as receiving, especially if it's for business, then it's worth keeping this in mind.
The good news is Telstra says peak uplink speeds will increase in 2009 to 5.8Mbps, which is better than what many people get now in terms of average download speeds.
Other things you should know:
Not everyone gets the full speed at first - selected metro and regional areas get the full speeds (up to 8Mbps typical downloads), while up to 3Mbps elsewhere. "But it is coming to the bush," David Thodey, Telstra's Group Managing Director Enterprise and Government, said today.
The new 21mbps speeds will be available to Next G business users on February 23, and consumers in April
NetComm is also planning 3G devices compatible with Telstra's 21Mbps wireless
Speeds will eventually increase to 42Mbps, and in the longer term, other vendors are talking 100Mbps+
Upload speeds of 5.8Mbps are planned, but for the moment, typical upload speeds are in the range of 300kbps to 1Mbps
No Mac compatibility for Telstra's Mobile Broadband Turbo 21 Modem and BigPond Wireless Broadband 21 USB Modem
The Turbo 21 USB modem will cost $299 with a 24 month $39 data pack. For BigPond customers, the new BigPond 21 USB Mobile Card will cost $399 with a 12 month plan.
Telstra tells us 21Mbps smartphones won't be available for three or four months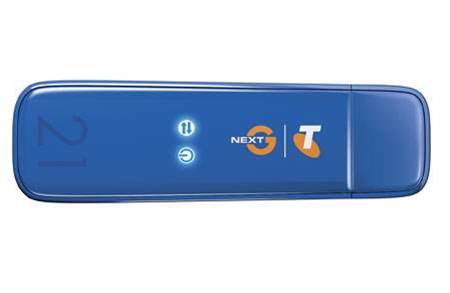 Telstra's Turbo 21 USB Modem
Telstra's BigPond 21 USB modem