Save hundreds of dollars on the price for the Dell XPS 15, which we once called one of the best 15in laptops on the market.
If you're looking for cheap deal on a new laptop, then pay close attention to these Dell sales.
Today we spotted hundreds of dollars off two decent Dell machines - the Dell Inspiron 15R Special Edition and the Dell XPS 15.
While you need to be happy with choosing a Dell, as opposed to say, an ASUS, HP or perhaps Apple, we've published reviews of both of these machines in the past and were relatively happy with both.
So how much will you save?
The Dell XPS 15
"online price" $1998.99
"cash off" $599.70
"discounted price" $1,399.29
It's a 2.6Kg laptop, which isn't light, but that's to be expected for a 15in laptop and a CD/DVD drive - except for Apple's much more expensive Macbook Pro with Retina display which is 2.02Kg.
Key here is a CD/DVD drive, which you don't always get on some thinner and lighter laptops, and a reasonably powerful specification, with a Core i7 chip and 8GB RAM and video card.
There's no SSD and it's not as light as some of the competition, but there are some nice touches like a backlit keyboard and handy features like Gigabit Ethernet.
The review we published states that battery life isn't fantastic though.
The Dell Inspiron 15R Special Edition
"online price" $1,298.99
"cash off" $400
"discounted price" $898.99
Key points are the Core i7 chip and video card and a Blu-Ray player, so you could use this for a bit of movie watching too. Like the XPS 15 it also has Gigabit Ethernet and 8GM RAM.
Apple and Windows laptops are world's apart in some respects - the software is equally important in deciding between the two as the hardware - but if you're comparing this on with a MacBook there is one thing to note.
Both of these deals come with a whopping 1TB of hard drive space. That's plenty of space, though you don't get the speed advantages of having an SSD, like MacBooks have.
All of the standard configurations Dell lists include at least 4GB of RAM and Windows 8, with no option to have Windows 7 installed instead.
Another potential stumbling block for small businesses is that the sale pricing is limited to one unit per customer, but that's perhaps less of an issue for micro businesses.
Netgear wireless router, Seagate 3TB external hard drive
One of the other items in Dell's sale is the Netgear WNDR3700 wireless router at $125. That might be a big saving on Dell's usual $209, but it really just brings it into line with several other online outlets even when you allow for delivery.
Much the same applies to the Seagate 3TB external drive that's in the Dell sale at $195.
So if the Dell offers work for you, that's fine - just don't assume you're getting a deal that can't be replicated elsewhere.
Click Frenzy, HP, Apple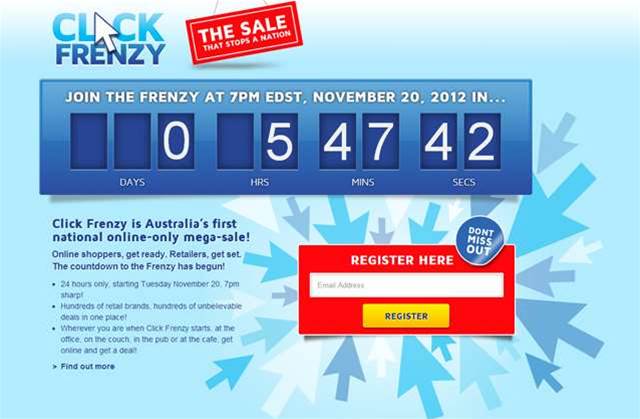 There are also other sales happening this week.
Click Frenzy
- the pre-Christmas online shopping event taking place today - is largely aimed at consumers, but some of the deals may be of interest to small businesses too. The bulk of these we won't know about till this evening, but you can find out more here.
As with all 'special' prices, it pays to check that you're getting a good deal before getting out the credit card.
Impulse buying is rarely a good idea, but at least Dell has given you a few days to compare the models in its sale with those from other manufacturers so you have time to decide whether the reduced prices make it worth switching from the model you had in mind.
While price can be important, it isn't everything, so don't be tempted to sacrifice features or performance levels you need simply to save a few dollars. 'Marry in haste, repent at leisure' applies when purchasing business equipment.